Evelyn Crane (1912-2003), born at The Mill Cottages, Badsey, was the only child of Cecil and Helen Crane. Her father was killed at Gallipoli on 6th August 1915 when she was just three years old. She married and moved to Derby. Her son, Barry Day, has given permission for her memories, dedicated to her best friend Evelyn McKanan-Jones (née Barnard), to be reproduced here.
To the other Evelyn – remembering that Spring in 1929 when we were THE CHAMPIONS (of badminton)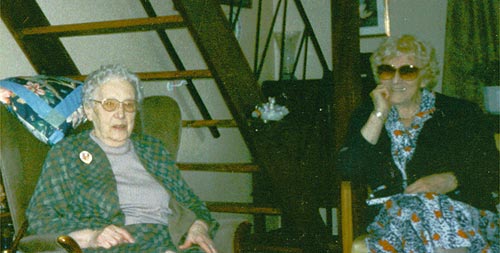 A song on the radio this afternoon sent my thoughts back to my childhood. "The old rustic bridge by the Mill" sang the singers, and although the bridge was not exactly rustic, it was by the Mill, and that was where my childhood was spent.
The Silk Mill Cottages at Badsey had been a Silk Mill and in the 19th century was converted so that the actual Mill became five cottages, together with the wheel house made into a very small cottage, two workers' houses, and a larger house at the end which belonged to the Mill Manager. I was born in the middle cottage of the five: two down and two up, but large airy rooms each well lit by two windows. the floors were large grey flagstones, but I never remember these being bare. There was always line and pegged mats around the room. My Granny and Granddad Crane lived next-door, and the other houses were mostly occupied by elderly couples with grown-up families, so that my very early years were spent in the company of old people, but it meant I could wander from one house to another, and there was always somebody ready to talk to a toddler.
I am told I made my first public appearance at Badsey Flower Show in 1912 – always the big Annual event of the year and one which became part of every child's life while at school. This was held in July on the Saturday nearest to St James' Day which is 25th July, and Badsey Church being the Church of St James.
Just after my second birthday, the Great War started and, in less than a month, my father had joined The Worcesters, so that there is no memory of him at all, except that I have a recollection of a man pushing a bicycle and carrying me on his shoulder. It isn't until late 1915 that I have any other memories. In the autumn of that year, my mother, auntie and myself were taken ill with scarlet fever and taken to the Isolation Hospital in Evesham, "the Sanny" as it was known locally. Mother was desperately ill, having heard the same day that she was taken ill that my father had been killed in Gallipoli. After several days, when they feared for her life, Dr Hartham ordered the Matron to break all the hospital rules and take my cot into the Women's Ward, but my most vivid memory is of visitors gazing at us through the windows, and my uncle sliding bars of chocolate down the panes of the hopper window for me. Once that crisis was over and mother had regained her strength, she had to find work to keep us. The War Pension in those early days wasn't very much, only a few shillings, I believe. This was when living next door to Granny really had its advantages.
My Granddad Crane was a Market Gardener. They lived quite comfortably, kept a few cows in the Cow Meadows – over the bridge – and also a pony and trap. This was used for the visits to Evesham for shopping, to market and the bank, and on Sundays to call on relatives living outside Badsey. Granddad died in 1914, so Granny was now living alone, and when mother got a job at Collett's Canning Factory in Evesham, it was only natural that a small three-year-old should move in next-door during the day-time. The factory hours were long, 8 o'clock in the morning until 7 o'clock at night, no transport, so it meant a long walk along Badsey Lane for mother and her friend, but for me they were happy days. I spent many hours sitting on the stool in front of Granny's fire, listening to her tales and learning to sing the old songs. Sometimes now I hear an old folk song, perhaps collected by Cecil Sharp, and I think "but Granny taught me that one years ago". Others were The Village Blacksmith, The Farmer's Boy and The Lincolnshire Poacher. On Tuesday afternoons, Granny would put on her black velvet cape and bonnet with a bunch of violets in it and, hand in hand, we would go to the Friends' Meeting House for Mothers' Meeting. I would sit on a little wooden chair, and after a prayer they would sit and gossip and we would have currant buns and cups of tea. On Thursdays we would go "down Awn" or Aldington to give it its proper title. Granny's sister Charlotte lived in a little thatched cottage opposite The Manor, and Thursday was her bread-baking day. We would walk along the Bottoms, by the side of the brook. One part I was always frightened of – and I would hold tight to Granny's hand until we were well past there, but when we arrived at Aunt Charlotte's, the smell of her newly-baked bread coming from the back kitchen soon made me forget my little terrors, except that we had got to go past the same spot on our way home. On other days I was allowed to cut up strips of material for pegged rugs, and even stick some pieces in, sometimes. Anyone who wanted a new rug would bring their scraps to Granny to be made up, and also she would do mending, patches on sheets and sides to middle, all by hand. There, I learned my first hemming stitches. We played Tiddly-Winks and Snap, and so passed the time away until Mother arrived home, always with a cream horn from Birds' Cake Shop for me.
On Saturday afternoons we went to my other Granny in Evesham. She was Granny Staite. Always, the whole family collected round the large table for tea. If a pig had been killed there were faggots or chitterlings or scratchings, but nearly always, fresh dough cake from the bakehouse. She also grew celery in her garden, so when that was in season, there would be crunchy celery to eat. My mother was the eldest of the family, and the youngest was only just over a year older than I was, so we could get together to play. Our chief delight was the zonophone. When the little dome-lidded box was brought out for us, we would find the cylindrical records and sit with our ears close to it to hear the words. I don't think I ever understood what was being sung, but all the same, it was magic. After tea it was "up the town" to do the shopping. Shops stayed open until at least 9 o'clock and meat and fish would be sold off cheaply then. Always we got the Sunday joint – a real joint then – for a shilling or two, and bloaters and kippers from Alan Harding's stall under the Town Hall. I can still see his naphtha flares lighting up the Town Hall corner. By then we had probably met someone else from Badsey, and would team up for the walk back along Badsey Lane. In the early days, I would be in my pushchair, and one night, just as we had reached the S-bend before the bridge, a man tried to stop us. I think mother gave him a push and ran, pushing the pushchair as fast as her legs would carry her, until she reached home. Only once more were we accosted, and that was on a New Year's Eve, and then he was quite drunk. Often we would get a ride, sometimes with Steve Brewer in his tall baker's trap, and other times with John Cull. His was a low float, but whatever it was, a ride was always welcome. Often, while the war was still on, it was possible on very dark nights to see the searchlights in the sky towards Birmingham. I think the most dramatic walk along Badsey Lane was in May 1917. Mother, together with her friend from next-door, had decided to go to the pictures – the old Swan Lane Cinema – and of course, I was to go with them. We went to our friend's sister in Coronation Street for tea, and as we were seated round the table, the husband came in and said the weather looked bad, and he thought the idea of going to the pictures should be abandoned, and we should start back for Badsey as snow was possible. His advice was taken, and before we had even got to Badsey Lane, it started to snow, and it became so bad, they decided I would have to be carried. I don't know who took me first, but they battled through the blizzard with just one changeover. That was halfway up Knowle Hill. How thankful we were to reach home, and Granny had her big black kettles singing on the hob, so with good hot cocoa, and bowls of hot water for a bath, we suffered no damage. The next day, Sunday, was a brilliant day, and we, together with nearly everyone else from the Vale, walked to the top of Pitcher's Hill at Wickhamford to see the damage, telegraph poles and lines down, trees uprooted, and for miles, nothing but snow.
As I got older, Paddocks' Chip shop at the bottom of Port Street became the last calling place on our way home. Plenty of newspaper round the chips, because under no circumstances could we eat them until we were away from the houses, right along the Lane, near the Pool. That Pool brings another vivid memory, the hundreds of frogs of all sizes hopping in the road after it had rained. That was something which had to be seen to be believed.
At Easter 1916, two months before my fourth birthday, I started school. I don't know if it was usual to start at that age then, or whether I was allowed to go because Mother was working. There is no doubt it must have been a strain on my Granny to look after me for twelve hours a day. She was a cripple and in her mid-sixties, an old lady then. Miss Hartwell taught "the babies". I had to call her Miss – she was actually my father's cousin Emily. I have vivid recollections of little telegraph poles with tiny birds, with which I learnt to count, add and take away. I have mentioned this to others who must have been in the class at the same time, but no one else remembers, so is it a memory or just imagination? Mrs Mason was the Headmistress of the Infants' School. She was, to me then, a dear old lady, but she must have been only about 45 to 50 at the time. She walked from Wickhamford every morning, looking something like the Pied Piper. There were so many children from Wickhamford, and they all walked with her, and back again at night, a long walk if they lived up Pitcher's Hill. While I was in her class, I sat next to George Warmington, the only one I can picture in the whole of the Infants' School, and then, only I think because he was asked to spell PLUM one day and couldn't but I could and I was told I was a good girl.
Once we moved up to the "big" school, life became quite different. One didn't play on the little square by the toilets, but out in the big playground. Long skipping ropes, with up to a dozen girls joining in, and a great favourite was "Sheep, sheep, come home". A long run from the railings to the wall, and badly grazed knees if you happened to fall over. This is the time when our little gang started to form, and we played together, walked and went to each other's parties, until we finally left school.
Two other things I remember from those early years. The tank which came to the village and parked outside The Royal Oak, now The Round of Gras. They sold the first Savings Certificates at 15 shillings each, and I was lifted on top of the tank. The other thing was having my tonsils out. Once again it was Dr Hartham. He was such a kind man, much loved by a good many people. Dr Leslie gave me the anaesthetic. I can see him now, standing by my side talking to me. "Can you count?" "Yes." "Can you count up to ten?" "Yes." "You show me how you can count up to ten." That is all I can remember except that I was rolled up in a blanket and taken to Granny Staite's until the evening, when one of the Great-Uncles brought his pony and trap and took me home to Badsey. No stay in hospital with icecream in those days.
Concerts in the Old School were a great part of village life, and nearly always the school children had a part to play. Miss Bird, who taught Standard 3, was the organiser, together with the help of Mrs Arthur Sears, and we often practised after school at Mrs Sears' house. In the concert I remember best, I was a fairy dressed in a white satin frock trimmed with tinsel, and carrying a tomato cane, covered with silver paper for a wand. I sang a little ditty which started, "I am Fairy Content, this is Fairy Goodwill, and this if Fairy Fun as you see", but I have no idea who Fairy Goodwill and Fairy Fun were. Other people in the village also took part with songs and piano and violin solos. Miss Juliet Sladden was a popular singer. Her songs included Cherry Ripe, I know where I'm going and Linden Lea. At a very much earlier concert in the Old School, I remember a Miss Brown Constable singing Keep the Home Fires Burning, then a popular song of the day. I think she later became Mrs Cyril Sladden. Another time a concert was held in Sladdens' house. That was, I believe, in summer, and a very popular rendezvous. Here again the school took part and one song was Three little girls in blue and I think Lily Keen was one of them.
Badsey Council School was an exceptionally good school; in fact, in the 1920s, it was reputed to be the best school in Worcestershire. Mr Amos, though badly wounded in the war, had returned as Headmaster. Great emphasis was placed on the three Rs, with arithmetic lessons every morning, and also composition and writing. Good clear writing was a must! Besides the other usual subjects, we also did painting and each week we took something to school to paint: carrots, daffodils, parsnips, anything available at the time.
From a very early age, sewing and knitting were taught, starting with a lawn handkerchief with lace edging. That taught us to hem and oversew, turn corners properly and gather the lace at the corners. Each year we did something a bit more advanced. Once we had mastered the art of knitting, we were soon taught to knit with four needles, and children's socks were made. Always brown wool, as I remember, but we learnt to fashion the back, turn the heel, and shape the toe. All the things made were sold to anyone in the Village, after Flower Show Day. During my time at Badsey School, Mr Amos always wore knickerbockers and the top class girls kept him well supplied with diamond-patterned turnover-topped stockings. You will note I said "after Flower Show Day" things were sold. At the end of each year, all the children's work was put on display in a special tent at the Flower Show, writing, sewing, knitting, paintings and drawings. This was always a popular part of the Flower Show.
School holidays never seemed a problem. We always found plenty to do, and as there were about twelve of us around the same age, there were plenty of games to play. Christmas holidays seemed to be taken up entirely by parties. The Sunday School party in the Old School was the big event, then we nearly all had our own individual party; it seemed a job to fit them all in. Food was jelly, blancmange, fish paste sandwiches and sponge cake, not the sophisticated affairs they are today. During Easter holidays, we could earn some pocket money. Asparagus beds had to be weeded, very carefully, because the buds would soon be showing. We were paid a halfpenny for a short bed about twelve foot long, and more for longer beds. Our halfpenny was only a fraction of today's halfpenny.
During the long summer holidays there were plenty of games to play. The Cow Meadows were our popular playground, much better than the Recreation Ground. There was the brook to paddle in when it was warm, and there was one particular place where we paddled for hours at a time. It was gravelly, and we must have found hundreds of small fossils there. We played football and cricket, and no one ever objected. The meadows had been taken over from my Granny by Mr Horace Wheatley, the butcher, but he hardly seemed to use them, and only on very rare occasions was a horse put there to graze, and never, as I remember, any cattle. If the weather was wet, we had The Barn. It was a large wood and stone building, and it stood half way down Mill Lane, in the rickyard of the cottage where Eva Keen's grandparents lived. We would play quite happily all day long, with pot hampers and bales of straw to build our houses and shops, and sometimes Granny Keen would bring lemonade out for us to drink. Sometimes our numbers would be increased. Two children from London would come, Leigh Hyams and his sister. Their father was Danny Hyams, a Covent Garden salesman. Then Joan Knight's cousins, two girls, would come from Ashby-de-la-Zouch. The name alone made it seem a very special place, but I don't think we knew where it was, I know I didn't. When we were tired of playing, there were little jobs we could do to earn some pocket money. Gooseberry picking – I wasn't very fond of that, I always seemed to get badly scratched – currant picking, plum picking from the lowest branches, or flower tying. Asters were a very popular flower in those days and my uncle grew them for Market. They had to be picked and tied in bunches of 12, then packed into hampers. Tomatoes were grown out of doors, and picked and placed in a greenhouse to ripen. Not the big tomato greenhouses of today, but just small affairs with wooden staging, and the tomatoes would be placed on this to ripen, and had to be picked over and put into 12 lb chip baskets each day.
If we had been doing jobs during the day, we would meet after tea in the Cow Meadows. Fox and Hounds was the favourite game in the evenings. There were plenty of hiding places around, old willow trees, sheds, among the asparagus houses just at its thicket in August, even under the banks of the brook if the water was low. When the white mist started to swirl up from the brook, that was when it became eerie, and one could almost imagine it was the ghost of Lady Washington walking the meadows. She was the aunt of George Washington, the President of USA, and is buried in Wickhamford Church, and it was said her ghost appeared from time to time. It was a good thing we hid in pairs.
Other games we played in their season. Whip and top, hoops, marbles and tip-cat. This was a favourite, and the best place to play was between the Vicarage gates and Fairview. There were no windows too near which could be broken. All these games were played in the road, but of courses, there was very little traffic in the early 20s, only a very occasional motor car, and mostly horses and drays, but as these were slow-moving, it was possible to get out of the road in time. During the winter, there was one great favourite, The Slide. At the first signs of School Lane becoming slippery, the big boys at school would start to cut the slide. This usually stretched from outside the girls' playground to the end of the boys' playground, and it needed a good deal of skill and balance to stay on it from one end to the other. I don't think it was very popular with the grown-ups, after all, it was quite dangerous down the middle of the road, but it was something which appeared each winter.
Autumn brought the nuts. The Vicarage garden ended in a nut coppice at the bottom of our gardens. At the first sign of a frost, we would be through the fence for hazelnuts and walnuts from the two big trees. It usually meant searching among nettles and weeds, but worth it when we found the nuts. Unless you have sat on the doorstep and cracked the shells, pulled off the skin from inside to find the creamy nut, you haven't tasted walnuts. At least once during the nutmeg season Mr Amos would walk round the school and demand "hands on desks, palms up". Then we knew the vicar had complained we were taking his walnuts. We all had stained fingers, but I don't remember anyone being punished for it.
Like all youngsters at play, we got hungry, but usually one of our mothers had made a bread pudding. This was good for filling up empty gaps. Not the insipid stuff one reads of in today's cookery books, but good bread soaked in milk, hen eggs, sugar, spices, lashings of dried fruit and fresh grated suet, all mixed together and baked slowly in big baking tins. Many people kept a pig in the sty in those days, so once a week the big copper would be filled with tiny potatoes, to be boiled and mashed for pig feed. If we could find out where they were boiling, we would take our saucers and a screw of salt, and beg a ladle full. Then we would sit and skin them, and dipped in salt, they were potatoes at their sweetest and best. Also in the village was the Cider Mill, and in the autumn when pressing was in progress, we would take our mugs to catch some of the apple juice.
And so we played, but we always seemed to find our way back to the Cow Meadows and the brook. We were quite a crowd, maybe a dozen boys and girls, and we could spread ourselves out, in the meadows, and someone always had a ball to kick or three sticks and a bat for cricket. Round the bridge, there were iron railings, good for turning somersaults, but no so good if you lost your grip. Then you rolled down the bank into the brook. Nearly everyone had at least one ducking.
Badsey Brook rises in the Cotswolds, and joins the Avon within the Aldington boundary. My Granny taught me a little verse so that I would always remember the parishes through which the brook flowed. It goes:
Buckland, Laverton
Stanny and Ston*
Childswickham, Wickhamford,
Badsey and Awn**
* Stanway and Stanton
** Aldington
Situated as the Mill Cottages were, the brook was always an enemy, and at the first sign of flood water creeping through the bottom orchard, it was a rush to get buckets of coal, firewood and drinking water. The floods never entered the houses, but there were times when we were completely cut off from the rest of the village. Badsey Lane would also be impassable, as would other ways out of the village. Badsey is an island. One crosses a stream on every way out. Often the only road open would be the Top road to Evesham.
Towards the end of the War, Badsey Manor had been turned into a Prisoner-of-War Camp, with barbed wire fences all round. We could see the prisoners from the road, and they were taken out to work in the market gardens. A large group used to go by our house every day on their way to work at Wickhamford Manor. There were two guards I well remember, because they were billeted with my aunt. Both were Channel Islanders, one named Andrews from St Peter Port, Guernsey, and the other, Harry Boswell, from St Helier, Jersey. He was a flamboyant character – "Fat Harry" we called him. On the Island he was know as "Harry the Guide". His job was to accompany charabanc parties on the Islands and show them the sights. He was something quite different from any man I knew, diamond rings on his fingers and an unending supply of scented cards advertising Lambalasters Jersey Violets – and he could speak French! I often wondered how they faired when the Germans took over the Islands in the Second War.
Sundays were kept as special days. We wore our best clothes and went to Sunday School, and I was never allowed to sew or knit on that day, and we always had a roast dinner. In the early years, I went to the Chapel Sunday School. I don't know why, except that I had been in the habit of going to Chapel with Granny, and also that my aunt's three sisters-in-law were Sunday School teachers there. They were the three Hall sisters, Nellie, Frances and Rosie and they lived at home with their mother. Millie did the gloving, a trade carried on by many women in the Vale. The van would come from Worcester each week with their work and pick up what they had finished the previous week. Worcester was the main centre in the country for glovemaking, the two biggest firms being Dents and Fownes. I am almost sure the Badsey outworkers worked for Fownes. I don't think it was particularly well paid, but it was work at home! The second sister, Frances, was a dressmaker. She had served her apprenticeship at Rightons in Evesham, then started work on her own as the village dressmaker. Again – work at home. She made all my dresses for me as a child, and very special too, some of them were. One I remember so well. It was powder blue wool and the skirt had four separate over panels, each one hand-embroidered. I think I was a very well-dressed child. Rosie, the youngest, taught music – again work at home – and I used to go to her for my piano lessons. Mother had bought a piano from Sammy Grove who kept the music shop in Evesham. It was almost an antique, beautifully figured walnut, with a fretwork front with shot silk behind it. Many years later she had it made into a china display cabinet.
When I was about nine or ten, I decided I didn't want to go to Chapel Sunday School any more. All my friends went to Church, and I wanted to be with them. Miss Ethel Sladden and Mr Binyon were the chief people there, and goodness knows what the young people in the village would have done, spiritually, without them. There was no contact with the Vicarage, whatsoever, at that time. Miss Sladden took charge of Girls' Friendly Society and their Confirmation classes, while Mr Binyon looked after the boys. For GFS, we would meet at Miss Sladden's house, Seward House, each Monday night, usually in the kitchen, round a large scrubbed table, and the big black range to keep us warm. Very occasionally we would go into the Drawing Room, a long gracious room with a French window looking out over the garden.
Confirmation was a big event in a parish, and on March 2nd 1926, the Bishop came to Badsey. We girls were dressed all in white – dress, gloves, shoes and stockings. I remember my dress. Frances Hall made it for me, a white crepe material with long sleeves and down the front of the skirt she had made a panel with rows and rows or narrow lace edging. We were veiled in the large entrance Hall of Seward House, then walked in procession to the Church. Afterwards we went back to Seward House, where Miss Sladden gave us tea and we could wander round the gardens.
On Sunday afternoons, when the weather was fine, we would go for a walk. There were so many ways out of the village where a circular walk of two or three miles was possible. Blackminster to Bretforton and home, or round Offenham or Aldington Sidings to the Elm at Bengeworth and home. A favourite was Top Road to the Elm and back along Badsey Lane. Going the other way we went to Bowers Hill, or the Broadway Road, as far as the reservoir. A special walk in summer was to follow the brook through Wickhamford as far as the bridge at Murcot. There, in the field by the bridge, wild orchids and quaker grasses grew in profusion, together with cowslips and moon daisies.
On Good Friday, we would strap chip baskets on the carriers of our bicycles and go to the woods on the Cotswolds, usually above Broadway or Willersey. There we would gather primroses, violets, anemones, and lots of moss, and on Saturday we would take them to Church to decorate ready for Easter Day. These tiny short-stalked flowers would be used to decorate the top of the font, and the base of the pulpit.
One custom observed at Badsey School at Christmas was the Post Box. In a large red Post Office sack, we would post cards and little presents addressed to our friends, and then during breaking-up afternoon, these would be handed out amidst great excitement. Christmas, in my childhood, wasn't the lavish affair it is today. It was a religious festival, with an exchange of small gifts. The shops weren't decorated until about a week, or ten days beforehand, and Christmas cards were all posted on Christmas Eve and delivered on Christmas morning. Christmas dinner and tea was, as now, the family occasion. We used to go to my Aunt's, and together with Uncle's mother and three sisters, we would be a big party. Uncle, the only male, would stand at the head of the table and carve the turkey, and there would be silver sixpences in the Christmas pudding. There would be a fire alight in the front room, and I would lie on the mat and start a new jigsaw puzzle, but my very special treat was to unpack the hamper of fruit. This came each Christmas from Barneyman of Covent Garden, London, the salesman my uncle dealt with. There would be oranges and apples, dates and figs, and silver-wrapped tangerines and all kinds of nuts. Little things, but that was the joy of Christmas.
In April 1923, I "sat for the scholarship". Some of the older ones in our crowd had gone to the Grammar School the year before, but now it was my turn. My mother, together with other parents, took me to Prince Henry's grammar School in Victoria Avenue, Evesham, on a Saturday morning and I sat in the big hall and did the written examinations papers. Then came the long wait until July to know if I had passed. We all had, and that year a record number of County Free Place Scholarships went to Badsey School.
In September 1923, the second part of my schooldays started. It wasn't considered safe for a young girl to ride her bicycle through Evesham in the morning, because the number of horses and drays carrying produce to the market made Bridge Street so congested so, although a few of the boys cycled, the majority of us went by train from Littleton & Badsey Station. It was a long walk from where I lived, and I had to be passing Badsey Church by 8 o'clock otherwise I knew I would have to run part of the way. Luckily, on the last straight stretch heading to the station, it was possible to see the signal near Clayfield Crossing and, my goodness, if that signal was down, what a scamper it was to get on the platform in time. The train was composed of two coaches, which ran between Cheltenham and Evesham especially for school children, and children from high up on the Cotswolds would catch it as their nearest station, Buckland, Laverton, Broadway or Honeybourne, and we were the last to get on. It is surprising how far children travelled in those days to attend Prince Henry's. Moreton-in-Marsh, Blockley, Bickmarsh, Cleeve Prior, the Lenches, Pershore and all its surrounding villages, and there was one boy who came by train each day from Malvern. I believe he had been expelled from Worcester, so Evesham was next on the list, but he managed to stay the course with us.
Our uniform was navy blue gym frock with white or cream blouse, navy blue bloomers and long black stockings – no gaps between stockings and bloomers were allowed. We had a navy blue blazer with pale blue bade, and a navy blue serge pork pie shaped hat with badge. Nurses wore a similar shaped hat. After about two years the uniform was altered slightly. We wore blue and white striped blouses and the pale blue in school colours was changed to royal, so blazers had royal blue binding and badges, and hats were changed to navy velour. We liked those much better, because they could be dented and pulled into different shapes to suit us, although it wasn't exactly popular with the Head. With our blouses, we wore a navy and royal blue tie, and a navy braid girdle for our gym dresses. On House occasions, the girdles were changed to orange, green or red, according to our House. There were three houses – Holland (orange), Lichfield (green) and Workman (red). I was in Holland House, and eventually became House Vice-Captain. The boys wore regulation blazer and grey flannels, but were expected to have black jacket and striped trousers for all special occasions, and always they had to wear the school cap.
Our first form was 3C, the form room tucked in the corner of the hall, and we had Mlle van den Haute for our Form Mistress. We were a mixed bunch, scholarship holders and some paying pupils who all seemed much older than we were. Our classroom was also used as the girls' dinner room for those who took sandwiches. It was open all lunch hour and I can't remember that there was a teacher in charge, may be a prefect, nor were there complaints that it was left untidy. The boys had a room at the other end of the Hall. Cooked dinners were also served in the dining room upstairs. They were cooked and served by J B Hughes, who had a cake shop and café in Bridge Street. They charge 1/- (5p) a day and I would imagine we were the first school to serve school dinners.
Lessons were quite different from those we had had at Badsey School. In addition to the three Rs, we now did French, Latin, Algebra, Chemistry and Physics. Latin and Algebra were always a Chinese puzzle to me, and although I did manage to get by in Algebra, I was always bottom in Latin, and had it not been for the generosity of our Latin master, dear Jimmy Tate, my marks would always have been 0. I usually managed 2 because he would put in "translate Tempus fugit" or "translate into Latin – Time flies". I remember the first sewing lesson held in the Art Room. The girls from Badsey School were told to sit on the other side of the room because "for the present time there is nothing I can teach you" which just showed how good our training at Badsey School had been.
Classes finished at 4 o'clock, then it was a scramble to get to the cloakroom, change from our indoor gym shoes to our outdoor shoes and a quick dash down Cambria Road to the station. I hated it, that first winter. There were no such luxuries then as Wellingtons or pull-on boots, and I wore knee-length laced boots. Just imagine getting those laced up when you are in a hurry. When we got back to Littleton and Badsey station, there was the long walk back home, and it would be 5 o'clock before we were home in the warm, but sometimes we were lucky. Perhaps there would be a horse and dray, empty, going to the village. We would all pile on and sit with our legs dangling round the edge. We had to be very careful not to get detention at school, otherwise it meant a late train, and a lonely walk from the station in the dark. Two or three years later a private bus service started. It was called the Reliance and we were picked up in the village and taken to Victoria Avenue. This was much better than having to walk to the station, and very little extra cost. Later still, it became much more convenient to cycle, especially on fine days. It meant that after school activities could be undertaken.
The playing fields at PHGS were quite small, only large enough for one hockey pitch, which restricted the games which could be played. Girls played hockey during winter and spring terms and tennis in the summer, but there was Badminton in the hall, if you could get to the board quickly enough to book the court during lunchtime. The boys played football at The Oxstalls, quite a distance from school. We played inter-house matches in all games. For 1st XI hockey matches we visited schools at Worcester, Alcester, Redditch, Tewkesbury and Stratford, as well as Evesham Ladies and Pershore Ladies. The Evesham Ladies match was always kept for Mop Saturday, around 5th October. Evesham Mop Fair was an occasion, and nobody wanted to play away on that date. Sports Day was held in July, and Speech Day and prize-giving in November.
Sometimes we went on a school expedition. I remember visiting the GWR Railway works at Swindon, and also walking in a long crocodile though ~Worcester to hear an organ recital in the cathedral. There was also one summer when we practised our country dances and took part in a Country Dance Festival at Spetchley Park, near Worcester.
The school parties before Christmas were great events. After the school exams were over, the big partitions in the hall would be pushed back to make a very large hall. Then the senior boys would go to the Abbey Manor Estate at the invitation of the Squire, W J E Rudge, and come back loaded with big bunches of evergreens, and so the Hall would be decorated. Junior School had an afternoon party, Middle School an evening one, but for the Seniors it was a real dance, starting at 8 o'clock, with supper around 10 o'clock. All the male staff wore white tie and tails, boys in black jackets and striped trousers and the girls all had new evening frocks.
One party will remain a memory forever. I think it was in 1927. Near the end, the Head asked all the Badsey pupils to got to their taxi, as the weather was bad, and the driver wanted to get on his way home. We got in our taxi, little thinking how it would all end. It was raining and freezing at the same time, and everywhere was a sheet of ice. We skated down High Street and Bridge Street, and finally ended up against the parapet of the river bridge, and the driver decided he couldn't drive any further, and all we could do was to walk home. While this was happening, another crowd turned up. The Gorin brothers, John Summerton, Bernard Acton and Pinkie Green, and I think they were seeing Ruth safely home. I know we all got in a long line across the road, holding each other up. We took Ruth to Glencoe Road, then started on the walk to Badsey. Outside the Gorin bungalow, Alf had the brilliant idea to serenade his parents, but at the same time as he suggested it, a light flashed on us and a voice said "and what do you lot think you are doing?" It was PC Green, the Badsey policeman, so after explaining what we were doing, he suggested we forgot the serenade and went on our way quietly. So, one by one, we were all escorted home. I was the last to be dropped off. Mother had been out earlier on, as she had decided I was late getting home. She'd fallen on the ice, couldn't get up and eventually had to crawl back into the house on hands and knees. After they had left me, the boys had to turn round and walk or slide, nearly all the way back to Evesham. We were all in school again the next morning, having walked to three miles from Badsey.
I had always intended to train as a teacher. One could become a pupil teacher under the supervision of a Headmaster and return to Grammar School one day each week for further training, but a new Education Act in 1928 made it compulsory for one to attend a Training College. There were no grants then, and all fees were paid by parents, and while mother thought she could manage the fees, there was no guarantee of a job at the end of training, just as it is today. Also, other jobs were hard to find, so after taking School Certificate in 1928, there was nothing else to do but go back to school and stay there until I found a job. The Education Committee purchased six typewriters, and so at least a dozen of us started to learn shorthand, typewriting, etc, and we left school immediately we got a job.
Those next few months were perhaps the most unhappy of all my days at PHGS. During the summer, I had got into Dr Haselhurst's bad books, and from then on, I seemed unable to put a foot right, and it was always me at fault when he came creeping round the corner. I think he did more harm with his verbal lashings than he did with his cane. When, at the beginning of April 1929 I got a job, I left school that same day and never went back.
Postscript
Do you remember?
The milkman used to call every day with his pail and measure.
The baker came every day, hot crusty loaves burnt on the bottom, straight from the bakehouse.
That, although Horace Wheatley had his shop in the village, he still thought it worthwhile to go out once or twice a week round the village with sausages, chops and other small bits.
The grocer's shops in Evesham found it worthwhile to send out a man each week to take orders, however small, and deliver the goods the same week.
The ice-cream cart in summer. How old man Capaldi pushed his hand cart round the villages, and we could have halfpenny or penny cornets – or if you were posh, a twopenny wafer. I always had a halfpenny cornet, all we could afford.
And do you remember Rick Pudding, who roamed the villages of the Vale pushing his wicker trolley loaded with bananas.
And what about the oilman's van which came on Saturday. Besides selling oil for our lamps, he carried everything from tin balls to washing-up bowls, pot menders and mouse traps, fire lighters, dolly dyes, Ricketts blue, Lifebuoy soap, Hudson soap powder and dozens of other things. In fact, to stand and gaze at his van was as good as visiting the Penny Bazaar in Evesham.
Then, I wonder if you recall how all the men of the village would congregate on The Wheatsheaf corner every Sunday morning, rain or shine, to discuss all the happenings of the week. A few waited for The Wheatsheaf to open, but mostly it was a social gathering.
And we mustn't forget how we spent our pennies at Salter's Shop on liquorice sticks, sherbet dabs, sherbet suckers and the Cupid's whispers we used to pass round the class to the boys of our choice.
All, little, perhaps unimportant things, but they do help to show the kind of life we led in our village, and perhaps those days weren't so bad after all. At least we were free to roam the lanes and fields without fear.
---
Associated topic on this website:
Evelyn McKanan-Jones's poem of Childhood in Badsey