From 1834, the administration of poor relief was transferred from the parishes to the Poor Law Union. Evesham Poor Law union was formed on 7th April 1836 and its operation was overseen by an elected Board of Guardians.  These were 35 in number, representing 32 constituent parishes in Evesham and the surrounding area, of which Wickhamford was one.  The Evesham Union workhouse was built in 1837 to accommodate up to 200 inmates – the site is now occupied by Evesham Community Hospital, on Waterside.  At the 1881 census there were 90 inmates and four staff in residence.  At that time there was only one inmate who recorded as being born in Wickhamford, Catherine Knight, aged 89, a widow whose occupation was given as 'Fieldwork'.  She was the second oldest inmate at that time and died later that year, but was not buried in Wickhamford, but in Bretforton in 1881.  She was born Catherine Webb in Childswickham in 1792 (not in Wickhamford) and married William Knight there in 1817.  He died in 1849 and is buried in Badsey.  Catherine was lodging in Bretforton for the 1861 census and, as this was probably her last abode before the workhouse, it would have been the reason for her burial there.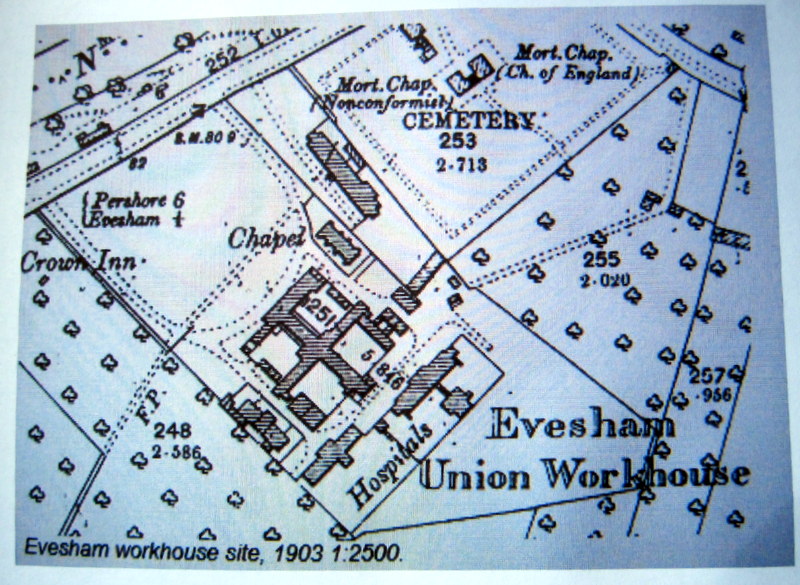 The Wickhamford Burial Register shows that eleven internments in the churchyard of St John the Baptist in the 60 years between 1853 and 1913 were of residents of the Evesham Union.  All but one was buried in an unmarked grave.   At some time in their lives they would have lived in Wickhamford and information on them can be found in the census records from 1841 to 1911.   These people are listed below, together with details of their residences, occupations and families, before they ended their days in the workhouse.
A number of them lived at some point in cottages that were located near to Wickham House, Manor Road on Pitchers Hill Farm.  These were all demolished at the end of the 19th century, so would have been in a bad state of repair and probably housed the poorest village residents.
A list of deaths that occurred in the workhouse is given in "EVESHAM UNION – Registers of Deaths 1866-1914 and Register of Children in Evesham Union Childrens' Home 1901-1914", published by the Eureka Partnership in 2010.  A few inmates who died there had Wickhamford connections, but were not buried in the parish.  For completeness, they are also mentioned below.
Thomas Stewart, 82 (bur. 14th June 1853): This man's burial in Wickhamford is the only record of him in Badsey or Wickhamford.  In the 1841 census, he was already in the Evesham Union workhouse, aged 70, whose occupation was given as a weaver.  Details of place of birth were not recorded in this census, but it does state that he was not born in Worcestershire.  His name sometimes appears in records as 'Steward' and he was baptised in 1774 in Little Comberton.  He married Sarah White in Great Comberton in 1796 and they had nine children, all but one born in Badsey.  Sarah died in 1839 and was buried in Badsey.  Thomas was in the workhouse for the 1851 census, recorded as an agricultural labourer.
Fanny Bennett, 69 (bur. 25th April 1858): There are baptismal records in Wickhamford for three children in the period 1808 to 1822 whose parents were Thomas and Fanny Bennett.  In 1841, Thomas was a labourer, aged 56, and Fanny's approximate age was '60'.  In 1851, Fanny was listed as a married pauper, living in a cottage, since demolished, near Wickham House, Manor Road.  Her age was recorded as '69', but this may have been an error for '60'.  She died in the workhouse in 1858 and her age then was put at 69. She was the mother of John and Thomas Bennett, who were involved in an assault in Pebworth in 1831.
Thomas Taylor, 44 (bur. 4th October 1860): The Taylor family were farmers for a number of generations in Wickhamford.  Thomas was the son of John and Sarah Taylor who was born around 1816.   He married Ann Baylis in 1845 and they had four children.  Thomas had been born in Ashby-de-la-Zouch and moved with his family to Wickhamford.  In 1851, he and Ann were living in Badsey High Street where he was a butcher.  Why he ended his days in the workhouse is unknown.
Fanny Taylor, 28 (bur. 18th March 1870): Fanny does not appear to be related to Thomas Taylor (above).  There is no record of her living in Wickhamford or Badsey prior to her burial.  She was a daughter of Childswickham-born Job Taylor and his wife, Ann.   The Taylor family had five children in total and were living at Gallipot Farm, Evesham Road, Broadway in 1861.  Why this young woman died in Evesham Union workhouse at the early age of twenty-eight is not known. As Gallipot Farm is only just outside of the parish boundary, her burial in Wickhamford is probably not unexpected.
Caroline Hardiman, 25, and her unnamed daughter, who lived 15 hours (bur. 1st July 1887): Both died in the workhouse, presumably after a difficult childbirth, on 28th and 26th June, respectively.  Caroline was the unmarried daughter of Charles and Susanna Hardiman, who were living at 'Cider Mill Shed', Wickhamford and he was an agricultural labourer.  This abode was possibly an outbuilding at Whitfurrows, on the Broadway Road. As well as her parents and six younger siblings, in 1881, 18-year-old Caroline's home also included an 18-year-old boarder, Reubin Finch.  Caroline Hardiman had been born in Moreton, Gloucestershire, and was the eldest of the seven children living at home in 1881.  The Burial Register entries for this mother and child do not mention the Evesham Union as their place of death.
Hannah Howes, "79" (bur. 6th May 1889):  Hannah was the widow of Thomas Howes and she lived in Manor Road, in a cottage that was demolished and 'Leasowe' was built on the plot.  She appears in the 1841 census with an approximate age of 30, in 1851 aged 45, in 1871 as aged 50, and 1881 as aged 73 and a widow.  The Evesham Union records give her age at death as 88, so it appears that she was definitely unsure herself of her date of birth.  The entry for her burial makes no mention of her final days in the workhouse.
John Finch, 63 (bur. 24th June 1890): John had been born in Broadway in about 1827 and was first recorded in Wickhamford in the 1871 census.  He was living at 3 Longdon Hill and working as a carter.  Also there, were his wife, Hannah, two sons and two daughters, all of whom were born in Broadway.  In 1881, the family had moved to Bowers Hill Cottage, Badsey and both he was Hannah were described as agricultural labourers and he was also a carter.  Between 1881 and his death in 1890, he had entered the workhouse, whilst his wife remained, for a time, with their family. (N.B. The Burial Register gives a date of 24th June, but the Evesham Union Records state that he died on 20th May).
John Glover, 89 (bur. 26th January 1892):  John was born in about 1803 in Bredons Norton.  At 53 years of age in 1861 he was living at Bowers Hill Farmhouse, Badsey and working as a carter.  He was married and a daughter and grandson were living with him.  In 1871, he and his wife, Elizabeth, were living in some cottages, since demolished, near Wickham House, Manor Road.  He was then employed as a shepherd, but had reverted to being an agricultural labourer by 1881, although by now aged 77 years.  His wife died in 1889, aged 85 and was buried in Wickhamford.  After this, he entered the workhouse, although he had children and grandchildren.
Jesse Tomlinson, 60 (bur. 25th May 1894):  Jesse had been baptised in Wickhamford, on 30th September 1833, the son of labourer Thomas Tomlinson and his wife, Judith.  By 1851 he was working as an agricultural labourer for farm bailiff, William Cox, at what is now called Orchard Court on Longdon Hill.  By 1861, he had moved back to live with his family in the present-day Grey Gables in Manor Road.  His father was by now an invalid and Jesse and three of his brothers were agricultural labourers.  He was at the same place in 1871, but was now a shepherd and still unmarried.  He had moved to Rose Villa, Beckford by 1881 to be a groom and gardener in the household of one-time occupant of Wickhamford Manor, Jane Nind.  He was still there in 1891 as a domestic servant for her son, John.  Between 1891 and 1894 he must have been incapable of work and with no descendants to care for him was placed in the workhouse.
Hannah Finch, 84 (bur. 17th April 1899): Hannah was the wife of John Finch (above) and she had been born in Broadway in about 1815.  After her husband's death in the workhouse in 1890, Hannah was living in 1891, in Brookfield Cottage, Manor Road, with a son and daughter. At some point before her death eight years later, she was placed in the workhouse by her family.
Hannah White, 90 (d. 21st June 1899): Hannah was born in Grafton, Warwickshire and, by 1881, was a widow, working as a gloveress, and living in Childswickham.  In 1891, she was living at Grey Gables, Manor Road, Wickhamford, with Elias Charles Walters. He was her son-in-law, as he had married Diana White in Wickhamford in 1885.
Albert Andrews, 57 (bur. 4th January 1900): In 1851, Albert was a farm labourer, living with his father Samuel Andrews in Willersey, where he had been born.  He was still in that village in 1861, but by 1871, he was boarding with John Ingles in Broadway High Street and an unmarried agricultural labourer.  Albert and his wife, Eliza, had moved to Wednesbury by 1881, where he was a general labourer with three children, but she may have died in 1887.  He had come to Wickhamford before 1891, when he was a widower living at 'Lime House', which was probably a cottage by Whitfurrows on the Broadway Road.  He was by then only 45 years old and still working as an agricultural labourer, but by 1900 he was in the Evesham Union workhouse where he died.  He may have been unsure of his age, as he was born in about 1846, at his death he was recorded as being 57.   Although buried in an unmarked grave in Wickhamford churchyard, its location is known and was recorded on a plan of the churchyard in 1946.
Samuel Wheatley, 80 (bur. 15th March 1904): At the last census before he died, taken in 1901, Samuel was recorded as an 'Permanent Inmate' of the Evesham Union workhouse.  He was said to be a widower and a retired general labourer, who had been born in Aldington.  Samuel was baptised in Badsey in 1824 and after marrying Elizabeth he had four children baptised in Badsey. The family were living in Wickhamford for the 1871 census in a now-demolished house near Wickham House, Manor Road and he was a labourer.  Elizabeth died in 1878 and Samuel's location in 1881 for the census is not known.  By 1891 he was an inmate of the workhouse, so spent at least 14 years there before his death in 1904.  He is buried in an unmarked grave in Wickhamford churchyard, its location was recorded on a plan of the churchyard in 1946.  (N.B. The Burial Register gives his date of burial as 15th March, but the Evesham Union transcribed records give his date of death as 11th April – the latter is wrong as his death was registered in the first quarter of 1904).
Richard Winnett, 76 (bur. 31st May 1913): Richard was a son of Richard and Fanny Winnett and lived in Wickhamford all of his life.  In 1861, he was an unmarried agricultural labourer living in a now-demolished cottage near Wickham House, Manor Road.  He was still there in 1861, but by 1871 he was in Corner Cottage.  He had married Rebecca Fryer in 1864 and they had at least four children.  In 1881, the family had moved back to their earlier cottage near Wickham House and they were still there in 1891. By that time, he had changed his occupation to market gardener - 'neither employer nor employed' on the census form.  Rebecca died in 1906 and in 1911 Richard was living in New Street, Evesham with a family member, but within two years had entered the workhouse.  He was buried in Wickhamford churchyard in a plot next to his wife.  Neither grave has a headstone but the location of both is recorded on a plan of the churchyard in 1946.
Samuel Halford, 65 (bur 7 March 1914): In the Wickhamford Burial Register, no mention is made of the Evesham Union, but records from that source state that he died there on 4th March. He is listed as being born and buried in Wickhamford.  In the 1911 census, he and his wife, Rebecca, lived at the present day 44 Pitchers Hill and the record shows that they had had eleven children of which ten were still alive.  Samuel was a market gardener's labourer and he had been born in Buckland, Gloucestershire.  The children living with their parents in 1911 had all been born in Offenham.  At some point between 1911 and 1914 he had entered the Evesham Union, possibly the Infirmary, which would account for it not being mentioned in the Burial Register.  His wife died in 1915 and was buried in Wickhamford.
Acknowledgement: Thanks are due to Peter Stewart for addition information on Catherine Knight and Thomas Stewart
Tom Locke – March 2020