The censuses of 1841 to 1911 have many references to members of the Taylor family, most of them as tenants at the various farms in Wickhamford. The Church registers contain numerous entries for this family and the Churchyard contains gravestones commemorating no less than six generations of Taylors. An outline family tree of the family is given at the end of this article.
Origins and the move to Wickhamford
Before the Taylor family came to Worcestershire they lived in the Ashby-de-la Zouch area on the borders of Derbyshire and Leicestershire. It may be that the start of the coal-mining industry in that area led to the family's move to a still fully rural district. In the early nineteenth century the majority of the land in Wickhamford was owned by the Sandys family of Ombersley Manor. They owned Wickhamford Manor, but rented it out, and the farms mentioned below. In the censuses the Manor was sometimes referred to as 'Manor Farm', Elm Farm was sometimes called 'The Elms', Field Farm was occasionally 'Wickhamford Farm' and the present Wickham Farm was always known then as Pitchers Hill Farm. A number of the Taylor family settled in Ombersley and the obvious connection is that the Sandys family held land in both that parish and Wickhamford.
The Sandys family sold their Wickhamford properties to John Pickup Lord in the 1860s and after he died in 1877 Trustees ran his estate well into the twentieth century.
The 1841 census has two families of Taylors recorded in the village. Samuel Taylor and his wife Ann were at Wickhamford Manor, with three servants, and he was a farmer. He had married Ann Baylis at Stanton, Gloucestershire on 28th September 1829 at which time he was a widower. Also in 1841, John Taylor, his wife, Sarah, and sons John, William and Francis were at Elm Farm. The sons were 23,16 and 13 at that time and none had been born in Worcestershire. Information in this census is limited, so it is fortunate that both families were still in the same locations in 1851. In December 1849, the Worcestershire Chronicle carried a report of a suspected burglary at the Manor. Two servants, Heeks and Howes, who reported a break in, were themselves accused of the robbery, but were discharged for lack of evidence. In March 1851, the Worcestershire Chronicle reported on a series of arsons in Badsey and at the Manor. Samuel Taylor's nephew, Thomas, was arraigned on three charges of arson, but eventually acquitted, as the evidence was all circumstantial.
Samuel Taylor had been born in Oakthorpe, Derbyshire. By 1851, he was farming 790 acres and employing 25 men. He had been baptised in Measham, Derbyshire on 5th January 1798 and was the son of Thomas (1759 - 1841) and Mary Taylor (ca 1759 - 1823) and his paternal grandmother was Sarah Taylor (ca 1735 - 1821). His parents and grandmother are buried in Wickhamford Churchyard, so must have migrated to Worcestershire at some point.
John Taylor was Samuel's older brother, born in Linton, Derbyshire in 1787 and baptised at Gresley on 1st August that year. His wife, Sarah, had been born in Ashby-de-la-Zouch in about 1795. They had eight children, but only Francis (23) was living with them in 1851 at Elm Farm. John was employing twelve labourers on his 295 acres. The baptismal records for John and Sarah's children show that the eldest three were born in Derbyshire and the youngest five were baptised in Wickhamford. The first of them to be baptised in the Church here was Sarah on 9th August 1818 and the last to be born in Derbyshire was Thomas in about 1816. This fixes the time of the family's move South to around 1817. John Taylor died a year after the census and was buried on 12th March 1852.
Three farms in 1861
In 1861, Francis Taylor was running Elm Farm and his widowed mother, Sarah, was living with him and his wife, Letitia Ann nee Arkell, whom he had married in Winchcombe in 1857. Francis was employing six men and two boys at this time to farm his 280 acres. In April 1870, Mrs Taylor advertised in the Bristol Mercury for a respectable person of good character to manage a small Cheese Dairy.
Meanwhile, Samuel Taylor, of the Manor, had died in 1856 and was buried on 24th June. In 1861, his widow, 63-year-old Ann, was still at the Manor Farm living with her son-in-law, John Nind and daughter, Jane. The acreage farmed here was now down to 344 acres and 16 men and four boys were employed.
Also in 1861, another farm was being rented by a member of the Taylor family. At Field Farm, on the Western side of the Evesham-Broadway turnpike road, Robert Taylor was farming 403 acres with the help of seven men and three boys. Robert was an elder brother of Francis, who had been baptised in Wickhamford on 2nd February 1823. He had married Esther Sheaf in Offenham in 1848 and they had four sons, Robert (11), Samuel (9) ,John (8) and Henry (1) and two daughters, Sarah Ann (4) and Mary (2). The large family employed three domestic servants and a governess.
1871-1881
The Taylors had vacated the Manor by 1871; Ann was now living with her daughter, Elizabeth and her family, the Caldicotts at Harvey's Farm in Cow Honeybourne. She died in 1884 and was buried in her husband, Samuel's grave on 30th October, the Burial Register recording that she had been living in Beckford. Sarah Taylor was still living with her son and daughter-in-law, Francis and Letitia, at Elm Farm in 1871. She died in 1878, aged 83, and was buried in her husband, John's grave on 1st April.
In 1871, William Smith was the tenant of Pitchers Hill Farm. He had married Robert and Francis's eldest sister, Mary, in 1836, but she had died in 1865 and was buried on 22nd July. Living with William Smith was his niece, Mary Ann Taylor, the daughter of Robert and Francis's brother Thomas. William Smith was 58 by this time and 23-year-old Mary Ann was probably his house-keeper. This farm was 183 acres and employed ten men and two boys in 1871. Mary Ann died in 1876 and was buried on 15th January in the same plot as her aunt and uncle, Mary and William Smith
In 1881, the census records show that that Elm Farm was unoccupied. Field Farm was now run by Edmund Bullock, Pitchers Hill Farm was in the hands of Robert Smith and the Manor was leased to Edmund Pope. So, none of the farms in Wickhamford had Taylor family occupancy that year.
1891 onwards
By 1891, Robert Taylor, the son of John and Elizabeth, was at Elm Farm together with his wife, Sarah Kate nee Wood, whom he had married in Gloucester four years earlier. They had a two-year-old son, William Herbert. It is doubtful if Robert was actually running the farm as his occupation was given as a carpenter and the house was shared with the Sherwood family. Daniel Sherwood was a farm bailiff.
In 1901 there were no Taylors left in Wickhamford, but in 1911 Robert, Sarah Kate and a son, John (19) were back in the village. He was still a carpenter and they were living at Rosebank on Pitchers Hill. Robert died on 13th August 1928, aged 79 and Sarah Kate died on 2nd March 1942 and both are buried in the Churchyard.
One last Taylor rests in the Churchyard. Mary Anne Taylor's younger brother, Thomas, had married Susannah Cole in 1868 in Evesham and their youngest son Frederick (1885-1951) was one of the last people to be buried in the Churchyard before the Cemetery on Golden Lane was opened.
Members of the six generations of the Taylor family

mentioned in the text – those buried in Wickhamford Churchyard with surviving gravestones shown in bold type.

1a. ??? Taylor m. Sarah ???? (ca 1735-1821)

    2a. Robert (ca 1761-1845)
    2b. Thomas (ca 1759-1841) m. Mary ????? (ca 1759-1823)

        3a. Sarah (ca 1783-1875)
        3b. Francis (1784- )
        3c. John (1786-1786)
        3d. John (1787-1852) m. Sarah ???? (ca 1797-1878)
        3e. Robert (1796-1857)
        3f. Samuel (1798-1856) m. Ann Baylis (ca 1798-1884) -> dau. Jane (ca 1833-1862) m. John Nind
        3g. Joseph (1798-1839) m. Amelia Hopkins (ca 1813-1857)

        Children of John and Sarah
            4a. Mary (ca 1813-1865) m. William Henry Smith (ca 1813-1884)
            4b. John* (1816-1885) m. Elizabeth Sheaf (ca 1815-1885) -> dau. Sarah (1852-53)
             4c. Thomas* (ca 1816-1860) m. Ann Baylis
            4d. Sarah (1818-1829)
            4e. Frances (1820-1864) m. Thomas Sheaf
            4f. Robert (1823-1894) m. Esther Sheaf
            4g. William (1826-1900)
            4h. Francis (1828- ) m. Letitia Arkell

            Children of Thomas and Ann
                5a. Mary Ann (1846-1876)
                5b. Thomas (1848-1902) m. Susannah Cole
                5c. John (1850-1850)
                5d. John (1853- )

            Children of John and Elizabeth
                5e. Robert (ca 1849-1928) m. Sarah Kate ( - 1942)
                5f. Henry (ca 1854-1860)

                Children of Thomas and Susannah
                    6a. Henry (1869-1909)
                    6b. Annie (1870-1956)
                    6c. Thomas (1873- )
                    6d. Ellen (1875- )
                    6e. Emma (1877- )
                    6f. John (1880- )
                    6g. Frank (1883- )
                    6h. Frederick (1885-1951) m. Louisa Mumford

*Thomas Taylor and John Taylor were both buried in the Churchyard but have no surviving gravestone.
The Taylor gravestones in Wickhamford Churchyard are shown below.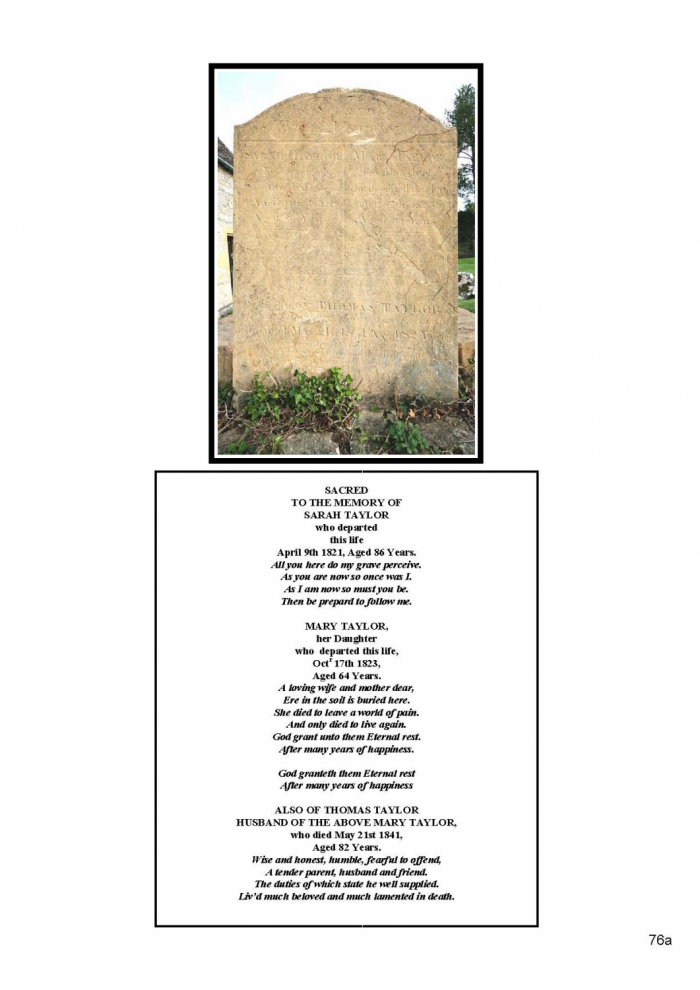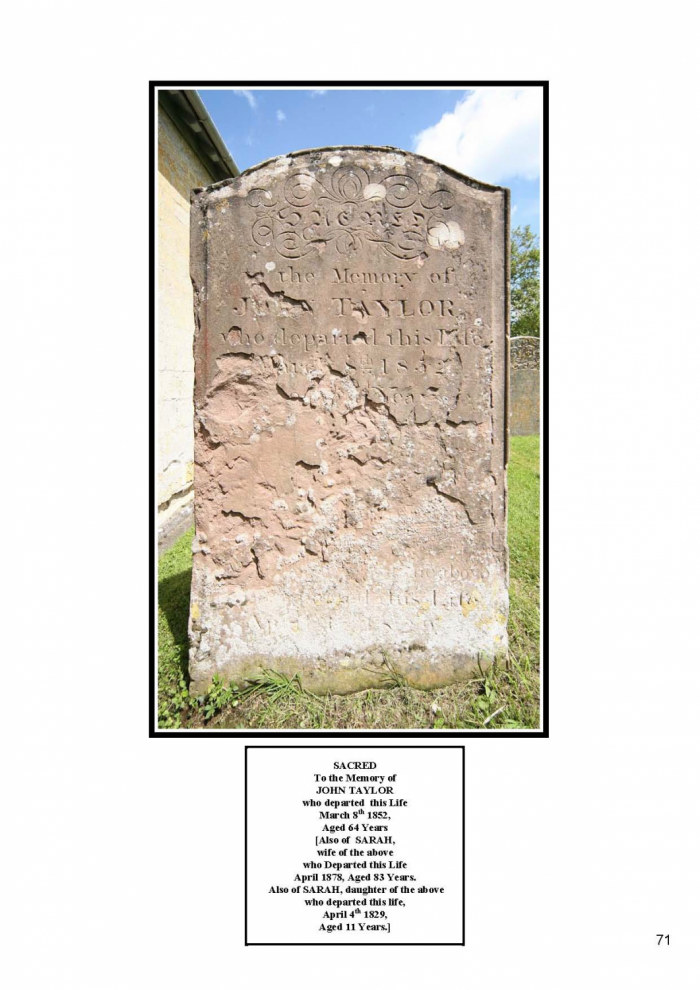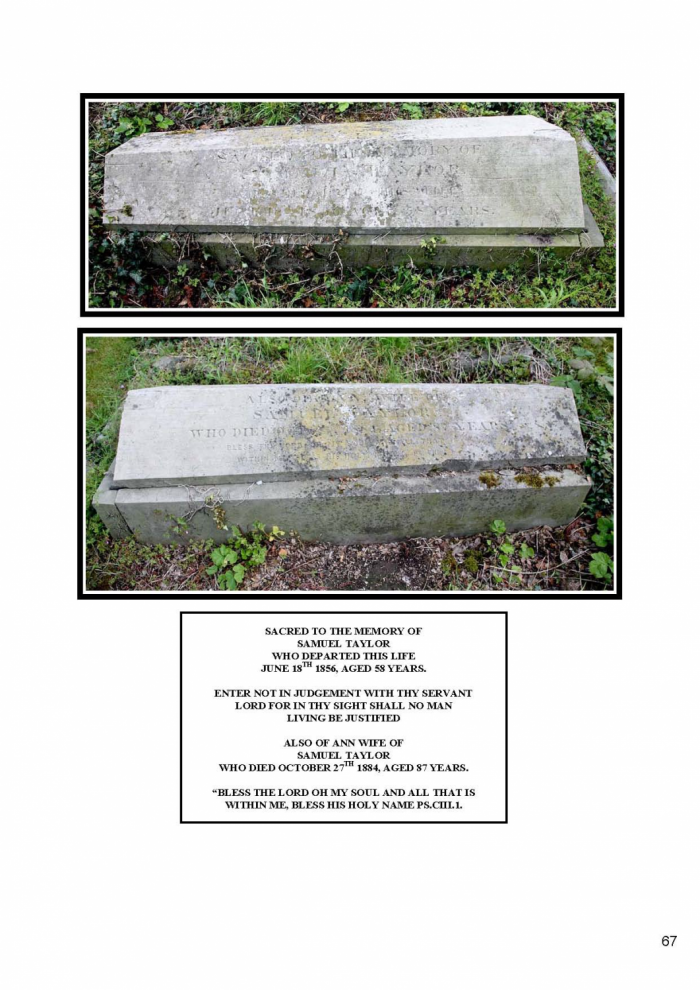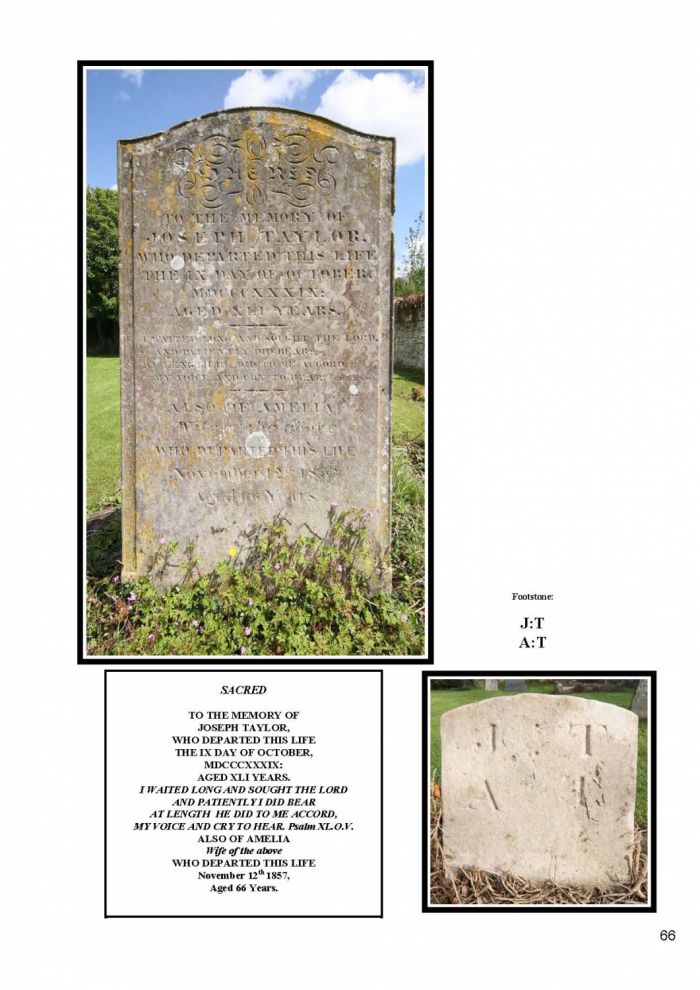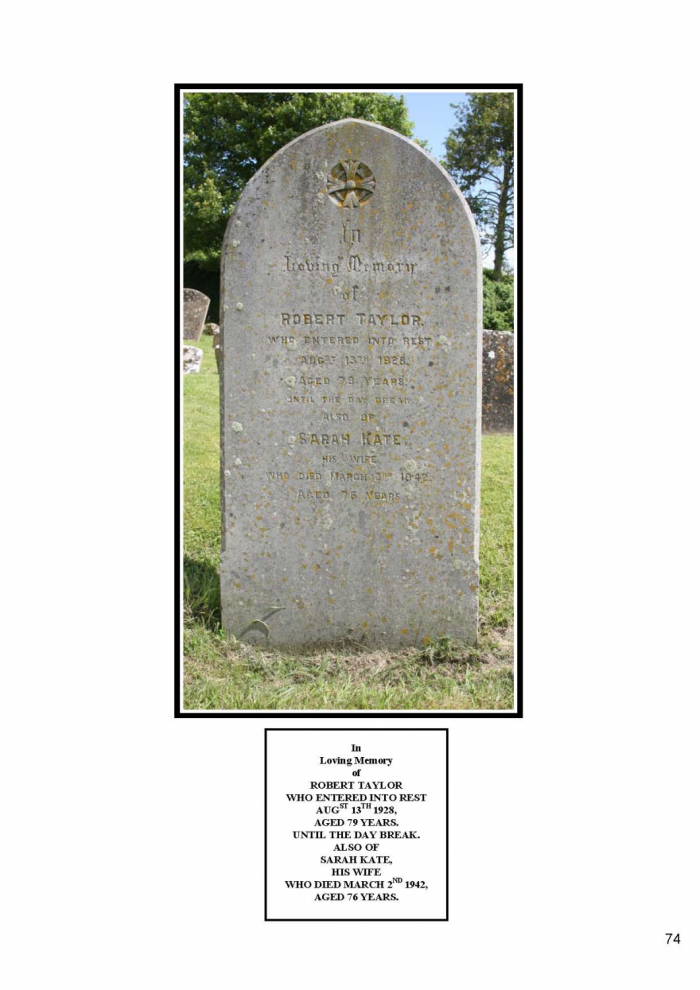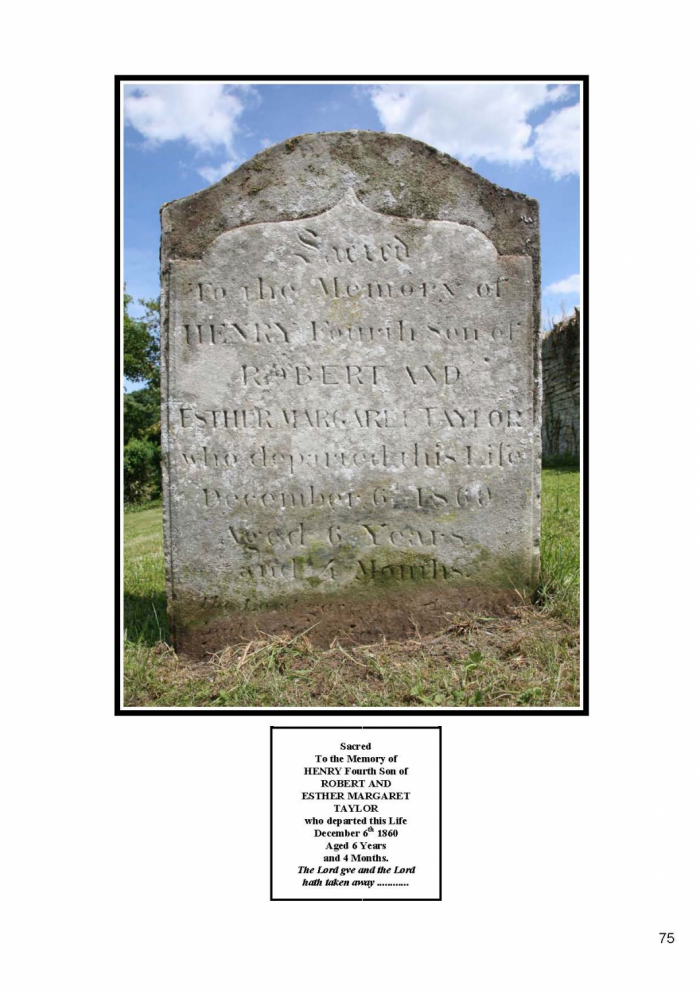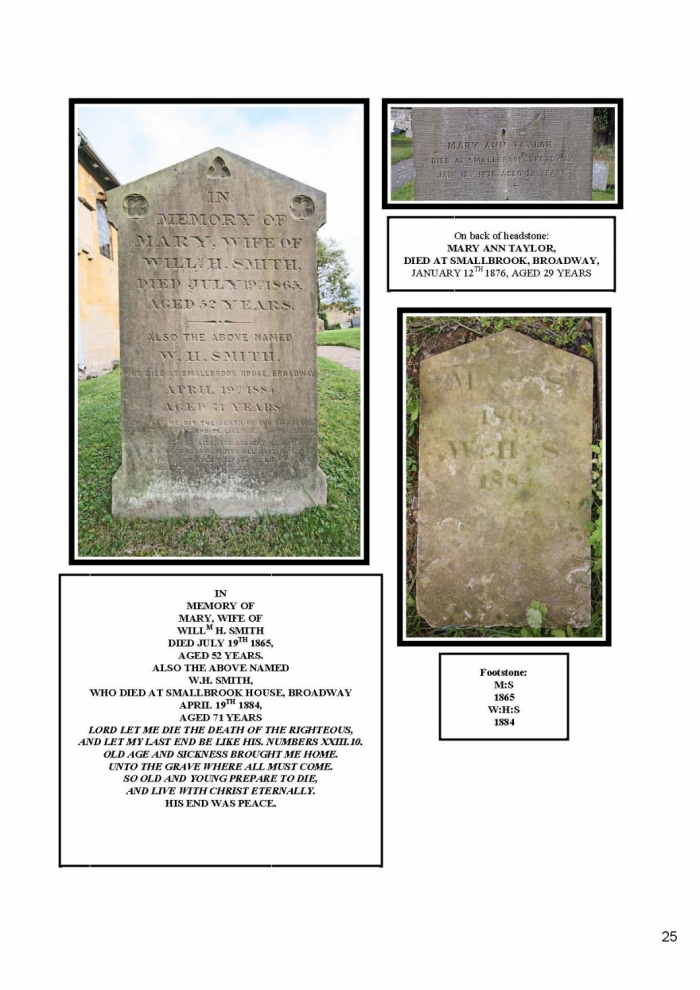 Mary Smith was a daughter of John and Sarah Taylor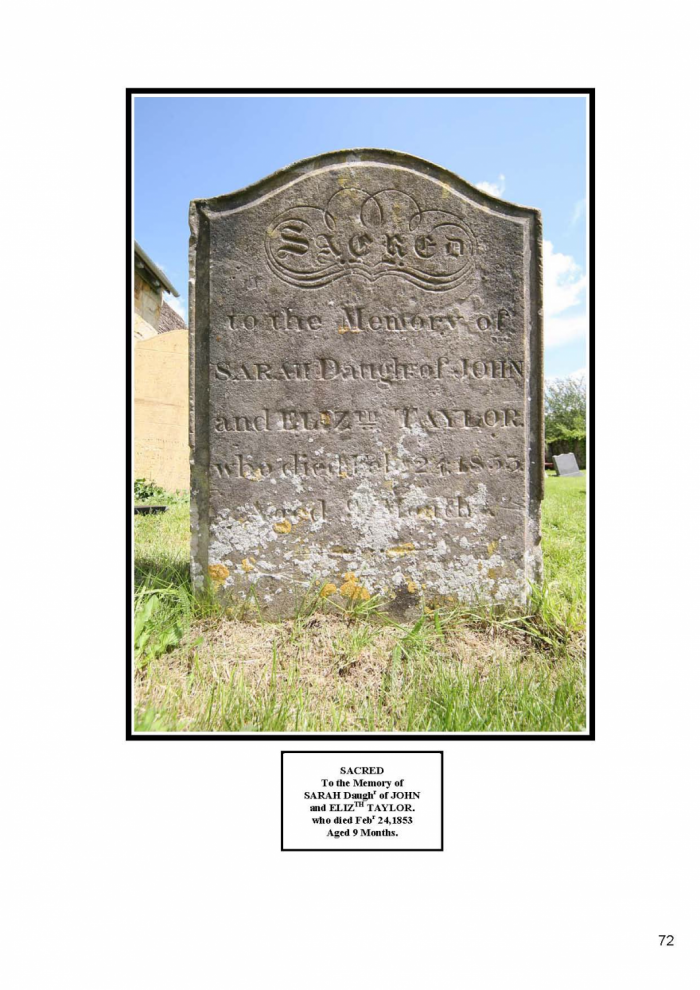 Sarah was a daughter of John Taylor, a brother of Robert, Francis, Thomas and Mary
Acknowledgements
Thanks are due to Brian Smith, whose wife, Hazel, is descended from the Taylors, for most of the information supplied for this article. We would be grateful for any pictures of the people mentioned in this piece. The photographs and inscriptions were prepared by Peter Stewart.
Tom Locke – April 2013