Alfred Henry Hiscock was a pupil at Badsey School from 1904-1905.  He died in France, aged 25.  He is recorded as missing on the school war memorial and is also named on the Evesham memorial in Abbey Park.
* * * * *
Alfred's surname was registered as Hiscock at birth and, throughout childhood, all documents refer to his name as Hiscock.  However, on the outbreak of war, he signed up under the name of Hiscox and it is that name which appears on official war records.
Alfred Henry Hiscock was born in Evesham on 19th January 1893, the elder of two children of Charles Henry and Louisa Ellen Hiscock.  Charles was a fishmonger and the family, comprising Charles, Louisa, Alfred and Florence Amy lived at 2 Magpie Lane, St Lawrence, Evesham, in 1901.
Alfred was initially a pupil at The British School in Evesham.  On 12th July 1904, Alfred transferred to Badsey Council School and remained at the school for just under a year.  The Managers' Minutes of 5th April 1905 record that Alfred was one of 11 children who had passed the Labour examination; he last attended school on 5th June 1905.  The normal school-leaving age was 14, but children who passed an examination showing proficiency at Standard V were allowed to leave early; Alfred was 12 years old at the time.
When Alfred enrolled at Badsey School, the entry in the Admissions Register gave his address as Bengeworth Fields and his guardian was named as Hubert Smith.  It seems likely that, in the early years of the 20th century, the Hiscock family hit upon difficult times and Mr Smith became Alfred's official guardian.  This is borne out by the fact that Alfred was still living with the Smith family at the time of the 1911 census and that Hubert Smith was officially noted as his guardian in Alfred's war-time service records. 
The problem that occurred in 1904 which led to Alfred moving in with the Smiths was probably because his mother was ill and was admitted to the Workhouse, and his father  moved away and started a relationship with another woman.  We know that in 1911, Alfred's mother, Louisa, was an inmate of Evesham Workhouse and Alfred's father, Charles, was living in Nottingham working as a fishmonger and poultry keeper alongside his father, Henry.  Charles had obviously been living in Nottingham for a few years as, also in the household, was 40-year-old Jane Porteous, described as housekeeper, who had had two children by Charles:  two-year-old Nellie Hiscock Porteous and one-year-old William Henry Hiscock Porteous.
At the time that Alfred went to live with the Smith family in 1904, Hubert's wife, Mary Ann, was still alive.  Hubert and Mary Ann were both in their sixties and had had 11 children in total, eight of whom still survived.  In 1901, their three youngest sons, Hubert, Thomas and Walter, were still at home (Hubert and Thomas were 16 and 14 years older than Alfred, but Walter was only six years older) so this may have been the household that Alfred joined in 1904.  Mary Ann Smith died in 1910.  In 1911, the household at Bengeworth Fields comprised Hubert, his eldest daughter, Harriet, who was unmarried, and his youngest son, Walter, as well as Alfred.  Alfred was working as a market gardener's labourer.
On the outbreak of war, Alfred joined the Worcestershire Regiment and was posted to France on 1st April 1915.  At some point, along with some other men and NCOs from the Worcestershire Regiment, he became attached to the Royal Flying Corps which needed men and NCOs to train as ground crew.  The Royal Flying Corps was the air arm of the British Army before and during the First World War, until it merged with the Royal Naval Air Service on 1st April 1918 to form the Royal Air Force.  The London Gazette of 25th September 1917 records that Alfred was commissioned as a Second Lieutenant in the Royal Flying Corps.  The London Gazette of 1st May 1918 records that Alfred was then commissioned as a Second Lieutenant in the newly-formed Royal Air Force.
In May 1918, Alfred was assigned to 208 Squadron, which was based at Walmer Airfield, Kent.  It had been re-equipped with Sopwith Camels and was assigned to artillery spotting.  Alfred was with the Squadron in France on 6th September 1918 when he was reported missing.  His RAF record states that:  "Death has now been accepted for official purposes as having occurred on or since that date."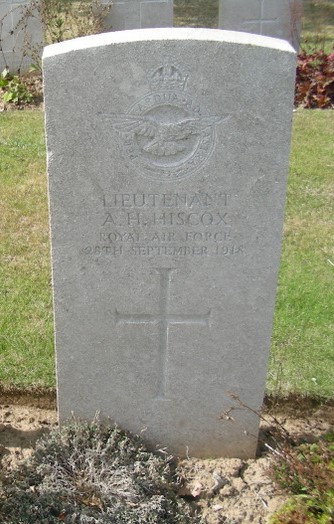 However, the grave registration report on the Commonwealth War Graves website gives his date of death as 28th September 1918.  A further document entitled "Concentration of Graves (Exhumation and Re-burials)" reveals that Alfred's body had been found at map reference 51b.V.25.b.2.3, along with an unknown Canadian soldier and unknown British soldier, and reburied at Queant Road Cemetery, near Buissy, Pas de Calais, on 12th December 1919.
Alfred's name, which appears as Alfred Hiscock, is recorded on the Badsey Council School memorial as "Reported Missing".  His name also appears on the Abbey Park, Evesham Memorial as A H Hiscox.  A memorial was erected at Walmer Airfield with the inscription:  "We pray you remember in the Lord these gallant airmen who gave their lives in France and who were stationed at this aerodrome April 1917 to October 1918."  But Alfred's name did not appear on it.  Nearly a hundred years later, modern-day researchers of the Walmer Airfield have uncovered a number of inaccuracies on the memorial, not least the fact that there were some other men, including Alfred, who had served at Walmer but were not included.
In his will, Alfred had appointed May Edith Turner and Walter George Smith as his executors.  May was presumably his fiancée.  She was born in Broadway in 1892 and had been working as a servant in Evesham at the time of the 1911 census.  Walter George Smith was the youngest son of Alfred's guardian, Hubert.
May Turner later married John R Harrison in 1922. Alfred's guardian, Hubert Smith, died in 1924.  It is not known what happened to Walter Smith, who was closest to Alfred in age, but Hubert's eldest daughter, Harriet, who may have been like an aunt or elder sister to Alfred, remained living at Bengeworth Fields House until her death at Evesham Infirmary in 1942.
As for Alfred's natural family, his mother, Louisa, who had been in the Workhouse for over a decade, died in 1917.  His sister, Florence Amy, had moved away from the Vale and had been working as a domestic servant at a school in Derbyshire in 1911, but her whereabouts after this are unknown.  Alfred's father, Charles, had made a new life for himself in Nottingham with a new partner and children.  Charles ultimately married Jane Porteous in 1931 and he ended his days in Nottingham in 1946.