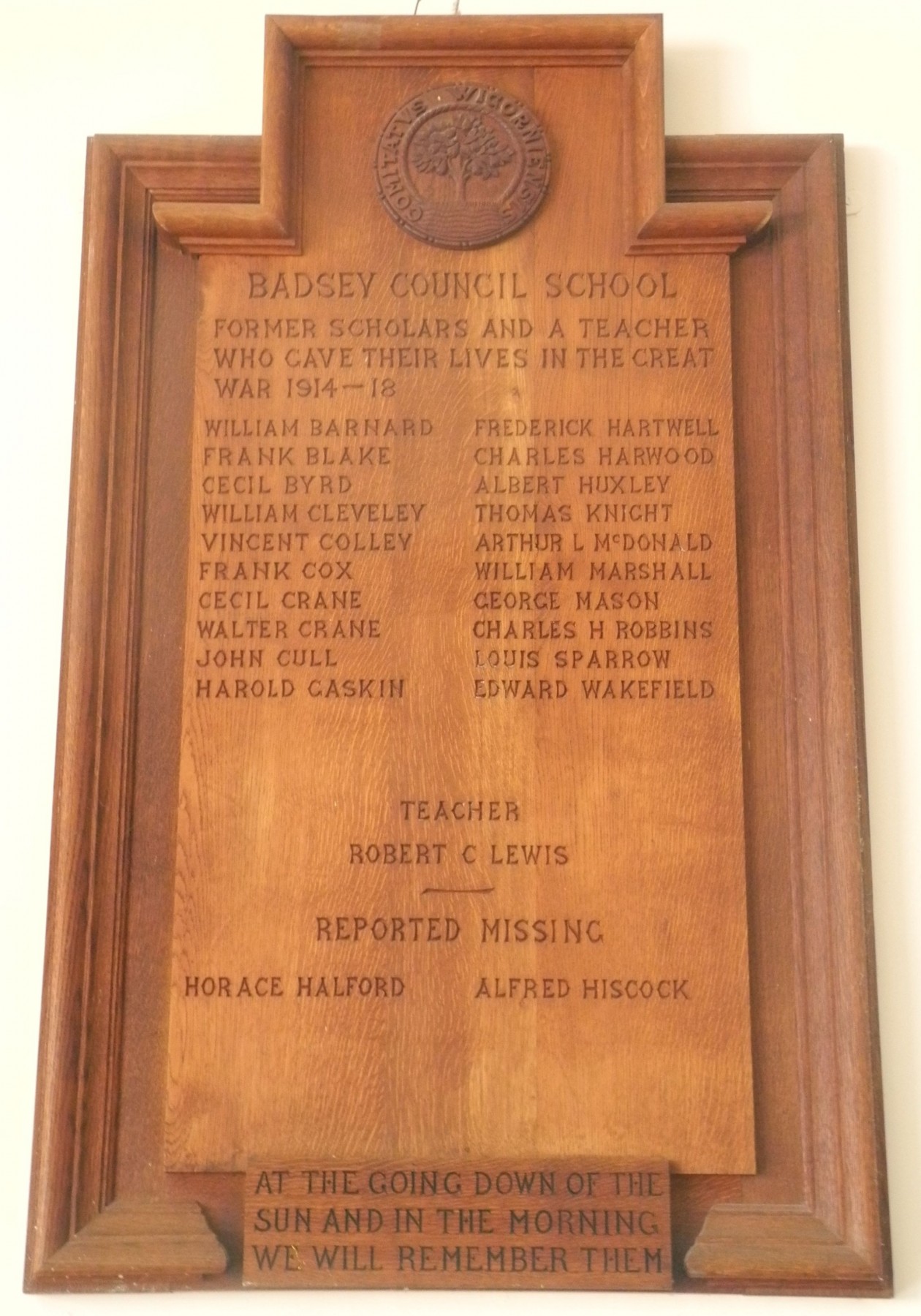 The First World War memorial for Badsey Council School still hangs on the wall of the Main Hall at Badsey First School.  The Board is headed by the former emblem of Worcestershire County Council and contains an extract from the famous poem, "For the Fallen", by Laurence Binyon (1869-1943) who visited Badsey School on a number of occasions as his brother, Charles, was a School Manager.
One teacher and 22 former pupils are commemorated on the memorial.  Two of the pupils, Horace Halford and Alfred Hiscock, are recorded as "Reported Missing".  Three of the names on the school memorial, that of Alfred Hiscock, Charles Robbins and Edward Wakefield, do not appear on either the main village memorials for Badsey or Wickhamford.  One name, that of Thomas Willoughby, who appears on the Wickhamford Memorial, has been omitted.
The Head Teacher, Frank Amos, who himself had served in the war, wrote in the Log Book on 18th February 1921:  "War Memorial for the school received this afternoon."  The Managers' Minute Book reveals that correspondence with the County Education Authority concerning the memorial had been taking place since 1919.  The memorial had been provided by the County Council and County Councillor, Mr H B Game, was present at a special ceremony on Friday 11th March 1921 for the unveiling.  "As many of the children as space allowed were present, together with many of the near relatives of those whose names are recorded on the board," wrote Mr Amos.  "A service suitable to the occasion was held.  The Managers and the Vicar were present."
In June 1922, permission was given for a captured German rifle to be placed above the war memorial.  How long this remained in position is not known, but it certainly is not there now!