Edward Francis Wakefield was born at Aldington and attended Badsey School from 1896 to about 1905.  He died in Belgium, aged 23.  Sergeant Wakefield's name is recorded on the war memorial at Badsey School.
* * * * *
Edward Francis Wakefield was born at Aldington on 6th May 1893 and baptised at St James' Church, Badsey, on 16th July.  He was the fifth of eight children of Francis John and Harriet Wakefield.  He had three older brothers (Frederick James, Sidney Algernon and Percival), an older sister (Elsie Lilian), a younger brother (John Harry Harmon) and two younger sisters (Olga Eileen and Iris Clementine).
Edward spent his early childhood years living in a thatched cottage (demolished in the 1920s) on Main Street, Aldington, as his father was employed as an agricultural labourer by Arthur Savory at the Manor.  Some time between 1898 and April 1900, the family moved to Victoria Cottage, Station Road, Blackminster; Edward's father was by now a market gardener.
Some time between 1902 and 1905, the Wakefields moved to Birmingham as, by early 1906, their last child was born in Birmingham.  At the time of the 1911 census, they lived at 28 Winson Green Road, Birmingham.  Edward was waiter for a wine merchant whilst his father was a maltster.
On the outbreak of war, Edward enlisted with the Rifle Brigade and went to France on 21st July 1915.  He was home on leave for Christmas 1915 and married 20-year-old Louisa Layton at St John's Ladywood, Birmingham, on 27th December 1915.
Less than two months later, Louisa was widowed when Edward was killed in action on 22nd February 1916.  He was buried at Essex Farm Cemetery, Belgium.  There were no reports about him in the Badsey Parish Magazine as, by this time, the family had been left for more than a decade, but he was still remembered at his old school and features on the school war memorial.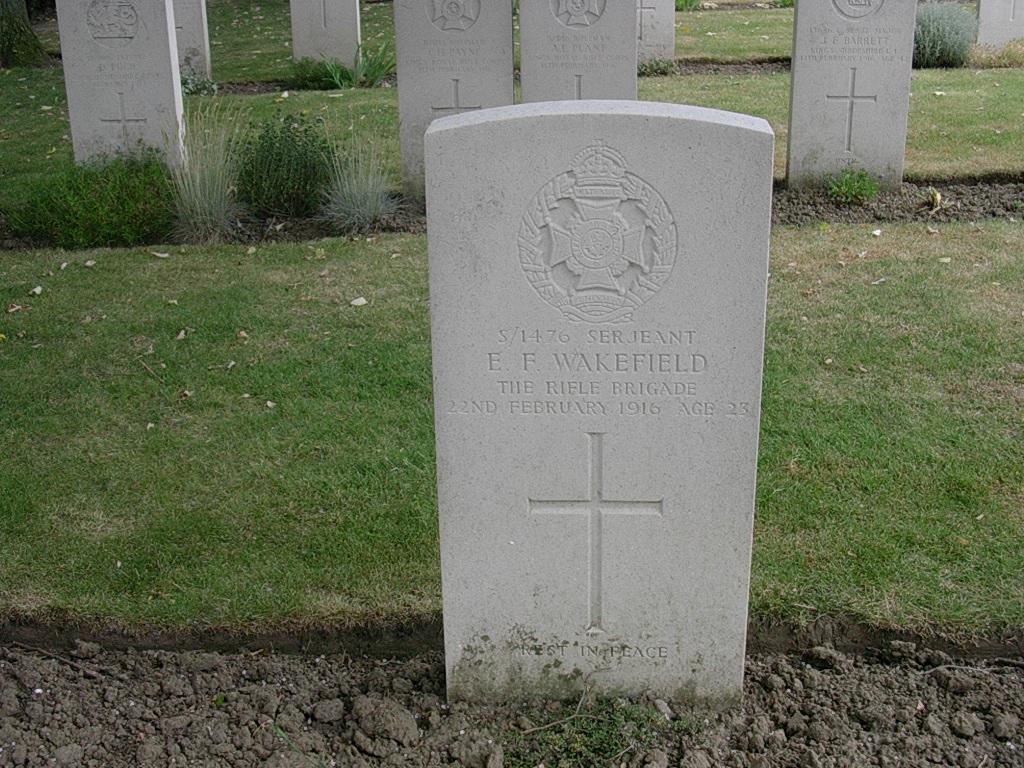 Edward's widow, Louisa, married again in 1918 to Olav Hanson and had a daughter, Eileen, in 1919.  Louisa remained living in the Birmingham area until her death in 1967.
Edward's parents seem to have moved away from Birmingham in old age.  His father, Francis, died in the North Cotswold district in 1939.