Private John Deighton is not listed on the Badsey War Memorial as he was not from Badsey, but he did have Badsey connections and his death was noted in the Parish Magazine.  Arguably Private Deighton's name had as much right to be on the Badsey War Memorial as some others with more tenuous links.  As far as we know, there is no memorial to him in England
* * * * *
John Deighton was born in Aston, Warwickshire, in 1897, the fifth of six children of Thomas and Amelia Deighton.  He grew up at 48 Pugh Road, Aston Manor, with his siblings, Alma, Angelina, Charles, Mary Jane and Gertrude.  His father, Thomas, worked as a lamplighter in 1901 and a rubber worker in 1911.  John was still at school at the time of the 1911 census, but it is likely he became a rubber worker like the rest of his family. 
John's girlfriend in Aston Manor was Annie Walker who was the same age and lived nearby.  In August 1917, Annie gave birth to a baby boy, John Deighton Walker, who we must presume was John's son.  Young John was baptised at St James' Church, Badsey, on 5th October 1917.  He was received into the church on 17th February 1918, but no father's name was given.  The reason why the baby was baptised at Badsey was because Annie's widowed mother, Anne Walker, had family connections with Badsey.  Anne Walker had spent her childhood years in Badsey and had married at St James' Church in 1880; she had returned to Badsey, possibly to look after her mother, who had died in April 1917.  As Anne's daughter was having a child out of wedlock, it was likely that she decided to move away from the place where she had grown up and give birth in Badsey.
On 4th February 1918, John Deighton and Annie Walker wed at St Peter & St Paul, Aston.  It is not known when John enlisted but we know that he became a Private in the Machine Gun Corps, Infantry, 37th Company (No 12436).  Within a month or two of the wedding, John was dead, being killed in France on 5th April 1918.  The Parish Magazine of May 1918 recorded:  "We regret to learn that Pte J Deighton, son-in-law of Mrs Walker, of Badsey, was killed in action early in April."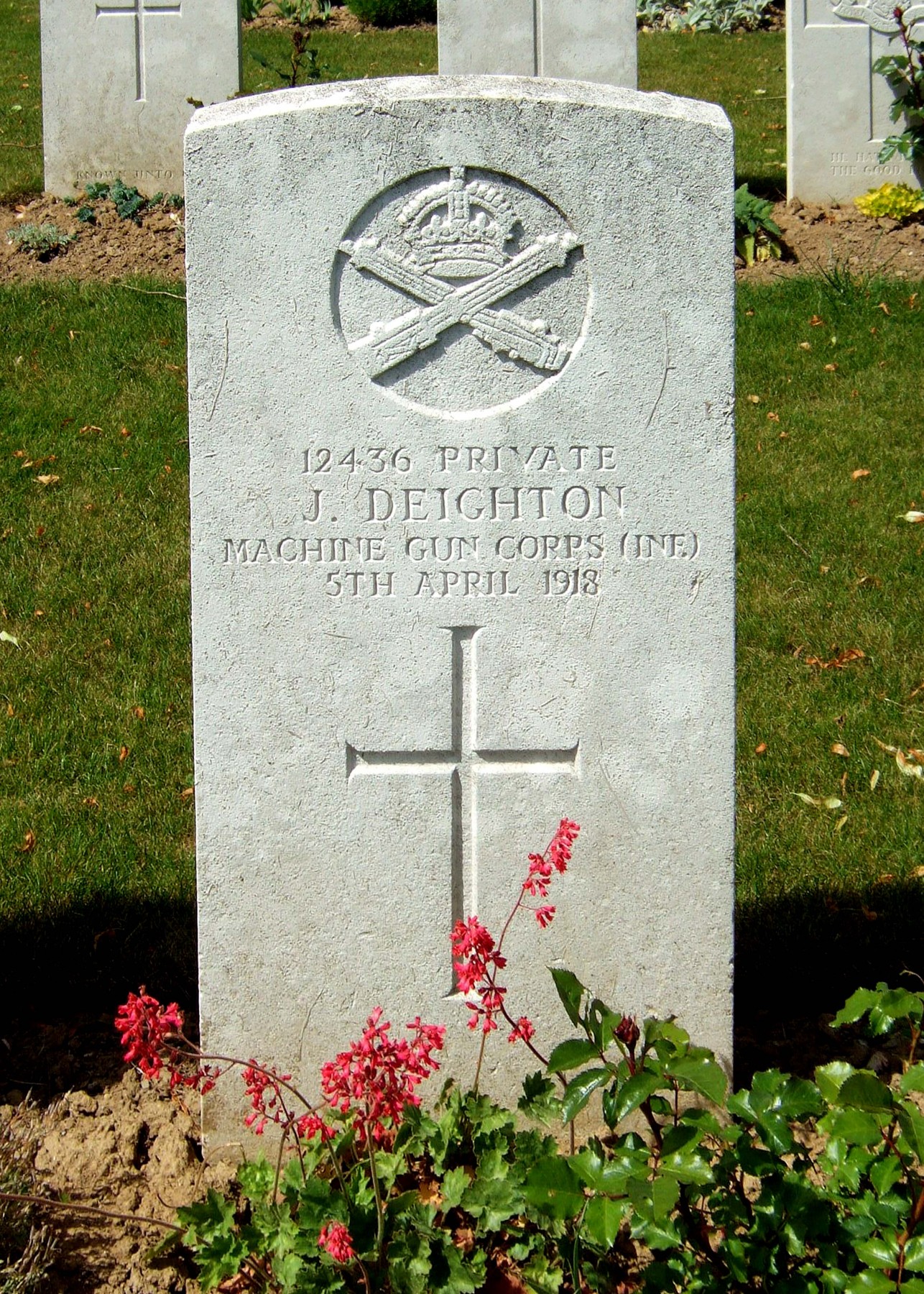 A "Concentration of Graves (Exhumation and Reburials)" document dated 16th October 1919, published on the Commonwealth War Graves website, reveals that John's body was found at map reference F26.D.20.30 and was buried in Grave 2 at Gommecourt British Cemetery No 2, Hebuterne, Pas de Calais, 19 kilometres south-west of Arras. 
Annie Deighton was left with an eight-month-old baby.  Six months later, Annie's brother, Corporal Geoffrey Walker, was killed in France.  Just a few weeks later, her mother, Anne Walker, died, and was buried in St James Church, Badsey, on Armistice Day 1918.  So, within the space of 19 months, Annie had lost her grandmother, her husband, her brother and her mother.
Annie Deighton remained living in Badsey, at least until the time of the Second World War; from 1928, she is recorded as living at 28 Synehurst.  Her son, John Deighton Walker, attended Badsey Council School from 1922-1931.  Annie died in the Worcester area in 1966.
John's parents remained in Aston, both dying there in 1942 in their seventies.