Corporal Geoffrey (or Jefery as his name appears in army records) Walker is not listed on the Badsey War Memorial even though his residential address was given as Badsey at the time of his death and he appears on the Absent Voters' list for 1918. As far as we know, his name is not recorded on any memorial in this country.
* * * * *
Geoffrey Walker was born at Hampton, Evesham, in 1890, the fourth of six surviving children of William and Anne Walker (née Jones). His parents had married at St James' Church, Badsey, in 1880, as his mother had grown up in the village.
Geoffrey's eldest sister, Kate, was born in Badsey, but then the family seemed to move quite regularly as his siblings were born in various different places. At the time of the 1891 census they were living at Clifford Chambers, Gloucestershire, but by 1901 they were living at Aston Manor, Warwickshire.
On leaving school, Geoffrey joined the army (No 10803). At the time of the 1911 census he was a Private in the 1st battalion Worcestershire Regiment, working as a groom, based at Carisbrooke Castle. As a regular soldier, he first went overseas in 1914, arriving on 5th November.
At some point between the 1911 census and 1916, Geoffrey's mother moved from Aston back to Badsey, possibly to help look after her elderly mother who died in April 1917 (Geoffrey's sister, Kate, was already back in Badsey by 1911 living with her grandmother). The Walkers were definitely established in Badsey by 1916 as a report in the October 1916 Parish Magazine said that Geoffrey was one of the soldiers who had been sent a parcel from the Badsey Soldiers' Fund.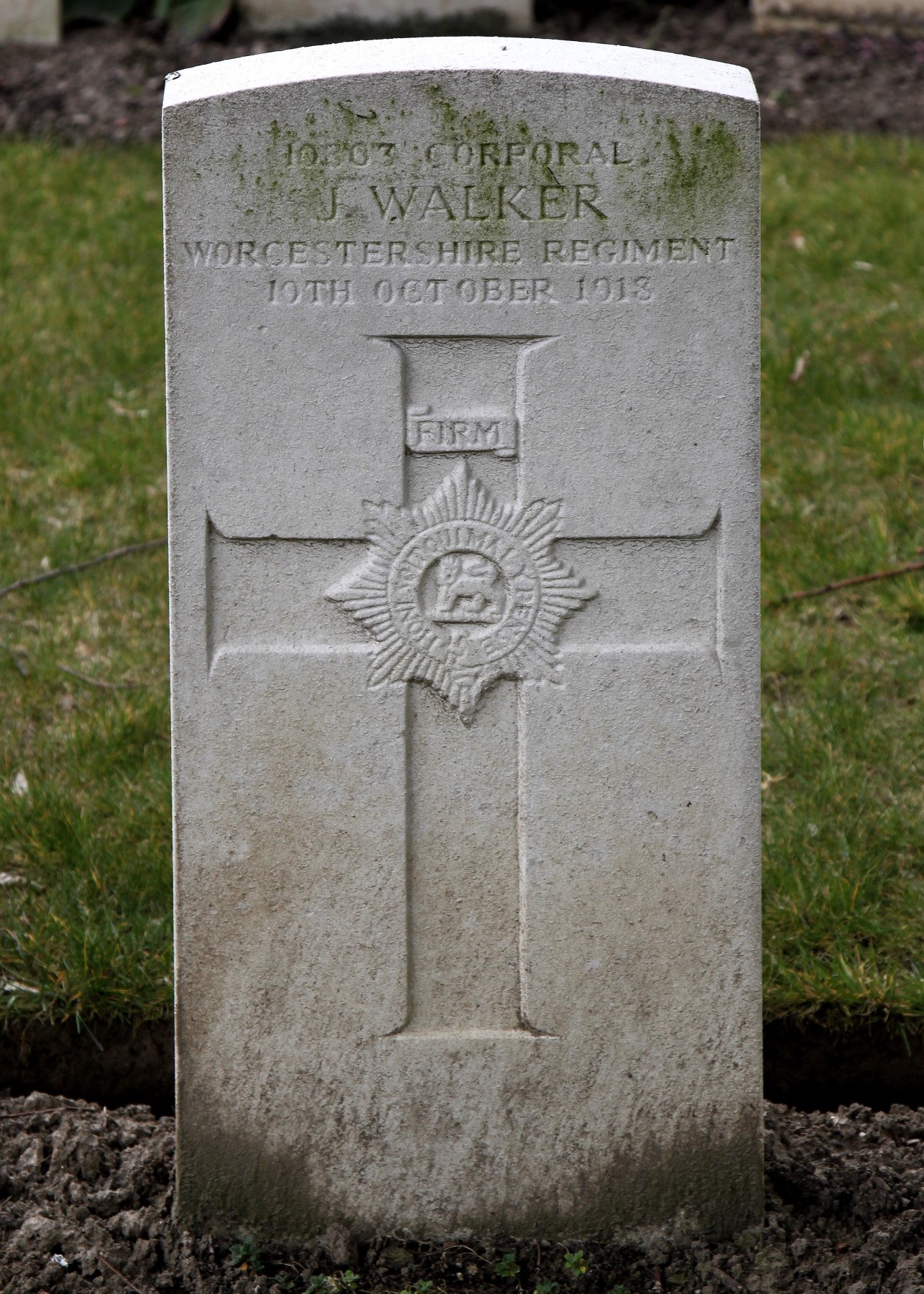 A report in the December 1918 Parish Magazine said: "Miss K Walker has been officially informed that her brother Corpl Geoffrey Walker, has been missing since October 14. We sincerely hope she may soon have reassuring news." Sadly, this was not to be, and it was later confirmed that Geoffrey died of wounds on 19th October 1918. He was buried at Tournai Communal Cemetery Allied Extension, Belgium. Just a short time later, his mother died and was buried in St James Churchyard, Badsey, on Armistice Day 1918.
Corporal Walker's two sisters, Kate Walker and Annie Deighton (whose husband, John Deighton, had been killed in France in April 1918) remained in Badsey for the rest of their lives.  For some reason, his name was omitted from the Badsey War Memorial; his name does not appear on the Hampton or Evesham memorials either.