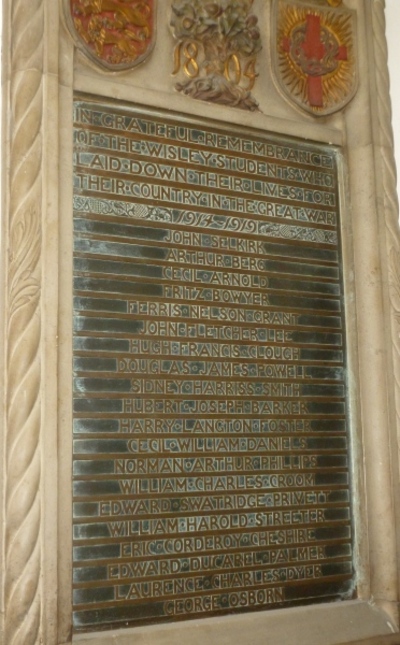 Corporal Douglas James Powell, who lived in Badsey for a year or two prior to the war, is honoured on the war memorial at the Royal Horticultural Gardens at Wisley.  Douglas was a horticultural student at Wisley c1910-1911, hence the reason for his name being included on the memorial.
The memorial, which contains 20 names, is a bronze plaque surrounded by a frame of Hoptonwood stone.  Above the panel is the crest of the Royal Horticultural Society.  At the upper right corner is the national symbol of a shield bearing three English lions.  At the upper left corner is the emblem of the passion cross.  It bears the inscription:
IN GRATEFUL REMEMBRANCE
OF THE WISLEY STUDENTS WHO
LAID DOWN THEIR LIVES FOR
THEIR COUNTRY IN THE GREAT WAR
1914-1919
A commemorative volume containing the biographies of the 20 men who died is held at Wisley.