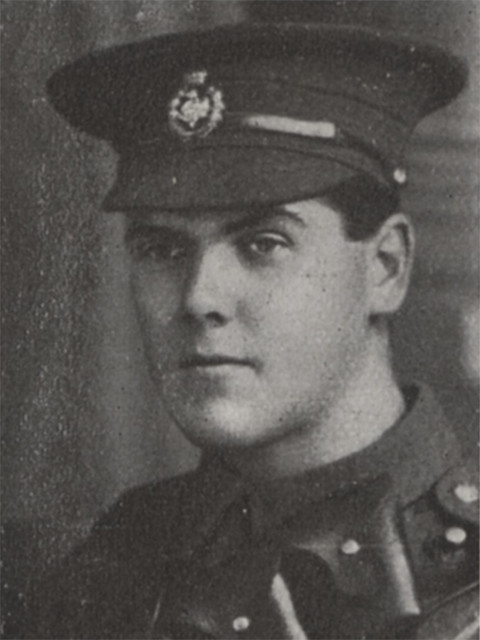 Douglas Powell moved from West Norwood, London, to Badsey, in about 1912 or 1913.  Corporal Powell is recorded on the war memorials in St James' Church, Badsey; Dulwich College; the Royal Horticultural Society Gardens at Wisley; on the memorial at St Luke's Church, West Norwood; and on the Worcestershire Hussars memorial in Worcester Cathedral.  He has no known grave, but his name is recorded on the Jerusalem Memorial at Jerusalem War Cemetery.
* * * * *
Douglas James Powell was born on 21st December 1894, the youngest of five children of James Samuel and Martha Helen Powell.  He was baptised at St Luke's, West Norwood, Surrey, on 1st September 1895.  His elder siblings were Harold Thomson (1886), Maud Elizabeth (1889), Gertrude Elsa (c1891) and Freda (c1893).  Douglas' father was a merchant and carpet agent.  They lived at 6 Chatsworth Road, West Norwood, with two servants.
Both Douglas and his older brother, Harold, attended Dulwich College.  After leaving Dulwich, Douglas went to study horticulture at the Royal Horticultural Society Gardens at Wisley.
Douglas' father died in 1910.  At the time of the 1911 census, Douglas was still at home with his widowed mother and three of his siblings; he was still a student at the RHS Gardens.  Also in the household was a visitor, Florence Beatrice Page; in a few days' time she was to marry Douglas' elder brother, Harold.
After leaving Wisley, Douglas moved to the Vale of Evesham where he was apprenticed to a fruit farmer.  His brother, Harold, who had been working as a carpet agent in 1911, obviously decided to join him in the outdoor life as, shortly afterwards Douglas went into partnership with his brother as a fruit-grower.  In November 1913, Harold and Douglas purchased Bohemia Gardens, Bowers Hill, for £1200, where a bungalow had been erected on the site in 1906.
In August 1914, Douglas enlisted at Worcester with the Worcestershire Yeomanry, also known as the Queen's Own Worcestershire Hussars, which formed part of a bigger Midland Mounted Brigade.  In 1915, the Brigade was ordered to Egypt and sailed from Avonmouth on 11th April, arriving at Alexandria on 22nd April where they were based at Chatby Camp.  In August 1915, the Brigade was informed they were to fight as infantry, were sent to Suvla Bay where they landed on 18th August and took part in the Gallipoli campaign.  In December 1915 they withdrew from Gallipoli and returned to Egypt.
Douglas and his colleagues were sent to protect the eastern side of the Suez Canal and were responsible for patrolling the whole of the Qatia water area.  The Regiment dug wells and sent out patrols for reconnaissance.  The small isolated garrison at Oghratine had been ordered to protect a party of engineers on a well-digging expedition when, at dawn on 23rd April 1916, 3000 Turkish troops, including a machine gun battery of 12 guns, attacked.  The defending troops repulsed the first attack but were forced back by the weight of the onslaught. The defenders' only machine gun was put out of action early in the attack and all the gunners were killed or wounded.
The victorious Turkish troops then advanced to reinforce the attack taking place against the small garrison at Qatia.  Qatia fell to the Turkish forces with the loss of all of the Yeomanry's officers except one Major who was wounded and managed to withdraw with about half the squadron.  In these actions 9 officers and 102 NCOs and men of the Regiment were killed and many others wounded.  At some time on that fateful day (which also happened to be Easter Day and St George's Day), Douglas Powell, aged 21, who was on outpost duty, must have died but his body was never found.  The Parish Magazine of September 1916 reported that "Cpl D Powell has been missing since Easter."
Anzac troops, who occupied both Qatia and Oghradine four days later, testified to the ferocity of the battle and paid tribute to the valour and tenacity of the defenders.  The Affair at el Qatiya was a small and very successful action undertaken by the Ottoman forces against the British forces scattered around el Qatiya and Bir el Dueidar. The raid created panic in the British command and highlighted the need for a greater commitment to strengthening the defences of Romani, eventually leading to a battle at that place.
Douglas' name is recorded on the Jerusalem Memorial at Jerusalem War Cemetery, which commemorates 3,300 Commonwealth servicemen who died during the First World War in operations in Egypt or Palestine and who have no known grave.
At the time of his death, Douglas' brother, Harold and his wife, Florence, were still living at The Bungalow at Bowers Hill.  They had two children, Joan Elsa and James Samuel.  They remained living in Badsey until March 1919 when Joan was recorded as having left the village when she left Badsey Council School.  They remained in the area for a while, as another daughter, Maureen, was born in 1920 in the Evesham area.
Douglas' widowed mother remained living in the London area until her death in 1943.  Administration of his will was granted to her in 1919.
A hundred years after he died, a glittering poppy sculpture commemorating members of the Worcestershire Yeomanry who were killed in battle was unveiled in Cripplegate Park, Worcester.