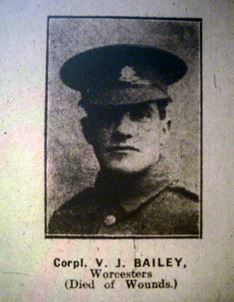 Corporal Victor James Bailey (1896-1917) was born in Wickhamford but left the village when he was three years old.  He is remembered on the war memorials in St Peter's Church, Bengeworth and Abbey Park, Evesham.
* * * * *
Victor Bailey was the third of four surviving sons of milkman, Joseph Richard Bailey, and his wife, Amy Lilian.  They lived on Longdon Hill, Wickhamford in 1891.  Victor was three years old when the family left Wickhamford in 1899.  They moved to 4 North Road, Bengeworth, where they were to be found at the time of the 1901 and 1911 census; Victor was a telegraph boy in 1911.  Victor's two older brothers, Thomas William Bailey and Frederick George Bailey, also served in the war.
Victor joined the 1/8th Battalion, Worcestershire Regiment (No 241551) in Evesham.  He died of wounds in France on 21st November 1917.  He is buried in Boulogne Eastern Cemetery (Ref VIII.I.118).