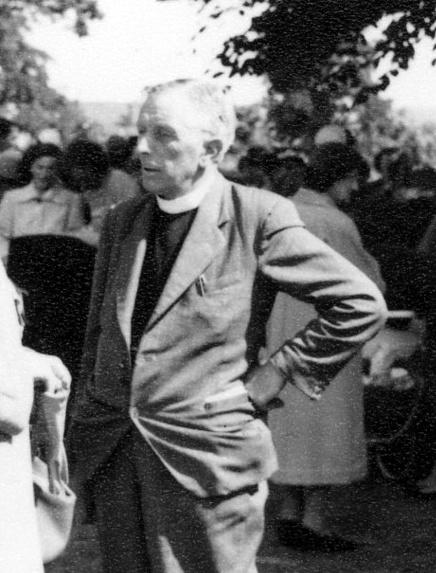 Private Wilfred Broadhurst Chapman (1893-1964) became associated with Wickhamford long after his period of service in the war when he became Vicar of the parish.
He was born in Birmingham, the youngest son of Walter and Kate Chapman, he being a manager of a metallic bedstead works, and the family lived in Edgbaston. Wilfred Chapman began his working career as an accounts clerk but then became a theological student at St David's College, Lampeter. He was still a student there in January 1916, when he joined a unit of the RAMC in North Wales. The unit consisted mainly of ordained ministers and theological students of all denominations. After training, the unit was dispersed across the various battlefields to work in Field Ambulances, Casualty Clearing Stations, and Hospital Ships, but details of Chapman's specific service are not known. 
Wilfred joined the Royal Army Medical Corps (No 81910) in 1916.  The only surviving Army record is of his Medals; he received the Victory and British War Medals.
After the war, he returned to his studies and went on to become an ordained minister, serving parishes in various parts of Yorkshire. From 1936-1947, he was Vicar of Featherstone, situated between Wakefield and Pontefract and he moved to Badsey in January 1948 when he became Vicar of Badsey with Aldington and Wickhamford from until 1957.
Because of ill health, Reverend Chapman moved to the much smaller parish of Hinton-on-the-Green in November 1957 where he remained until 1962. He retired to Huddersfield where he died in November 1964.