On 4th December 1915, The Evesham Journal reported that the late Samuel and Rebecca Halford of Wickhamford had five sons in the Army:  Private Alfred James Halford (known as Fred), Private Allen Ernest Halford, Private Horace Albert Halford, Corporal Walter Owen Halford and Private Francis Harry Halford (known as Harry).  Pte Harry Halford (1892-1965 was the eighth son and one of ten children of Samuel and Rebecca and had been born at Offenham.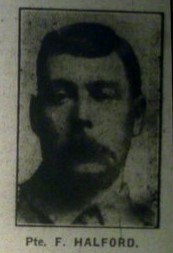 Harry moved with his family from Offenham to Wickhamford in 1894.  He was a market gardener's labourer in 1911, living with his parents on Pitchers Hill.
According to a piece in The Evesham Journal of 4th December 1915, Harry was serving with a Territorial Battalion in France in 1915.  No enlistment or service record remains for this man, but a Medals Record does exist under this name.  He was in the 1/8th Battalion, Worcestershire Regt (Nos 1067 & 63573) and in France from 31st March 1915, so qualifying for the 1914/15 Star, British War and Victory Medals.  The dates suggest that this is the correct Harry Halford.
Harry married Ethel Mildred Winfield at Wickhamford on Christmas Eve 1919.  They were living at Pitchers Hill, Wickhamford, at the time of the 1939 register, with their nephew, Samuel, also in the household.  Harry died in 1965.