On 4th December 1915, The Evesham Journal reported that the late Samuel and Rebecca Halford of Wickhamford had five sons in the Army:  Private Alfred James Halford (known as Fred), Private Allen Ernest Halford, Private Horace Albert Halford, Corporal Walter Owen Halford and Private Francis Harry Halford (known as Harry).  Pte Allen Halford (1883-1962) was the fifth son and one of ten children of Samuel and Rebecca and had been born at Offenham.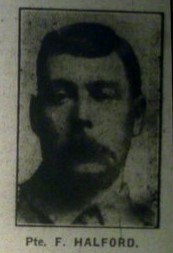 Allen moved with his family from Offenham to Wickhamford in 1894.  He was a market gardener in 1911, living with his parents on Pitchers Hill.
Allen Halford joined the Worcestershire Regiment (No 16020).  In 1915 he was with the B.E.F. in France, arriving on 18th September.  His mother received a letter of thanks from George V for her loyalty and devotion.  The Parish Magazine of October 1916 reported that a Private E Halford (assumed to be Allen Ernest) had received a parcel sent abroad from Badsey Soldiers' Fund.  The same magazine reported that Private E Halford, who had been severely wounded, was in hospital at Stourbridge.  Allen later transferred to the Labour Corps (No 613517).  He is listed on the 1919 Absent Voter List as from Wickhamford and attached to 168 Prisoner of War Company.