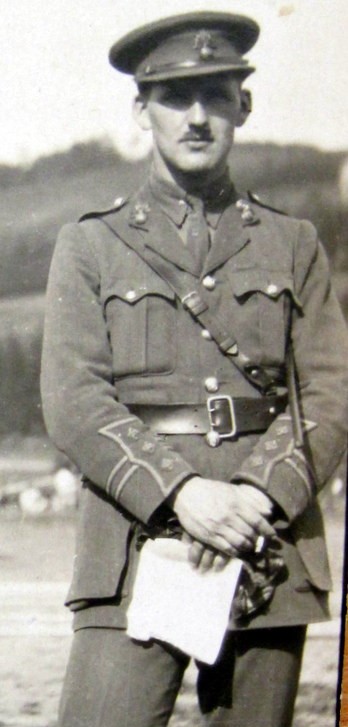 Temporary Major Thomas Mason (1894-1976) was the third and youngest son of John White Mason and his wife, Elizabeth.  His brother, George Mason, was killed in 1917 and is featured on the Wickhamford war memorial.
Thomas joined the 26th (Bankers) Battalion, The Royal Fusiliers (City of London Regiment), which was recruited from bank personnel in July 1915.  The Battalion went to France on 4th May 1916 and was moved to Italy in November 1917.   After the German offensive in Northern France in the Spring of 1918, the 26th returned to France.   Details of Thomas Mason's record are no longer available but his Medals Record states that he went to France in April 1917, having originally joined No 13 Officer Cadet Battalion at Newmarket.. He was awarded the Victory and British War medals, but also the Military Cross (Gazetted 3rd June 1919), the Belgian Croix de Guerre and an M.B.E.   He is mentioned in the London Gazette of 4th September 1919 as a Temporary Captain.  He appears in the Absent Voters' List as from Wickhamford.
After the war Thomas became a Manager at Lloyds Bank.  He died in the Surrey district in 1976.