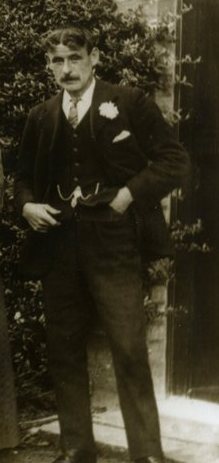 Private George Henry Pitts (1877-1961) joined the Worcestershire Regiment (No 204277), having requested the Royal Field Artillery on his enlistment form, on 18th June 1917, at 39 years 10 months old. Briefly in the 1/7th Battalion, he served mainly in the 1/8th Battalion.  He served in Italy, where the British Army sent assistance to the Italian forces, following a major Austro-Hungarian attack.  At one stage he was in hospital in Genoa suffering from dysentery.
George was born in Fulbrook, near Burford, Oxfordshire. In 1913 at Wickhamford he married Beatrice Emily Moulbery (who worked in the Swan Hotel, Port Street, Evesham in 1911); the address for both of them was given as Wickhamford.  He was living on Pitchers Hill, Wickhamford, working as a market gardener, when he enlisted.
George was awarded the Military Medal on 23rd July 1919 as well as the British War and Victory campaign medals.   He was discharged on 13th April 1919 in Faenza, Italy.  He is listed on the Absent Voters' List for Wickhamford.