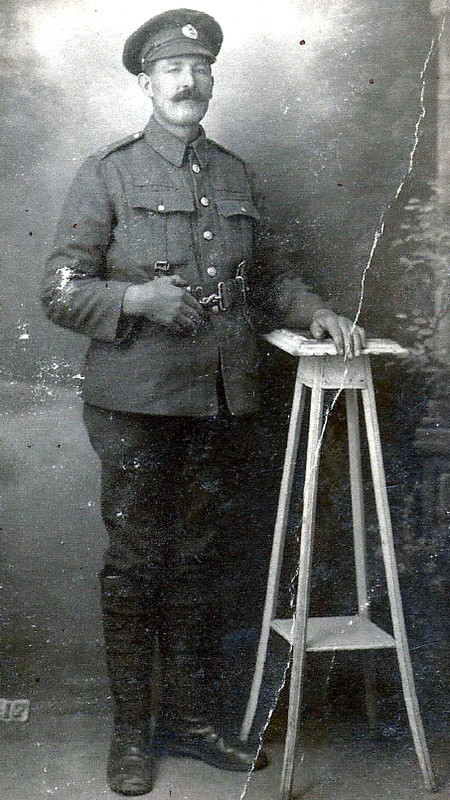 Private John Spragg (1881-1966) moved to Wickhamford after his period of service in the war.  He was born in Stoke Orchard, the son of Walter William and Ann (Fanny) Elizabeth Spragg, and at the 1911 census was a farm worker there.
As a man of some height (6' 1"), he joined the Grenadier Guards (No 23053) on 17th February 1915, in Cheltenham.  It was found that due to lumbago he was 'not likely to make an efficient soldier' and was discharged, at White City, London, on 15th May 1915 after 88 days service.  John Spragg re-enlisted, as a private and was posted to the 317 Protection Company, Royal Defence Corps (No 19854).  In 1917 he was stationed at the Prisoner of War Camp at Altrincham, where, on 17th February 1917, he reported sick because of an old spinal injury.  (This had happened on 29th June 1913, at Stoke Orchard, in an accident involving a hay loader; this necessitated a silver hip operation, which was a new invention at that time.)   He was re-classified into a category from which he was eligible for transfer into the Reserves on 24th February 1917.   He joined, on 11th May 1918, the Monmouthshire Regiment (No 20637) and then the 421st Agricultural Company, Labour Corps.  He was demobilised on 17th March 1919.
He moved to Wickhamford in January 1938 to work for farmer Ted Carter at Pitchers Hill Farm and lived at '6 Evesham Road' (now 6 Longdon Hill).   A record of his time in Wickhamford is in a report in The Gloucestershire Echo of 6th April 1938 about a B.B.C. broadcast from the Vale of Evesham.  John Spragg was one of the people interviewed for the programme.  He was described as a 'milker of Wickhamford'.
He later left the village to return to Stoke Orchard and died in Congleton, Cheshire, in 1966.