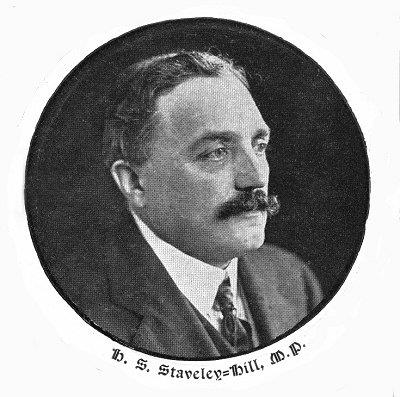 Lieutenant-Colonel Henry Staveley Staveley-Hill (1865-1946) moved to Wickhamford after his period of service in the war.
He was born in Staffordshire, the son of Alexander Staveley-Hill MP, one time Judge Advocate of the Fleet, and his wife, Mary Frances (née Baird).  Henry went to Westminster School and St John's College, Oxford and was MP for Kingswinford (1905-1918).  A barrister, he was Recorder of Banbury (1903-1922) and was made Deputy Lieutenant for Staffordshire in 1911.   He joined the newly raised 2/1st Staffordshire Yeomanry in September 1914 as a Major.  He was promoted to Lt-Col on 14th March 1917.   The Battalion was a Second-Line unit, for Home service only, that became a Cyclist Battalion in April 1916 and it was mainly based in Norfolk.   He left the Army in 1917.
He and his wife, Eileen de Grey (née Darcy), lived for many years at Oxley Manor, Bushbury, Staffordshire, and in 1938 moved to 'The Homestead', Longdon Hill, Wickhamford, where he renamed the house they bought 'Oxley'.   Henry Staveley-Hill died in March 1946 and his wife sold 'Oxley' soon after his death.