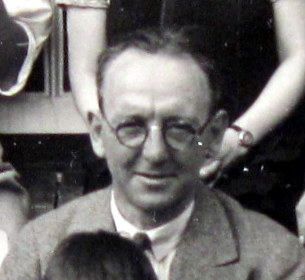 Private Cecil Herbert Ward (1890-1974) was born in Evesham, the son of Henry Frank Ward, a jeweller and silversmith in Bridge Street, and his wife, Ellen.  In 1911, Cecil was living and working in London, undertaking a printer's apprenticeship, but then appears to have returned to Evesham.
Cecil was mentioned in the 8th August 1914 edition of The Evesham Journal as one of a number of motor-cyclists offering their services for the war effort (Roger Drysdale was another Wickhamford man offering his services as a motor-cyclist). He enlisted in the 8th Battalion, Worcestershire Regiment (No 2446) on 8th September 1914, when living at 8 Bridge St., Evesham.  However, he was deemed medically unfit due to heart disease and discharged, after 168 days service, on 26th March 1915, five days before the Battalion was sent to France.
He later enlisted in the Royal Naval Air Service on 10th January 1918, giving his occupation as motor driver.  He was then a Mechanic II (No 245972) and with the formation of the R.A.F. transferred to them as Air Mechanic 3 on 1st April 1918.  His service here was also short-lived as his transfer was annulled 31st July 1918 under 'clause 3 of army order 97/1918'; he was permitted to return to the Navy on 1st August.   He continued in the Royal Navy until 7th August 1919.
Cecil married Violet Lilian Pethard in Wickhamford on 31st October 1917, while a market gardener, between his periods of service.  At the time of his RNAS enlistment in January 1918 his address was given as Pitchers Hill, Wickhamford, and he was also recorded there on the 1924 Electoral Register.  The 1939 register gave his address as Rosebank, Pitchers Hill. Cecil Ward is unique in this record of Wickhamford servicemen, as he served in the Army, Royal Navy, Royal Naval Air Service and the Royal Air Force.