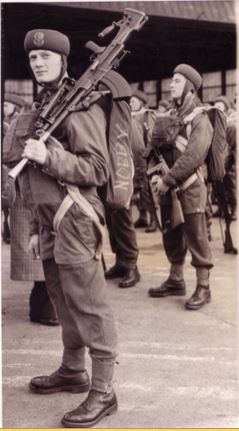 Charles Henry Cox served with the Grenadier Guards and Army Air Corps.
He was a Sergeant (No. 2616154) and awarded the 1939-45 War Medal and 1939-45 Star.  He served in N. Africa, Italy and at Arnhem where he was wounded at Arnhem and taken prisoner.
He was a PoW at Stalag VIIIC in Lower Silesia and was moved West in February 1945 to avoid the Russian advance ('The Death March' of 64 days). He was liberated by American troops in April.  (Note:  Stalag VIIIc at Sagan was evacuated on 8th February 1945.  The Prisoners of war marched across Germany and arrived at Stalag IX-B near Bad Orb, to the east of Frankfurt, and arrived there on 16th March.)  Sergeant Cox's story was told in The Evesham Journal after he arrived home in May 1945.  The article is reproduced, in full:
Another liberated prisoner of war to arrive home from Germany is Sergeant Charles Henry Cox, a paratrooper and second son of Mr. and Mrs. G. Cox of Pitchers-hill, Wickhamford.
Sergeant Cox, who is 24 years old, was taken prisoner at Arnhem in the early part of the fighting there, his wounds – shrapnel in the right leg and left foot – preventing him from escaping.  After his capture he was taken first to a hospital in Arnhem and later to Appeldorn, where, to quote Sergeant Cox's words "We were not treated too bad at all, although the food was rather short."  The shortage of food seemed to be general throughout Holland and other occupied countries at this time.  He was then sent to Stalag XI, and then on to Sagan, on the Polish border, where he was incarcerated in Stalag VIIIc.  He spent three and a half months in this camp, where the food situation was very bad, one loaf having to be divided between six men.  They were occasionally given weak soup, but this was too watery to nourish.  Owing to transport difficulties, Red Cross supplies were also short, and each Red Cross parcel had to be divided between four men.  The Germans took no chances with the prisoners and kept them under strict supervision to prevent them escaping.
When the prisoners were marched back to Germany, because of the Russian advance, many of the men died because of the terrible conditions.  Sergeant Cox himself having to sleep in the open amid snow and ice. Several others were shot while trying to escape, especially coloured Dominion troops, of whom the Germans were very afraid.  The excuse given for shooting them was that they had been thieving.  One American soldier was shot in the arm by a German guard for trying to pick up a turnip off a wagon to eat.  Altogether the men were marched about 500 miles, and out of the 2,000 who started the march Sergt. Cox estimated that about 300 died or were shot.
Finally Sergeant Cox and three other of his comrades dropped out of the column and were hidden by an old German farmer for three days before being found by forward elements of General Patton's Ninth Army.  Within six days of his liberation Sergeant Cox was in England and is now home on six weeks leave.
Some idea of the hardships which Sergeant Cox and the others endured can be gauged by the fact that during his captivity he lost over 2½ stones in weight.
Charles Cox left the Army in 1946 and returned to the country of his birth, Canada. He celebrated his 100th birthday in March 2021, dying soon afterwards. He was the brother of William Cox.