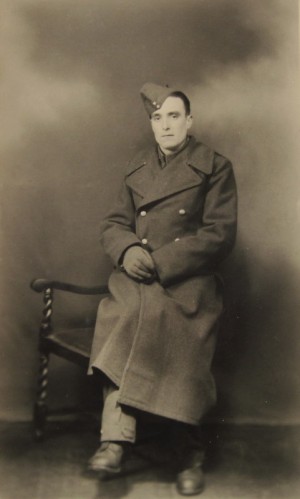 Private Henry Morton Taylor, 1st Battalion, Worcestershire Regt (No 5254532) is commemorated on the Alamein Memorial, Column 62, as his body was never recovered for burial.   He was a Prisoner of War aboard the Italian transport ship SS Scillin (along with 19 others of his unit), amongst around 815 Commonwealth prisoners and about 200 Italian soldiers, when it was torpedoed en route from Tripoli to Sicily on 14th November 1942. He was aged 23. He was awarded the 1939-45 War Medal and 1939-45 Star.
Henry Morton Taylor was the son of Thomas Morton Taylor and Catherine Mary, nee Freeman, who married in Wickhamford in 1913. At the time of the 1911 census, Pte Thomas Taylor, aged 24 and born in Evesham, was serving with the 4th Battalion, Worcestershire Regt at Bareilly, United Provinces, India. Originally a bricklayer, he had enlisted in 1905 and was in India from 1908-1912 and also served in Malta, 1905-06, and in France, 1914-1916. The couple had five children – Charles Thomas (b. in Montreal, Canada in 1914), Catherine (b. 1916), Henry (b. 1919), Eileen (b. 1926) and Frederick John (b. 1929). Thomas returned from Canada to re-enlist for active service in September 1914. Catherine died in the Evesham area in 1955 and Thomas in the same year in Birmingham. In 1939, the Taylor family live at 18 Council Cottages (now 39 Pitchers Hill) and Henry's father, Thomas, was a painter by trade.
Historical context
Italian cargo/passenger ship SS Scillin was en route from Tripoli to Sicily with about 815 Commonwealth prisoners-of-war on board, was torpedoed by the British submarine HMS Sahib (Lt. John Bromage) 10 miles north of Cape Milazzo in the Tyrrhenian Sea. The Sahib rescued 27 POW's from the water (26 British and one South African) plus the Scillin's captain and 45 Italian crew members. Only then, when the commander heard the survivors speaking English, did he realize that he had sunk a ship carrying British prisoners-of-war and some Italian soldiers and had drowned 783 men. At a subsequent inquiry into this 'friendly fire' tragedy, Lt. Bromage was cleared of any wrongdoing as the ship was unmarked and at the time he firmly believed that the ship was carrying Italian troops. The Ministry of Defence kept this incident a closely guarded secret for fifty-four years, misleading relatives by, maintaining that they had died while prisoners-of-war in Italian camps or simply 'lost at sea'. It was not until 1996, after repeated requests for information from the families of the drowned men that the truth came out. The Sahib was attacked by bombs from escort German Ju-88s and depth charges from the Italian corvette Gabbiano in the counter attack immediately after the sinking. Badly damaged, the Sahib was later abandoned and scuttled.