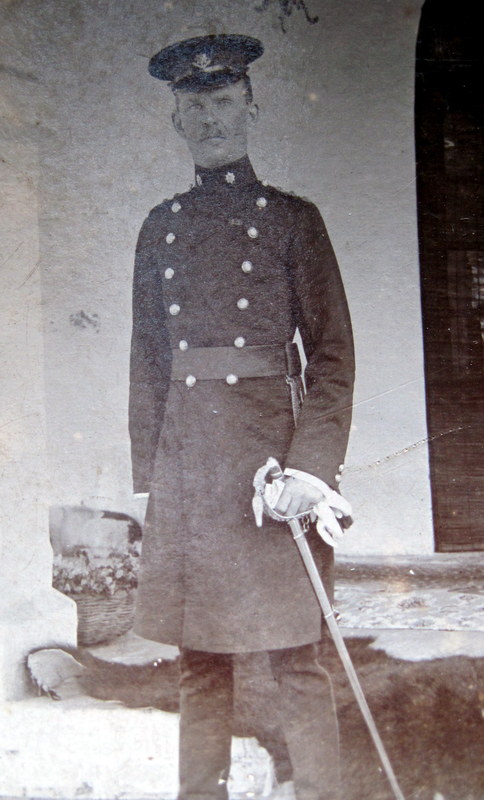 Lance Corporal Samuel James Byrd (1889-1972) lived very briefly in Wickhamford around 1930.  He was the son of Evesham butcher John Byrd.  The family lived at 1 Albert Road, Evesham in 1891 and the High Street in 1901.
The 1911 census shows that Samuel was in Ambala, India, as a gunner in 'L' Battery, Royal Horse Artillery.  Photographs of him in India refer to 4th Battalion, Worcestershire Regiment, so he must have transferred whilst in that country.
The only Army record remaining for him is that for his medals – he was awarded the 1915 Star, Victory and British War Medals.   This document also states that he went to the Balkan theatre of War on 25th April 1915 with the Worcestershire Regiment (No. 12863).  The Badsey Parish Magazine of June 1915 contains reference to a letter sent home from Gallipoli by Private Cecil Harry Crane in which he mentions that 'S. Byrd' had been wounded.  He had been wounded in the foot.  Crane was in the 4th Battalion of the Worcesters, so this would also have been Samuel Byrd's unit.  He was wounded on 7th June 1916 and this was reported in The Times casualty list of 14th June.  He was eventually discharged from the Army, due to ill health, on 4th March 1918 with the rank of Lance Corporal, and awarded a Silver War Badge.  
Samuel James Byrd married Minnie White in late 1916 in the Stroud district, but she died a year later.  He then married Emma Maud Morris in 1920 and they had four children.   He was recorded on the 1924 Electoral Roll in Aldington and, according to the school admissions records of his children, they continued to live in Aldington.  But it appears they briefly lived in Wickhamford as in 1930 Samuel was listed as a tenant at '26 Wickhamford' – one of a row of four terraced houses demolished in the late 1930s, and where Hody's Place now stands in Manor Road.
See also: