It all began with a school report.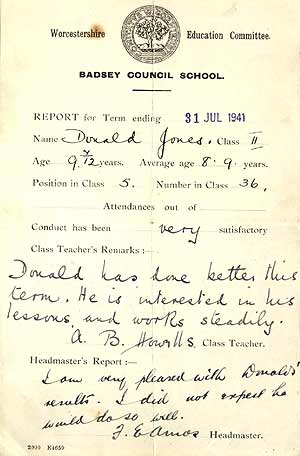 Donald Jones, the subject of the report, died in 1991. His daughter and son-in-law were clearing out his effects when they came across the report. They were motivated to find out more information about the school where Donald had attended for a brief time during the war, and so discovered the Badsey website. Steve Hiatt, Donald's son-in-law, sent a copy of the report, and wrote to ask if anyone remembered Donald or knew which family he lodged with during his stay in Badsey. And so began an exchange of several e-mails and phone calls around the village, until we at last pieced together the following tale of a brief episode in Donald's life.
The first step was to look at the School Admissions Register for the period, which gave the following information: Donald Albert Jones, born 6th December 1931, son of Ivy Jones, entered Badsey School on 9th September 1940, having come from Paget Road School, Birmingham. He stayed in Badsey for one school year, leaving on 30th June 1941 to return to Birmingham. The address he returned to was 24 Padstow Road, Pipe Hayes, Castle Bromwich, Birmingham. The Badsey address given for Donald was 1 Synehurst Avenue. The School Register revealed two other people at the same address. The first was Martin Horace Woolley, born 4th June 1933, son of Dorothy Woolley. Martin entered Badsey School on 9th December 1940, having come from Colmore Road School, Birmingham; he left on 31st July 1941. The second was Graham Corbett who enrolled at Badsey School on 1st September 1942, aged just five. Martin Woolley, like Donald, appeared to be an evacuee, but Graham Corbett, who did not leave Badsey School until 1947, appeared to be a Badsey resident. A check with the Household Directory of the time revealed that the Corbett family did indeed live at 1 Synehurst Avenue.
Graham Corbett still lives in the vicinity, in the neighbouring village of Offenham, but as he was only four when Donald Jones stayed with his family, he has no specific memory of him. Graham's mother, Mary, is still alive, aged 91 and, although not in the best of health, was able to remember the young evacuee. Mrs Corbett remembers Donald staying with her for a few months. She believes that Donald's mother, Ivy, worked in Evesham, maybe at Smedleys, and that his father used to come down and visit from Birmingham at weekends. Mrs Corbett also recalled that Donald's father played for Badsey Rangers, which was how he got his son into Badsey Council School when children were being evacuated.
Having checked with Terry Sparrow, the author of Badsey Rangers Football Club, 100 Years (1890-1990), this does indeed seem to be correct. An Albert Jones from Birmingham played for Badsey Rangers in the mid to late 1930s. At that time, Badsey had a team which was better than most others at the local level. They made good progress in the Amateur FA Cup, and three times in the 1930s reached the last 16. Harold Cave, the Secretary at the time, would travel all over the region to find talented footballers, which is how Albert Jones came to play for Badsey. Albert Jones is mentioned in the Badsey Rangers history as a member of the winning team in Spring 1937 when Badsey won the Worcestershire Junior Cup (the main trophy for amateur teams), beating Catshill. The previous year, Albert is recorded as playing in the Amateur FA Cup match at Maidenhead.
Certainly, by looking at the Admissions Register, Donald was the only one who came from that particular school in Birmingham, which lends credence to the view that he came to Badsey because of his father's footballing connection.
It seems that at some stage, Donald Jones moved from the Corbett household, because the Hiatts have in their possession, three birthday postcards sent to different addresses. At the time of his ninth birthday (6th December 1940) Donald was staying with Ernest and Annie Taylor who lived at 2 Fair View, Brewers Lane. Ernest Taylor (1888-1950), a Market Gardener, and his wife Annie (1891-1970) had no children, but did take lodgers from time to time. There is no postmark, so obviously the Taylors just gave this card to Donald.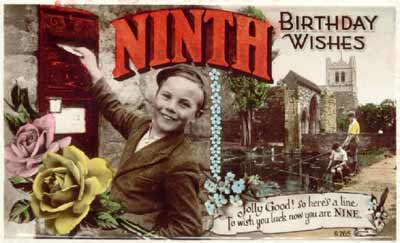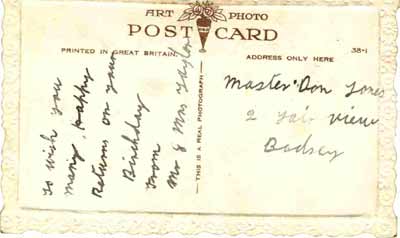 What is slightly strange is that there is also a birthday card from his mother, addressed to Donald at 3 Edward Street, Evesham, but that may have been where Ivy herself was lodging: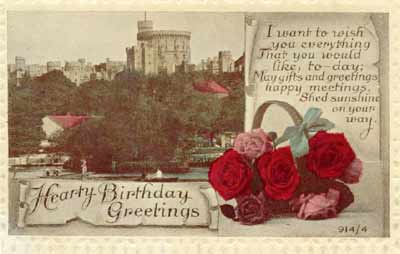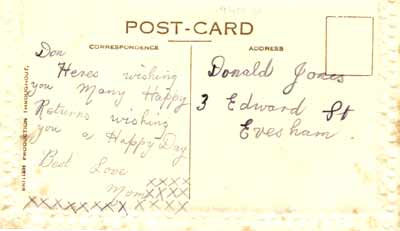 By June 1941, Ivy Jones was also probably lodging with the Taylors as the card below indicates, which was sent to her on her birthday: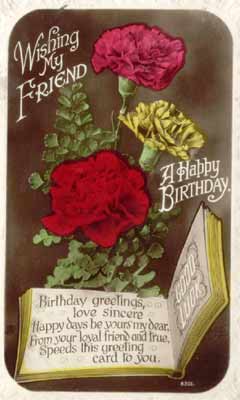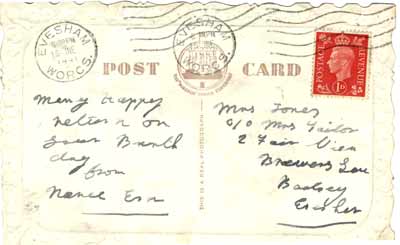 The following photo shows Donald Jones with his mother, Ivy, taken about 1937.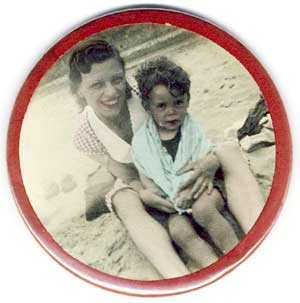 Donald Jones, like his father, was keen on football. On leaving school, he had a trial for a professional football club, Stafford Rangers, but his father would not let him join. He ended up working at Dunlop Aircraft Tyres, Birmingham. He married and had a son and a daughter, and died on 7th January 1991.
---
This article was compiled by Maureen Spinks with grateful thanks to the following people for supplying information: Steve Hiatt (son-in-law of Donald Jones) steve.hiatt@ntlworld.com, Mary Corbett (first home for Donald as an evacuee), Graham Corbett (Mary's son), Terry Sparrow (village historian, author of A Brief History of Badsey and Aldington and Badsey Rangers Football Club, 100 Years, and who grew up on Brewers Lane opposite the Taylor family).
See also Badsey School history 1913 - 1945.