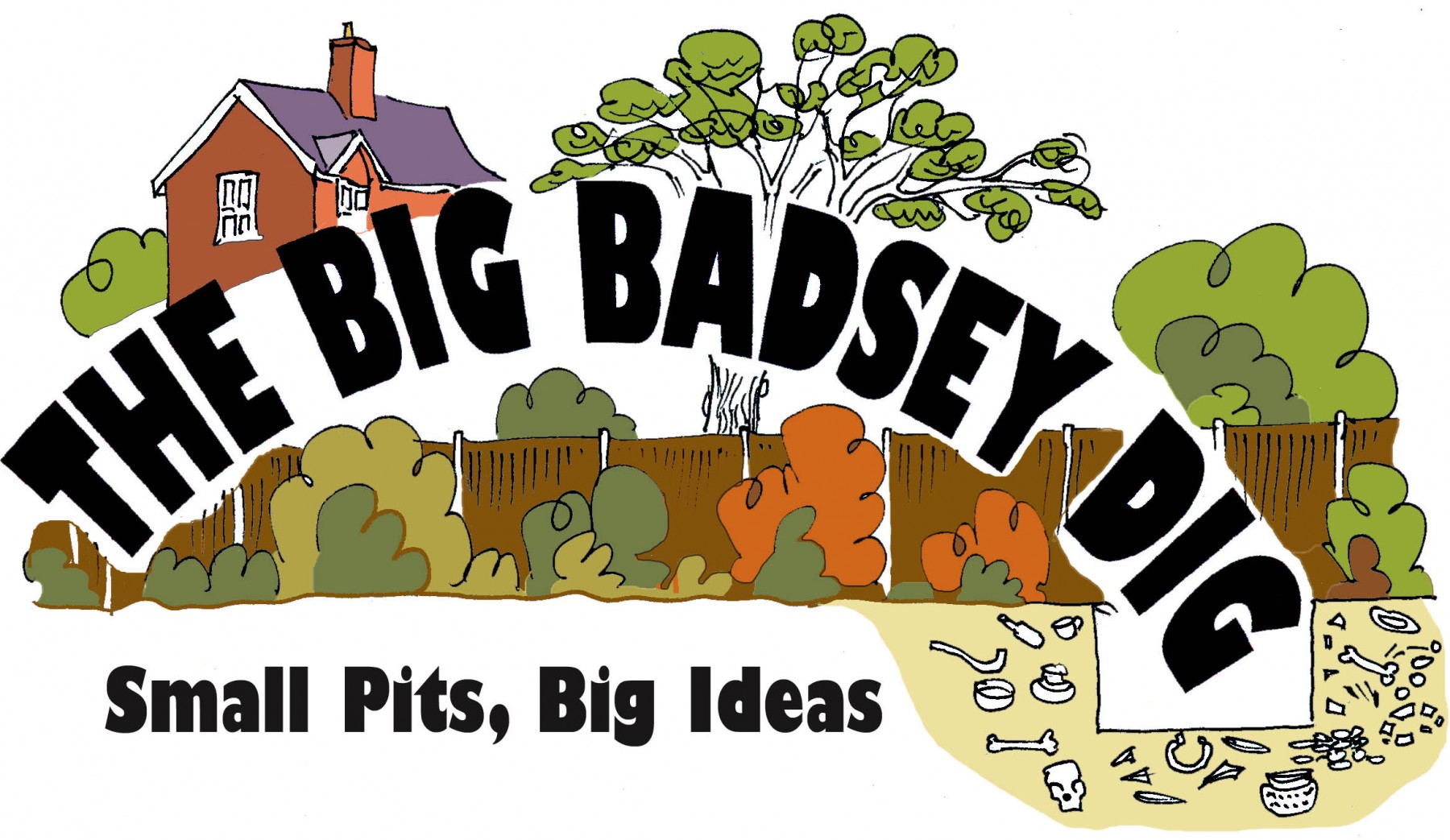 Badsey is no stranger to archaeological study. From at least the early 20th century there has been interest in the deep past of this village, and the search for evidence has been well rewarded.
So it is exciting for Badsey to be given the opportunity to take part in a new archaeological survey of sites around the village which are highly likely to yield plenty of interesting artefacts and yet are unlikely to have been studied before, because of their location on continuously occupied private land, our back gardens. 
This is the object of the "Small Pits, Big Ideas" project, otherwise known locally as The Great Badsey Dig, scheduled to take place on the weekend of the 21st and 22nd May 2022 in 20 village gardens, after two years' delay caused by the lockdown and social distancing measures of the Covid-19 Pandemic.
The first person to seriously look for archaeology in Badsey was a local market gardener, Arthur Jones, whose finds are now in the Worcester Museum. Arthur Savory of Aldington Manor was also aware that there were lots of archaeological finds in the local soils and wrote about his theories in his memoir Grain and Chaff from an English Manor. Both of these pioneers were active in the early 20th Century.
Since the 1970s, Peter Stewart has used a metal detector as well as field walking and has recorded a very impressive collection of finds, spanning possibly 4000 years from a Neolithic Period flint tool, via a Celtic gold coin, Roman pottery and coins, Saxon objects, Mediaeval brass through to iron shot from the English Civil War.
In 1967 an organised dig was carried out in Wickhamford and a wealth of mainly Roman objects were uncovered leading to the conclusion that the area, being on the route of a known Roman road, was more intensively occupied at that period than the nearby location which later became Evesham.
More recently, the Badsey Society itself was involved in jointly winning the 2008 Marsh Award, a national award for community archaeology. This was based on the recently completed Badsey Society project on recording the history of Badsey and Aldington at the time of the huge changes in land management caused by the Enclosure measures of the early 19th century.
It was at an Archaeology Day in 2018 at the University of Worcester that Badsey Society members discovered that a community archaeology project across the county was being planned and volunteer villages were required to provide gardens and volunteer diggers to take part in a county wide dig. Previous digs in gardens in other parts of England had yielded information on changes in land use and human occupation in the mediaeval period that had not been recorded by other means. Most modern archaeology takes place on locations that are about to be disturbed for road building or new development. These sites, usually have a long agricultural history, and although occasionally they have revealed unexpected ancient settlements and structures they mainly tend to be of little interest.  However areas that have been settled for a long time are likely to have a rich accumulation of objects deposited and thrown away by inhabitants going back hundreds if not thousands of years. It is only recently that this rich source of material has been looked at, and is now seen as a really important source of information about our past.
Professor Carenza Lewis (University of Lincoln), who pioneered the approach in eastern England with considerable success, has commented about our Big Dig that, "This is a fantastic project which will enable people of all ages and backgrounds across Worcestershire to enjoy the excitement and camaraderie of making new discoveries in everyday places which have never been excavated before."
In 2019 Worcester Archaeological Society put together a bid to the National Lottery Heritage Fund based on information from the six villages chosen. This bid was successful and was due to take place over the spring/early summer of 2020 but the outbreak in England of the worldwide pandemic forced the project into hibernation. It was later decided not to attempt a resumption in 2021 but to leave it another year so that there would be the maximum certainty that people of all ages and abilities could safely mix together over one weekend to carry out the excavation and preparation of finds.
Active recruitment of gardens and volunteers had to stop in March 2020 but has now restarted in April 2021. As of this month we have nine gardens offered and a few volunteers happy to help where they are needed. Therefore we are still looking for at least another eleven gardens and more volunteers for digging and preparation of objects. Where gardens are offered which are very close together it is proposed to choose one and suggest that the owners work together. Professional archaeologists will be making the final selection and supervising the digs and archaeology students from the University of Worcester will be helping with the excavation and preparation work. 
In a large village like Badsey there are plenty of gardens to provide the final 20 to be excavated. Gardens of houses built in the last 10 years or so will have been checked already as part of the planning process so will not be part of the 20 to be selected.
Here is a chance for local residents to be part of a set of discoveries that could change the known history of the village and this part of Worcestershire.
Ian Gibson, April 2021