In 1928, Blackminster was part of the parish of Offenham but. in 1949, the area south of the railway line transferred to Badsey.  This house is thought to be either Longridge or Elmar on Station Road, Blackminster.  This advertisement appeared in The Cheltenham Chronicle of 3rd November 1928.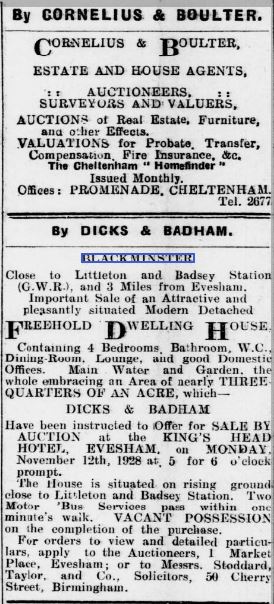 By DICKS & BADHAM
BLACKMINSTER
Close to Littleton and Badsey Station (GWR), and 3 miles from Evesham, Important Sale of an Attractive and pleasantly situated Modern Detached
FREEHOLD DWELLING HOUSE
Containing 4 Bedrooms, Bathroom, WC, Dining Room, Lounge and good Domestic Offices.  Main Water and Garden, the whole embracing an Area of nearly THREE-QUARTERS OF AN ACRE, which
DICKS & BADHAM
Have been instructed to Offer for SALE BY ACUTION at the KING'S HEAD HOTEL, EVESHAM, on Monday November 12th 1928 at 5 for 6 o'clock prompt.
The House is situated on rising ground close to Littleton and Badsey Station.  Two Motor Bus Services pass within one minute's walk.  VACANT POSSESSION on the completion of the purchase.
For orders to view and detailed particulars, apply to the Auctioneers, 1 Market Place, Evesham, or to Messrs Stoddard, Taylor & Co, Solicitors, 50 Cherry Street, Birmingham.