VALUABLE FREEHOLD ARABLE OR GARDEN LAND AT ALDINGTON NEAR EVESHAM, WORCESTRSHIRE
TO BE SOLD BY AUCTION BY MR A H WRIGHT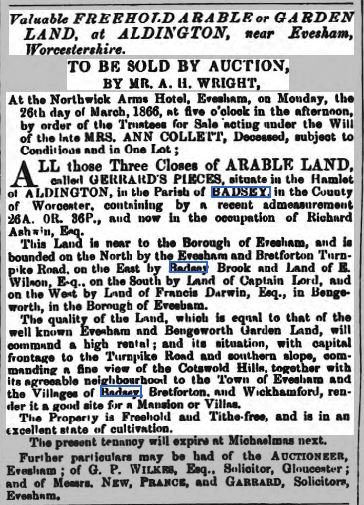 At the Northwick Arms Hotel, Evesham, on Monday the 26th day of March 1866 at 5 o'clock in the afternoon, by order of the Trustees for sale acting under the will of the late Mrs Ann collett, deceased, subject to conditions and in one lot:
All those three closes of arable land called Gerrards Piece, situate in the hamlet of  Aldington in the parish of Badsey in the county of Worcester, containing by a recent admeasurement 26a 0r 36p, and now in the occupation of Richard Ashwin, Esq.
This land is near to the borough of Evesham and is bounded on the north by the Evesham and Bretforton Turnpike Road, on the east by Badsey Brook and land of E Wilson, Esq, on the south by land of Captain Lord and on the west by land of Francis Darwin, Esq, in Bengeworth in the borough of Evesham.
The quality of the land, which is equal to that of the well-known Evesham and Bengeworth Garden Land, will command a high rental; and its situation, with capital frontage to the Turnpike Road and southern slope, commanding a fine view of the Cotswold Hills, together with its agreeable neighbourhood to the town of Evesham and the villages of Badsey, Bretforton and Wickhamford, render it a good site for a mansion or villas.
The property is freehold and tithe-free, and is in an excellent state of cultivation.  The present tenancy will expire at Michaelmas next.  Further particulars may be had of the auctioneer, Evesham; of G P Wilkes, Esq, Solicitor, Gloucester; and of Messrs New, Prance & Garrard, Solicitors, Evesham.
This land was bought by Captain John Pickup Lord who, the previous year, had bought the adjoining land called Badsey Undergrounds.