Charles Bloxham was born on 15th April 1794 at Guildford, Surrey, the son of Robert Bloxham, a surgeon, and his wife, Carolyn (née Haydon).  He was baptized on 17th May 1794 at Holy Trinity, Guildford.  Charles was educated at Balliol College, Oxford, and admitted into Holy Orders in May 1818.
On 11th June 1816, Charles married Mary Hope Ouchterlony (born in Jamaica in 1797) at Lymington, Hampshire.  Their first son, Charles Robert Ouchterlony (1817-1855), was born at Lymington in April 1817.  By January 1819, when their second child, Sophia Louisa (1819-1824) was baptized, Charles was working as Curate at Chute in Wiltshire.  He moved to Badsey as Curate in 1820.
The couple went on to have eight more children, all born at Badsey:  James Selwyn (1820-1864), Edward John (1822-1893), Harry Drax (1823-?), Arthur (1825-1865), Horace Hope (1828-1892), Sophia Caroline (1829-1899), Amy Louisa (1831-?) and Mary Hope (1833-1873).
Charles Bloxham was the officiating minister at Badsey and Wickhamford for 19 years during the tenure of the absentee Vicar, the Reverend Charles Phillott.  During this time, Reverend Bloxham conducted the following number of services:  baptisms (250 at Badsey, 75 at Wickhamford), marriages (44 at Badsey, 9 at Wickhamford), burials (118 at Badsey, 45 at Wickhamford).  The first baptism was on 9th July 1820.  Just four days later, his own son, James Selwyn Bloxham, was baptized in St James' Church by the Reverend Edward Herbert.
Sadness came to the Vicarage on 31st October 1836 when Charles' wife, Mary Hope, died aged 39.  A report appeared in The Worcester Journal a few days later.  At the time of their mother's death, the oldest child was 19 and the youngest was three.  A marble tablet was erected on the wall of Badsey Church.
Reverend Bloxham conducted his last service at Badsey on 30th April 1839 and was succeeded as Curate by Reverend Thomas Robert Griffith.
But the Bloxhams did not immediately move from Badsey.  Whilst they had to move out of the Vicarage, Charles Bloxham and four of his youngest children (Arthur, Horace, Amy and Mary) lived with two servants elsewhere in the village at the time of the 1841 census.  Charles was described as "Clerk", as was the new Curate.  Charles did not conduct any more baptisms, marriages or burials, but may have helped out with ordinary services.
It is possible that Charles Bloxham may have had some kind of breakdown after his wife's death, as it does not appear that he held another Curacy after Badsey, but instead took jobs in various churches all over the country, providing cover in the absence of the resident Vicar or Curate.  This itinerant lifestyle seems to have left him on hard times.  An article in the Windsor and Eton Express of 10th June 1848 reported that he had left The Chequers Inn without paying for his board and lodging.  At the time of the 1851 census, taken on 31st March, he was lodging at 31 Bishopsgate Street; he was described as Curate of Badsey, though this was a job he had not done for 12 years.  In June 1851, he was charged with taking a shilling out of the collection plate at All Hallows, Barking, London.  He was acquitted, despite the fact that he had been shown to be defrauding people in the neighbourhood in which he had been officiating.  Some years earlier, a Charles Bloxham, aged 50, described as a rogue and vagabond, was convicted on 8th December 1843, but there is no evidence to say whether this was the Reverend Bloxham.  He was detained at the House of Correction, Northleach, Gloucestershire, for one calendar month hard labour.
Reverend Bloxham died at Malden Road, Camden Town, on 21st March 1860, aged 65.  Reports of his death occurred in the obituary column of various newspapers, such as this one in The Worcestershire Chronicle:
March 21st, at Malden Road, Camden Town, London, in his 66th year, the Rev Charles Bloxham, formerly MA of Balliol College, Oxford, and for 20 years the officiating minister at Badsey and Wickhamford, near Evesham, in this county. 
By this time, five of his eight surviving children had sought new lives for themselves in Australia.
One of the very first people to contact the original Badsey website was Arthur Fraser of Australia who emailed in July 2000 with the following message:
"I am particularly interested in Badsey, as my GG Grandfather, The Rev Charles Bloxham, was the minister at St James Church, for a number of years from 1820. Most of his family having been born there, also his wife died during this time and is probably buried in the church graveyard. It was great to see pictures of the church and village, as I very much doubt I will ever be able to make the trip over."
In a further e-mail, Mr Fraser wrote that a cousin in Sydney had put together a book entitled The Bloxham Lineage. From his information:
"The Rev Charles was instituted at St James in 1820, in 1850 he was made PC (Perpetual Curate) at Swadingcote, Derbyshire (Gentleman's Magazine, 1850). He died 1 March 1860 at 5 Horwell Terrace Haverstock, Middlesex. He married Mary Hope nee Ouchterlony, born Jamaica 1797, daughter of Robert Ouchterlony. She died 31 Oct 1836 at Badsey Vicarage (Gentleman's Magazine). Research in Jamaica has not found a birth for Mary.  There is also a story of a painting donated to the church, in memory of Mary Hope, by one of her sons. The majority of Chas & Mary's family came to Australia from about the 1840s."
We were pleased to be able to confirm to Mr Fraser that there is indeed a painting in the church.  It is by Otto Venius, who was active primarily in Antwerp and Brussels in the late 16th and early 17th century.  It was given to the church by a Mr Bloxham following the restoration in 1885.  It is likely that this was Horace Hope Bloxham (1828-1892), the youngest son of Reverend Bloxham, who had remained in England and was a bank manager in London.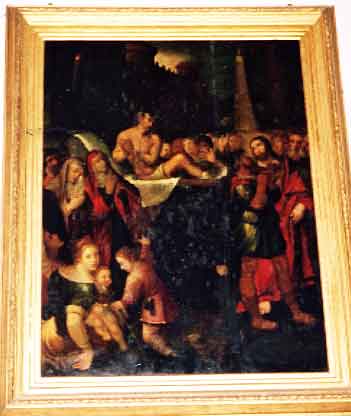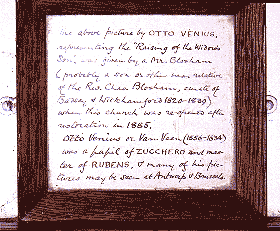 Updated by Maureen Spinks, June 2018