Electoral rolls - Badsey, 1939
Notes on the 1939 Electoral Roll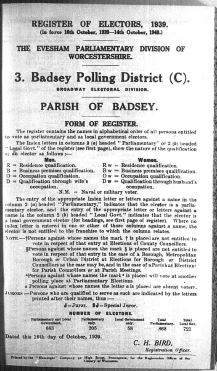 This Register was issued on 16th October 1939. This was shortly after the outbreak of the Second World War and the next list was not drawn up until the end of hostilities. By comparing with the 1939 Register, which was taken on 29th September 1939, it is possible to gain a fairly complete picture of the village on the outbreak of war.
The Electoral Roll is currently sorted by electoral number (which is largely alphabetical); to sort on Name or Address, simply click on the column heading. To find out further details about the nature of the electoral qualification, click on the number. Those who owned land in the village but did not live there were entitled to vote in the local government elections but not the parliamentary elections (though they would, of course, be registered in their home area). With regard to local government elections, both husband and wife were qualified in respect of the same property.
Who could vote in parliamentary elections
All males aged 21 years and over; all females aged 21 years and over.
Who couldn't vote in parliamentary elections
Men under 21; women under 21; aliens; peers; lunatics.
| Number | Name | Address of Voter |
| --- | --- | --- |
| 179 | ADDIS, Daisy May | Cider Mill Court |
| 180 | ADDIS, George Edward | Old Post Office Lane |
| 181 | ADDIS, Lucy | Old Post Office Lane |
| 182 | ADDIS, Hilda May | 12 Synehurst Crescent |
| 183 | ADDIS, Mary Elizabeth | Bretforton Road |
| 184 | ADDIS, Phyllis | Cider Mill Court |
| 185 | ADDIS, William Henry | 12 Synehurst Crescent |
| 186 | AGG, Decimus | Sand Lane |
| 187 | AGG, George Albert | Wickhamford |
| 188 | AGG, Helen | Sands Lane |
| 189 | AGG, James Edward | Sands Lane |
| 190 | AGG, Sarah | The Leys |
| 191 | ALDRIDGE, Francis William | 13 Briars Close, Evesham |
| 192 | ALLAN, Rosabel | Seward House |
| 193 | ALLARD, George | 10 Synehurst |
| 194 | ALLARD, Sarah | 10 Synehurst |
| 195 | ALLEN, Edwin Frederick | High Street |
| 196 | ALLSEBROOK, Evelyn Joyce | The Vicarage |
| 197 | ALLSEBROOK, William Carmont | The Vicarage |
| 198 | AMOS, Frank Edmund | School House |
| 199 | AMOS, Jean McDonald | School House |
| 200 | ANDREW, Frederick William | Church Street, Evesham |
| 201 | ANDREWS, Edmund Harvey | 68 Kings Road, Evesham |
| 202 | ANDREW, Violet Anne | Sylvan Villa |
| 203 | ANDREW, William Henry | Sylvan Villa |
| 204 | ANKER, Alfred Charles | 35 Synehurst |
| 205 | ANKER, Alice | 35 Synehurst |
| 206 | ANKERS, Annie | Penwyn |
| 207 | ANKERS, Frances | Penwyn |
| 208 | ARCHER, Walter | Bretforton |
| 209 | ARTHUR, Ellen Elizabeth | Mill Lane |
| 210 | ARTHUR, Reginald Thomas | Mill Lane |
| 211 | ASH, Gladys May | Osborne Cottage |
| 212 | ASH, Phoebe | Osborne Cottage |
| 213 | ASHLEY, Lizzie | Mill Lane |
| 214 | ASHWIN, Henry | Bretforton Manor |
| 215 | BADHAM, Albert George | Blenheim Cottage |
| 216 | BADHAM, Lilian | Blenheim Cottage |
| 217 | BALLARD, Alfred Cornelius | Cotswold View |
| 218 | BALLARD, Alfred William | Badsey Fields Road |
| 219 | BALLARD, Charles | Brewers Road |
| 220 | BALLARD, Clara | Brewers Road |
| 221 | BALLARD, Emily Ada | Badsey Fields Road |
| 222 | BALLARD, Mary | Badsey Fields Road |
| 223 | BALLARD, May | The Alley, High Street |
| 224 | BALLARD, Raymond Charles | The Alley, High Street |
| 225 | BARNARD, Cecilia Adeline | High Street |
| 226 | BARNARD, Edward Arthur | Brewers Road |
| 227 | BARNARD, Edwin | 31 Synehurst |
| 228 | BARNARD, Ethel | High Street |
| 229 | BARNARD, Florence Daisy | Brewers Road |
| 230 | BARNARD, Florence Mary | 31 Synehurst |
| 231 | BARNARD, Frederick Joseph | Brewers Road |
| 232 | BARNARD, Gladys Maud | Bretforton Road |
| 233 | BARNARD, Gladys Annie | High Street |
| 234 | BARNARD, James | High Street |
| 235 | BARNARD, John | Bretforton Road |
| 236 | BARNARD, Mary Ann | High Street |
| 237 | BARNARD, Rose Marion | Brewers Road |
| 238 | BARNARD, Violet Dorothy Maud | 31 Synehurst |
| 239 | BARRAND, Louisa Jane | Cider Mill Court |
| 240 | BATCHELOR, Gladys Mary | Vine Cottage |
| 241 | BATCHELOR, William Gilbert | Vine Cottage |
| 242 | BAYLEY, Lydia | Ivy House |
| 243 | BAYLEY, Reginald John | Ivy House |
| 244 | BAYLISS, Amy | Lanesfield |
| 245 | BAYLISS, Ellen | 8 Bowers Hill |
| 246 | BAYLISS, Frederick | 8 Bowers Hill |
| 247 | BAYLISS, John | Lanesfield |
| 248 | BEAL, Ethel Florence | Wickliffe House |
| 249 | BEARCROFT, George | Highmead |
| 250 | BEARCROFT, Lilian Florence | Highmead |
| 251 | BELL, Alice Kate | Sands Lane |
| 252 | BELL, Evelyn Grace | Bretforton Road |
| 253 | BELL, Ralph | Aldington |
| 254 | BELL, Walter | Bretforton Road |
| 255 | BENNETT, Elsie | 10 Belmont Terrace |
| 256 | BENNETT, Elsie | 8 Cotswold View |
| 257 | BENNETT, Elizabeth | 14 Cotswold View |
| 258 | BENNETT, Lee | 15 Synehurst |
| 259 | BENNETT, Reuben John | 8 Cotswold View |
| 260 | BENNETT, William | 10 Belmont Terrace |
| 261 | BENNETT, William Ernest | 17 Synehurst |
| 262 | BENNETT, Winifred | 17 Synehurst |
| 263 | BENT, John Martin | Bowers Hill |
| 264 | BENT, Margaret | Bowers Hill Farm |
| 265 | BINYON, Charles Arthur | Sandford Villa |
| 266 | BIRD, Alice Ada | 4 Claybrook Villas |
| 267 | BIRD, Cyril James | Bretforton Road |
| 268 | BIRD, Edith Lucy | Bretforton Road |
| 269 | BIRD, Lilian Maud | 1 South View Terrace |
| 270 | BIRD, Walter Charles | 4 Claybrook Villas |
| 271 | BISHOP, Hilda | 5 Cotswold View |
| 272 | BISHOP, James Thomas | 5 Cotswold View |
| 273 | BLAKE, Myra | Badsey Fields |
| 274 | BLAKE, Walter William | Badsey Fields |
| 275 | BOTT, Florence Alice | 14 Synehurst Crescent |
| 276 | BOTT, Lilian May | 18 Synehurst Crescent |
| 277 | BOTT, Walter Leonard | 18 Synehurst Crescent |
| 278 | BOWLEY, Annie | 3 Belmont Terrace |