James Selwyn Bloxham (1820-1864) was born at Badsey in 1820, the third of ten children of the Reverend Charles Bloxham and his wife, Mary Hope (née Ouchterlony).  He was baptized in St James' Church, Badsey, on 13th July 1820.  He was educated at King Edward VI Grammar School, Guildford, Surrey, which was also the alma mater of his brothers, father, grandfather and great-grandfather. 
On 20th April 1836, 15-year-old James S Bloxham was indentured for four years in the Merchant Navy at the Port of London on the Bussorah Merchant under Master John Moncrieff.  This ship had made three voyages transporting convicts from England and Ireland to Australia.  By the time James joined, it was carrying emigrants and other passengers to Australia.  James would have been with her when she left Cork on 27th August 1837 with free migrant families and arrived at Hobart, Tasmania, on 11th December 1837.  Emigrants on that voyage suffered particularly badly; four women and 64 out of 133 children died, most of measles and smallpox.  On her subsequent voyage, Bussorah Merchant left Bristol on 15th April 1839 with 236 emigrants to Australia, 84 of them children, of whom only two died during the voyage. She arrived at Port Jackson on 3rd December 1839.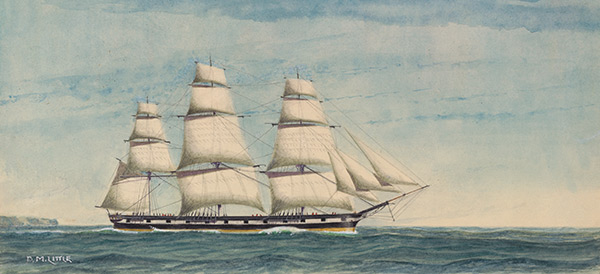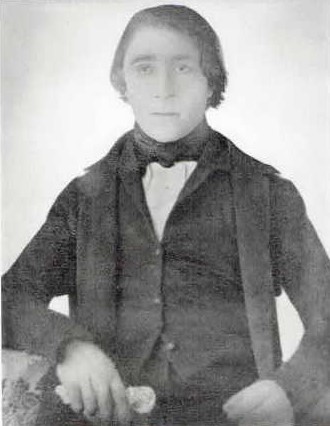 On 10th June 1842, a James Bloxham arrived on a schooner called Water Lily, in Port Jackson, Tasmania, steerage class, which may well be the same person.  There is also a James Bloxham, whose age was given as 33 and was a farmer, who left Liverpool on The Gambia bound for Port Philip or Sydney, arriving there on 21st October 1852. 
By 1855, James was settled in New South Wales.  According to a register of land grants and leases, James Bloxham was allotted half an acre of land at Nowra (160 km south-west of Sydney) in the county of Saint Vincent, New South Wales for the sum of £5 10s on 30th August 1855.  The following year he married Mary Ann Stapleton on 1st March 1856 at St James, Sydney.  Mary Ann had emigrated to Australia from Lincolnshire with her parents in 1853.  They had two sons, Harry Ouchterlony (1857-1864) and James Selwyn (1859-1918).  They were living at Point Farm, Macquarie Fields, near Liverpool, New South Wales, at the time of James' baptism at St Mary, Denham Court (this is now a suburb of Sydney, 42 km west of the Sydney central business district).
According to one family tree on Ancestry, Captain James Bloxham died at sea on 29th July 1858; another family tree says that he died on 7th May 1864.  Thanks to a document sent to us in October 2020 by Lyndall Kendall (great-great-granddaughter of James Bloxham) we know that James did not die in 1858 or 1864 but in 1860.  The document, dated 5th February 1862, is Letters of Administration granted to James' widow, Mary Ann Bloxham, who died about 1860:
The Humble Petition of Mary Ann Bloxham of Liverpool in the Colony of New South Wales, widow of James Bloxham deceased.
Sheweth that James Bloxham late of Shalhaven in the said Colony was a Master Mariner and had command of the "Mary Jane" trading between Sydney and the McLeay River and usually making the passage in about 14 days.  
That in or about the month of June 1860 the said James Bloxham went to sea in the said vessel for the purpose of making the said passage but since that time he has never been seen or heard of any more to the best of your petitioner's belief and knowledge.  
That your Petitioner has been informed and it is generally believed and reported that the vessel is lost.
That the said James Bloxham died intestate having at the time of his death personal property within the said Colony.
That the said James Bloxham left surviving him your Petitioner and two children, infants under the age of 21 years, the only persons entitled in distribution to his personal estate and effects.
That your Petitioner is more than 21 years of age and is desirous of taking out Letters of Administration to the personal property of the said deceased.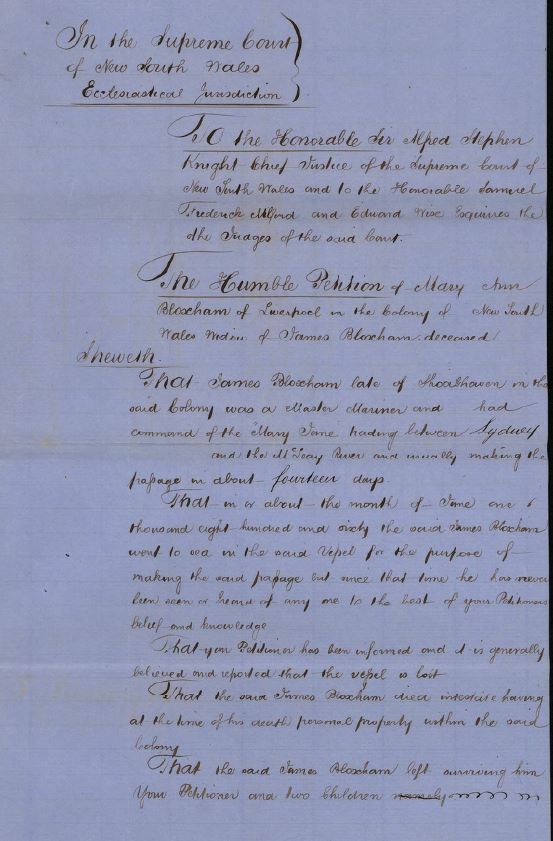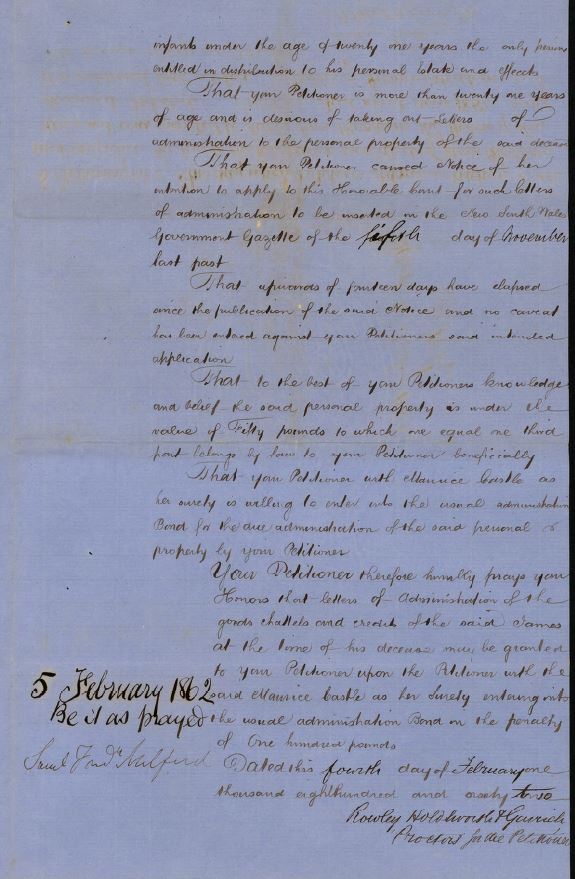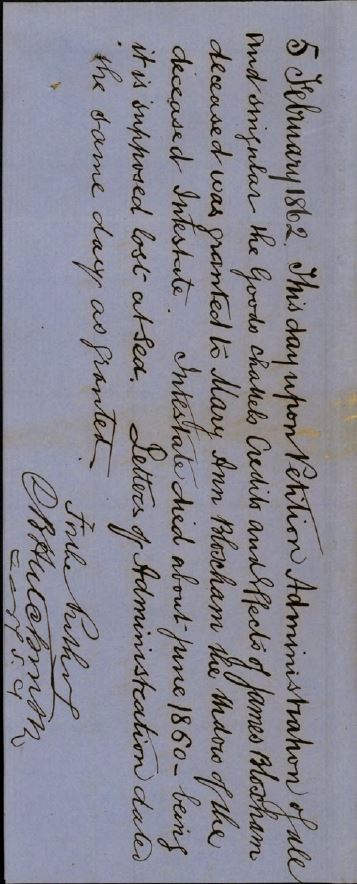 It must be assumed, therefore, that James Bloxham was lost at sea on the Mary Jane off the coast of New South Wales, some time in the month of June 1860.
Maureen Spinks, June 2018 (updated October 2020)
Acknowledgements
With thanks to Lyndall Keller, the great-great-granddaughter of James Selwyn Bloxham, for providing us with copies of these documents.