No 11 High Street, Badsey, which, since 2004, has been called Meadway House, is a Grade II listed house on the National Heritage List for England.  It was first listed on 9th January 1987 with List Entry Number 1349968.  It is described as follows:
House. Late C18 with some C20 alterations. Brick with plaster dressings, slate roof and gable-end stacks. Three storeys, plaster quoins, dentilled brick cornice; three windows: cross-windows under plastered wedge lintels with keystones and stone sills. Second floor with 2-light casements, the central one blind. Central entrance has wrought iron trellis porch supporting flat canopy and six-panel door.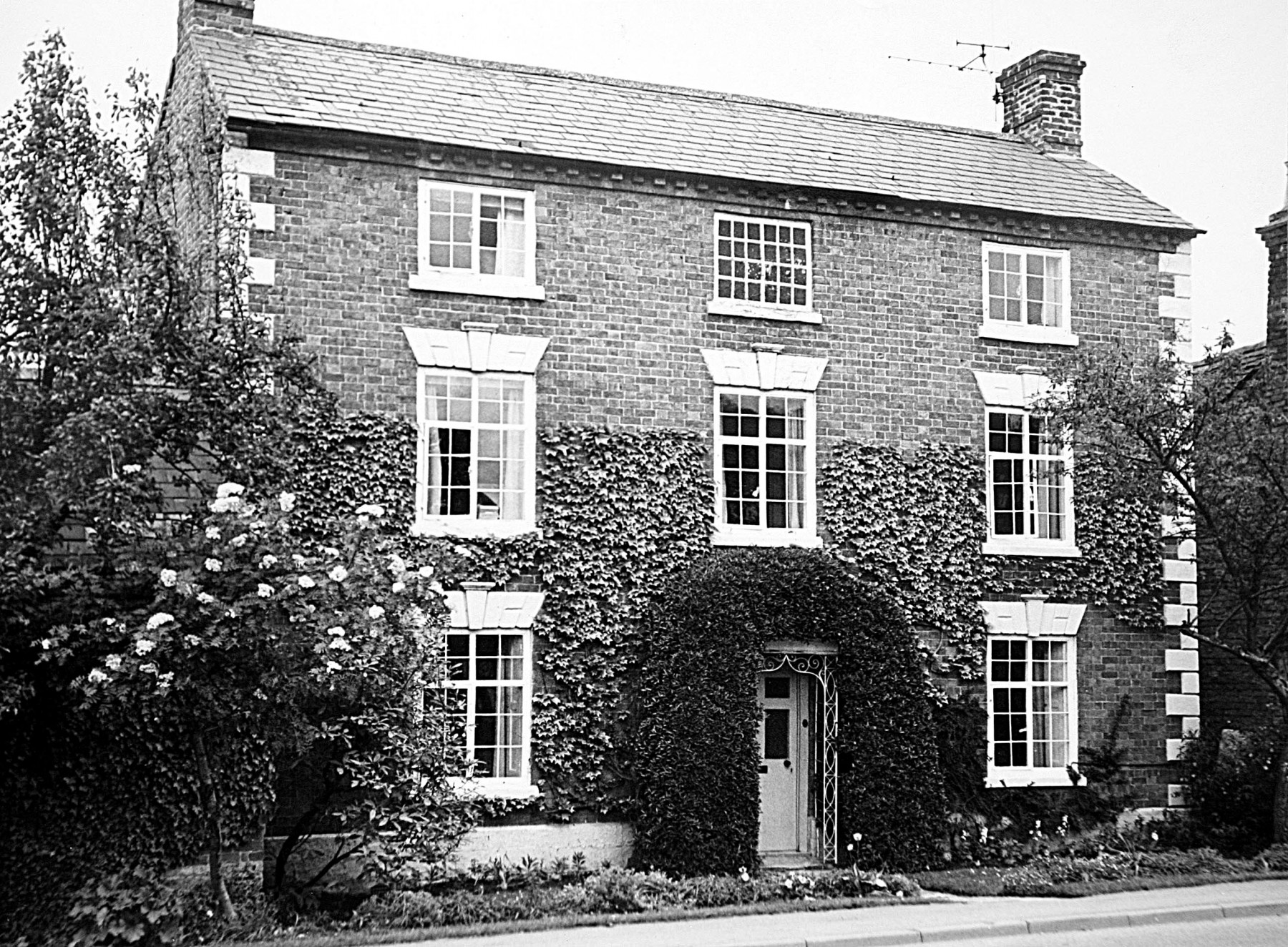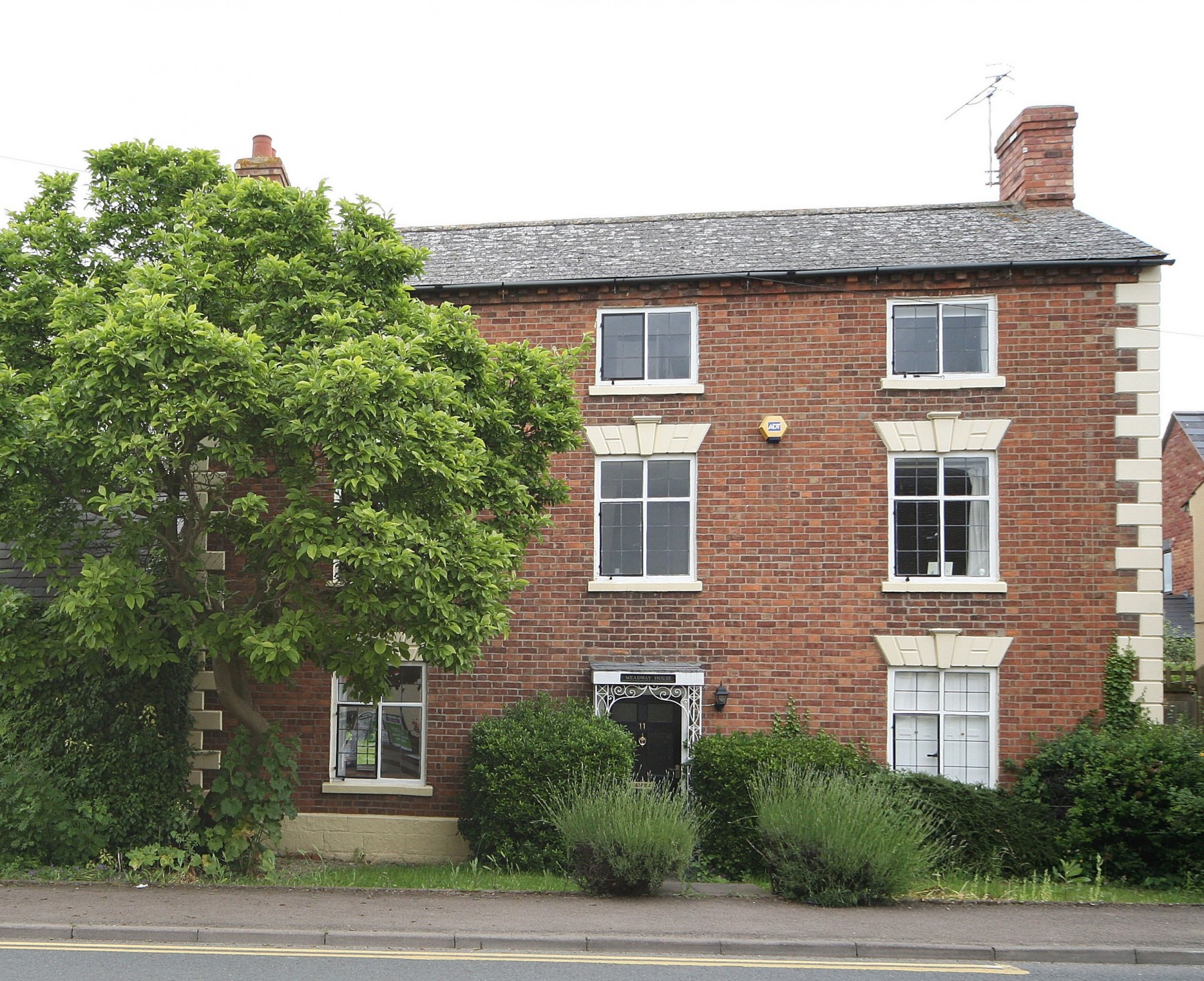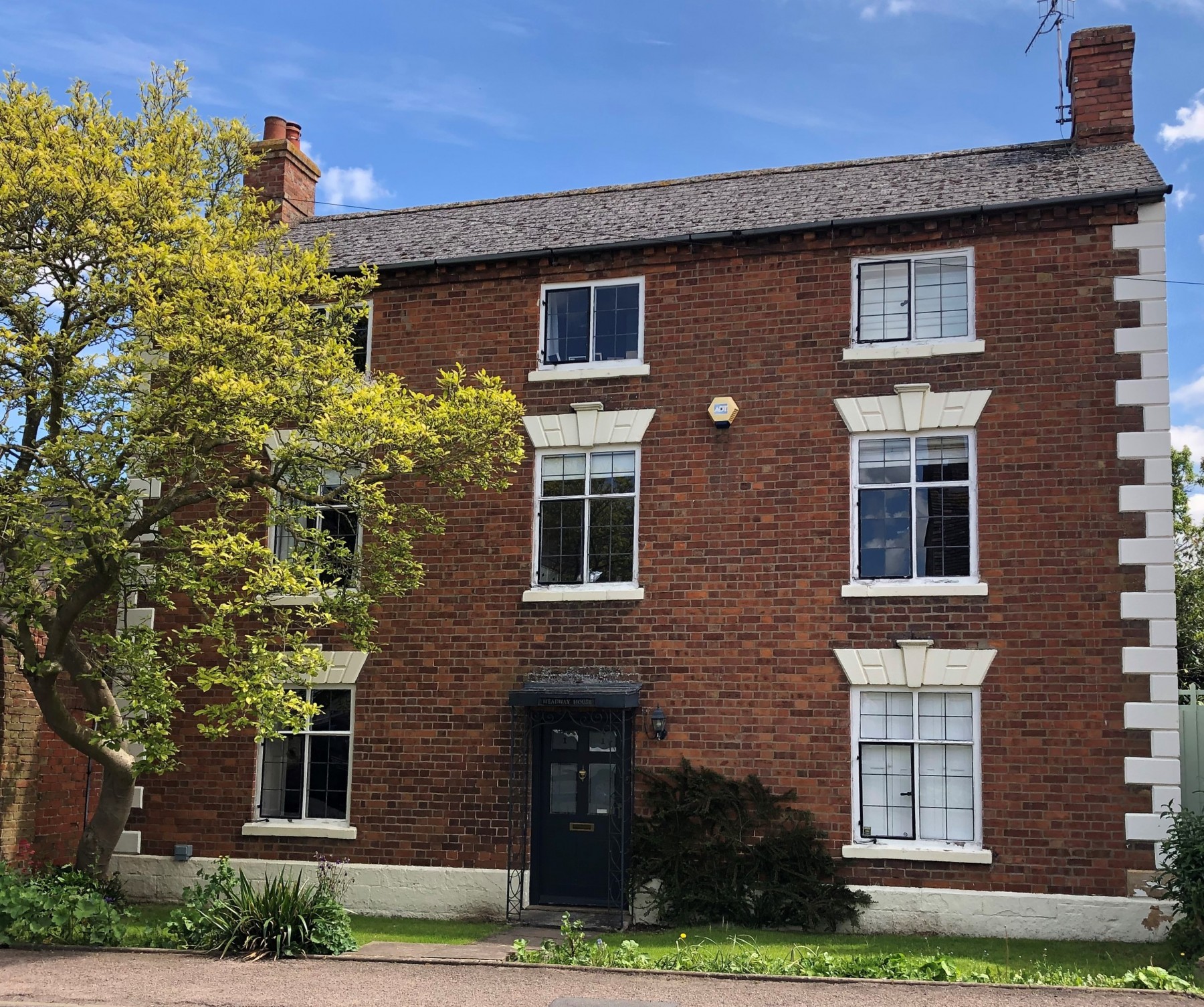 * * * * *
Ownership by the Smith Family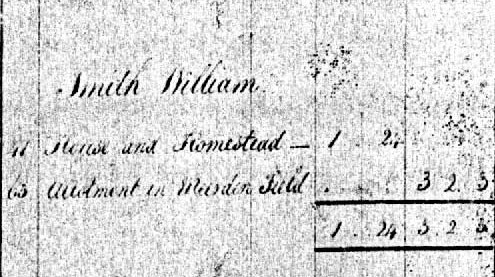 The first known owner of the house was William Smith who was named in the Badsey Enclosure Award Schedules of 1815.  In a list of proprietors, he was described as owning an old enclosure – a house and homestead – which amounted to 1a 0r 24p.  When the Enclosure Commissioners made their awards, William Smith was also allotted common land amounting to 3a 2r 3p.
William Smith was born at Wickhamford in 1742, the youngest of four children of Joseph and Esther Smith.  His three elder brothers had all been born at Badsey, but the family had recently moved to Wickhamford prior to his birth.  When William was aged 20, his parents died within a few days of each other and were buried at Wickhamford. 
On 26th December 1770, William, who was a farmer, married Sarah Cotterell at Badsey.  They had four children:  Thomas (1771-1847), William (1774), Sarah (1777) and Elizabeth (1780).  The National Heritage List describes 11 High Street as being late 18th century.  Perhaps William Smith may have had the house built soon after his marriage.
William Smith died at Badsey in November 1815.  He does not appear to have left a will, but it is assumed that his eldest son, Thomas, inherited.  Thomas was married to Catherine and had three children, all born at Badsey:  Sarah (1795), William (1797-1866) and Elizabeth (1799).  The house was probably sold soon after William Smith's death.  Certainly by 1827 it was owned by the Misses Benton.
Ownership by Ann Benton
The Misses Jane and Ann Benton are thought to have bought 11 High Street in the early 1820s, following the death of their father in 1818.  
Jane Benton was born at Fladbury in 1767, the fifth of ten children (though three of the children had died before she was born) of John and Jane Benton,  and Ann Benton was born at Fladbury about 1786, the youngest child.  John Benton was one of the Christ Church leaseholders named in the Badsey Enclosure Awards of 1815.
Towards the end of the 18th century or early 19th century, the Benton family moved to Pebworth.  John Benton died at Pebworth in 1818.  In his will of September 1812, there was no mention of land or property in Badsey, but provision was made for all five surviving children:  three sons and two daughters.
Two of the sons, John Millard Benton and Joseph Benton, were married.  Henry Benton and the two daughters, Jane Benton and Ann Benton, remained single.  Jane and Ann were resident in Badsey by December 1827 when Jane died.  An announcement in the deaths column of The Worcester Journal of 3rd January 1828 stated:  "Last week, at Badsey, near Evesham, Miss Benton, eldest daughter of the late Mr Benton, of Pebworth, Gloucestershire".  Jane was buried at Pebworth.
In 1841 and 1851, Ann Benton, described as an Independent, lived at 11 High Street with two servants.  By 1851, now described as blind, she also needed to employ a Nurse.  Ann Benton died at Badsey on 18th April 1854.  She was most likely buried at Pebworth where her parents and sister were buried.  The announcement of her death in The Worcestershire Chronicle of 3rd May 1854 gave her age as 88, whereas the census returns indicated she was 20 years younger.
By her will of 1842, Ann left the house to her only surviving brother, Joseph Benton, and after his decease, to the use of his wife, Anne, and then to their daughter, Mary.  Joseph had died by the time of Ann's death, so it then passed to Anne and Mary.  It is thought that they never lived in the house, but let it out to tenants.  Mary had married a farmer, Charles Marshall, in 1840 and they lived at Stanton.  However, Charles had died seven weeks before Ann Benton, on 28th February 1854, so Mary had much to contend with.  By 1861, Mary and her widowed mother were living at Pebworth, where Mary remained for the rest of her life.  She died at Pebworth in 1893.
The house was let out to tenants in 1861, the tenants being widow, Hannah Barnard, a washerwoman, and her five children. The house was later sold.
Ownership by John Phipps
At some stage in the 1860s, John Phipps bought 11 High Street.  He was resident in Badsey by 1866 as a report in The Worcestershire Chronicle of 18th April 1866 announced that he had been appointed assistant overseer for Badsey.  He quickly immersed himself in village life and was also appointed churchwarden.  
John Phipps (1804-1894) was born at Whatcote, Warwickshire.  He had married Mary Beard at Childswickham in 1824 and had five children:  Owen (1825-1870), William (1827-1889), James (1829-1849), Felicia (1832-1902) and Mary Anne (1835-1917).  At the time of the 1851 and 1861 census, John and Mary Phipps were living at Bridge Street, Bretforton, where John was a cordwainer.  
No 11 High Street was not the first property that John Phipps bought in Badsey.  In September 1854, he had acquired the cottage now known as 5 Orchard Way, High Street.  This was in the strip of land adjacent to 11 High Street.  In 1867, the two neighbouring cottages (present-day 7 & 9 Orchard Way) also came up for sale, so he purchased those, too.  By the late 19th century, it was being known as Phipps Alley.  
Both the 1871 census and 1881 census show John and Mary living on the High Street.  John was described as a retired cordwainer.  At some point in the 1880s, they went to live with their youngest daughter, Mary Anne Sheppard, in Bretforton, where Mary Phipps died in 1889.  By 1891, John Phipps was living with his other daughter, Felicia Haines, in Evesham and the house was let out to tenants:  market gardener Joshua Marshall and family.
John Phipps died at Evesham on 11th March 1894.  In his will made in 1890, he left his "messuage, buildings, orchard and gardens situate at Badsey", to his grandson, Owen Haines.  The house was still occupied by the Marshalls.  The three cottages in Phipps Alley were inherited by his daughter, Mary Ann Sheppard.
By 1901, 11 High Street had been given the name Vine Lodge which it was to retain for the next 100 years (or Vine Cottage as it was sometimes called, not to be confused with Vine Cottage on Chapel Street).  The house was occupied by two families:  widow Mary Stanley and her son Charles Knight and a boarder, and Edward and Jane Cleveley and two young children.
Owen Haines' mother, Felicia, died at Evesham on 31st December 1902.  It was six months later that Owen sold the house.  
Ownership by the Attwood and Clifford families
According to the survey which took place on 26th November 1912 as part of the nationwide Valuation Survey, 11 High Street had been bought for £490 on 24th June 1903 by George Attwood Senior of 168 Ash Bank, Northfield, Birmingham.  The house was described as follows:
Old brick tile and slate house, damp and bad repair: 2 sitting-rooms, kitchen, larder, earth closet, 2 bedrooms, 2 attics.  Brick and tile stable and coach-house.
George Attwood (1842-1920) was a cattle dealer of Kings Norton, Birmingham, who also owned No 1 Old Post Office Lane and just over 11 acres of land in Badsey and Aldington.   
George Attwood never lived in Badsey.  At the time of the 1911 census, the house was occupied by 47-year-old George Bernard Lloyd Roberts (1864-1937), a fruit and vegetable grower, and his young wife, Winifride Emilie.  The Valuation Survey shows that they paid £28 in rent and had taken on the tenancy for 4¾ years from June 1908.  George Lloyd Roberts was listed in W and H Smith Almanack for the years 1909-1913 as living at Vine Cottage.
After the Lloyd Roberts family left, the Barnard family became the tenants.  
   
George Attwood died in October 1920.  The house was inherited by his youngest daughter, Winifred Annie Clifford (1880-1972), who had married Ernest Clifford in 1918.  The Cliffords lived in Birmingham, so the house continued to be let out to tenants.  The tenants throughout the time of Mrs Clifford's ownership were the Barnard family.  
Winifred Clifford died in April 1972.  She had no children and the house was sold to her tenants.
Occupation and Ownership by the Barnard family
For nearly a hundred years, the Barnard family was associated with Vine Lodge/Cottage as the house was known throughout the 20th century.  James Barnard (1869-1941) and his wife, Mary Ann, probably took over the tenancy in 1913.  Coincidentally, James' grandmother, Hannah Barnard, had rented the house at the time of the 1861 census.
James and Mary Ann had seven daughters and three sons:  Walter Henry Dore (1889-1944), Cecilia Adeline (1893-1992), Ethel (1895-1985), Frederick Joseph (1896-1980), John (1898-1987), Elsie Beatrice (1901-1902), Edith Helen (1903-1952), Gladys Anne (1906-2003), Evelyn (1910-2004) and Sylvia Mary (1913-1980).  James died in 1941; a lengthy obituary appeared in The Evesham Standard.  Mary Ann died in 1961.  Evelyn McKanan-Jones (née Barnard), who grew up at Vine Lodge, wrote a poem about her childhood in Badsey.
Three of the Barnard girls never married (Cecilia, Ethel and Gladys).  After the death of their parents, they continued to live at Vine Lodge.  According to their niece, the late Pat Goldstraw (née Barnard), they had the opportunity to buy the house in 1972 following the death of Mrs Clifford.  Some of the garden was sold for development of The Lankets in the 1980s.
Pat Goldstraw was a frequent visitor to the house.  She said that her aunts had their own rooms, which were sacrosanct.  The love of Cecilia's life was George Mason, who was killed during the First World War.  It was only in Cecilia's final illness, when she had to go into hospital, aged 99½, that a pile of love letters were found under her pillow.  Cecilia had kept George's closely-written pencilled letters there for over 70 years.  Cecilia's nephew, Michael Barnard, has written movingly about their romance, "A love that never dies", on page 160 of Peace, War & Remembrance:  The Great War in Badsey, Aldington & Wickhamford.
Gladys was the last of the three sisters to die.  She continued to live at Vine Lodge until she was admitted to a nursing home in Evesham in 2000.  In her youth, she had been a talented hockey player, and her hockey boots were found still hanging on the back of her door.  Gladys died in 2003.
21st-century ownership
Following the long occupation by the Barnard family, the house was sold in 2001.  Since then, there have been three more sales:  November 2007, January 2010 and December 2020.
Having been known as Vine Lodge or Vine Cottage for all of the 20th century, 11 High Street was renamed Meadway House in 2004 by the then owners.
Maureen Spinks, June 2021
See also:
Sources of Information
Documents at Birmingham City Archives
Badsey Enclosure Records
Valuation Survey records
Parish Registers
Census Returns
Will of Ann Benton
Will of John Phipps
British Newspaper Archive
Memories of Pat Goldstraw (née Barnard)