Publication
Evesham Standard & West Midland Observer
Transcription of article
HAMPTON WEDDING – Miss Iris Smith and Pte C W Haines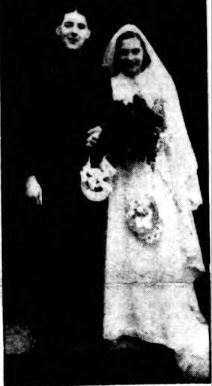 The wedding was solemnised at St Andrew's Church, Hampton, on Saturday, of Miss Iris Annie Smith, youngest daughter of Mr & Mrs G A Smith of 4 Church Road, Hampton, and Private Charles William Haines, only son of Mr & Mrs Albert George Haines of 7 Synehurst Avenue, Badsey.
The bridegroom, who survived the horrors of Dunkirk, is a member of the Worcestershire Regiment being a Territorial before the outbreak of hostilities.  He was formerly employed at Messrs Collins Brothers, Evesham.  The bride has been employed at the Bredon Package Company, Evesham, for the past four years.
Given away by her father, she looked charming in a gown of figured white satin and a Dresden lace veil, loaned by an aunt.  She wore and orange blossom headdress and carried a bouquet of red roses.  As she left the church the bride was presented with lucky silver horseshoes by Mrs C Penson (sister), Miss Joyce Burchell (cousin) and Mrs A Underhill (friend).
There were two bridesmaids, Misses Kathleen and Muriel Haines (sisters of the bridegroom).  They were attired in long ruby wine-coloured velvet gowns with muffs and turbans to match and sprays of orchids.  Their gold crosses were the gifts of the bridegroom.
The ceremony was conducted by the Rev E Spencer Jones, Vicar of Hampton, and Mr Cecil Penson (brother-in-law of the bride) acted as best man.  A reception at the home of the bride was attended by 40 guests.
Numerous presents included those form Messrs Collins Brothers, Evesham, and the Bredon Package Company.