Alfred Lambourne King was a market gardener living on Pitchers Hill, Wickhamford, at the time of the 1921 census. He was then aged 50 and single, but married Fanny Mabel Mary Collett (known as Mabel) in the parish church on 9th December 1922.   The Marriage Register gives his father's name as Alfred King, Doctor of Music. Mabel, as she was known, was the daughter of John Collett, a retired schoolmaster and aged 39.  She was a teacher at Prince Henry's Grammar School, but this was not entered in the Register.  Three people signed the Register as witnesses, but all were members of the Collett family.  The marriage did not last very long, as Alfred King died in 1924, whilst in a nursing home in Wolverhampton.  He was buried in Wickhamford churchyard on 14th August.  When the 1924 Electoral Register was drawn up, only Mabel King's name was recorded.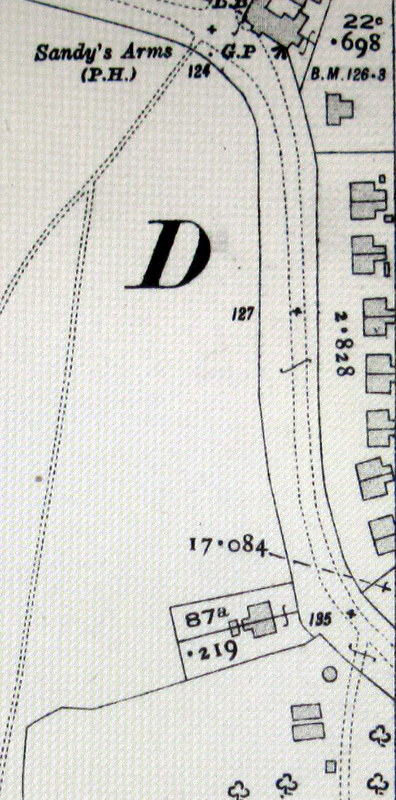 Alfred and Mabel lived in a bungalow called 'Innisfree', one of a pair, just off of Pitchers Hill, down an access track to market garden land on the south side of the main road.  The house had a low brick walled base, with its walls constructed of iron sheeting lined with wood. The two properties were between the present nos. 4 and 8 Pitchers Hill.  On the evening of 24th March 1928, Sellick Davies, Liberal candidate in a local election, was passing through Wickhamford with other members of his party, when they noticed a fire had broken out at a wooden bungalow.  Mistakenly thinking there was a woman inside he attempted to gain entry and received some burns before being pulled away.  It was initially reported that four bungalows were destroyed before Evesham Fire Brigade extinguished the flames. Further investigation, by the Evesham Journal, found that only one bungalow had been burnt down. The lady who owned the bungalow was out at the time and was named as Mrs Mabel King.  The adjacent bungalow, belonging to Mabel's brother, Tom Herbert Collett, was saved by quick action of the villagers who kept dousing it with water until the Fire Brigade arrived.  They had problems with fittings to the nearest fire hydrant and had to get water from Badsey Brook.  It took 40 minutes to get enough pressure to use their hoses.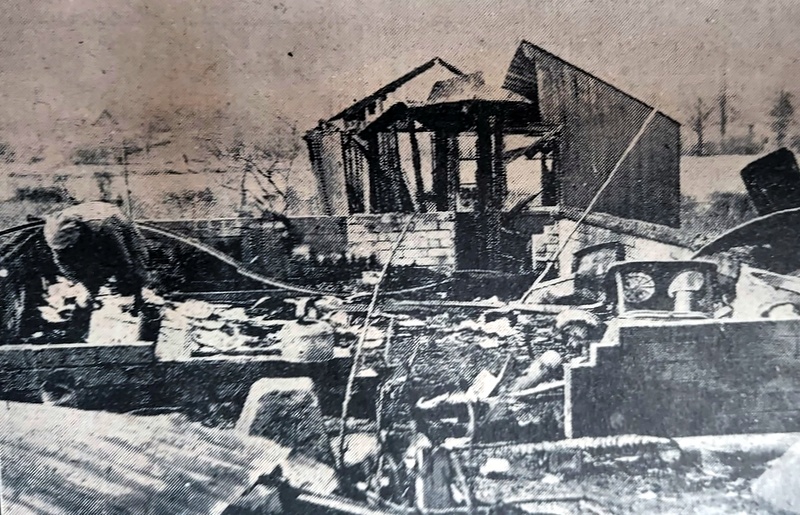 Alfred Lambourne King's life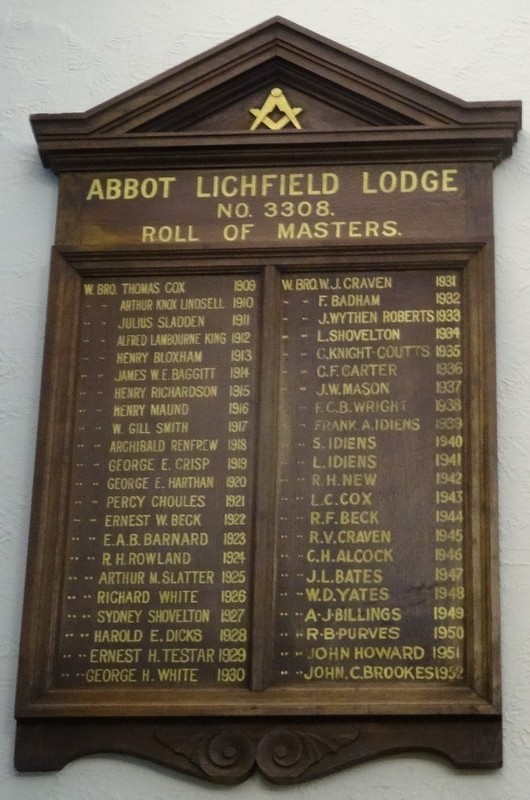 Alfred Lambourne King was born in Brighton and was away from home at school for the 1881 census.  In 1891, he was staying with a fruit grower in Essex, as a horticultural student.  By 1901 he had moved to Evesham for market gardening, living in Sanatorium Road (now Kings Road).  In 1911, he was living at 2, Philipscote, Evesham.  Alfred was a Brother at the Abbot Lichfield Lodge of Freemasons, founded in Evesham in 1909, and was their fourth Master in 1912, succeeding Julius Sladden.  
According to his obituary, in The Evesham Journal, in about 1900 he worked for market gardener George Jones and afterwards occupied land at Aldington Lodge and in Bengeworth, Evesham. During the Great War, he disposed of his land and left the area, returning later to take some land at Pitchers Hill, Wickhamford. Whilst in the area he had been a member of the Evesham Amateur Dramatic Society and later in the Evesham Amateur Operatic Society.  He was a member of the church choir at St Peter's Church and then St Lawrence's Church. Before he died, in 1924, he had been in indifferent health for some months.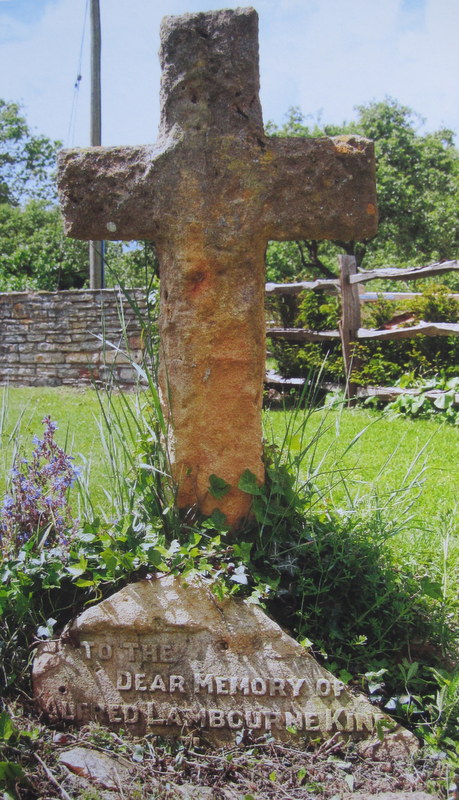 At his funeral, the mourners included his brother, Bernard and sister Edith, as well as members of the Abbot Lichfield Lodge, his relatives in the Collett family and many Wickhamford villagers. He was buried in Wickhamford churchyard.
His career in horticulture might now seem not unusual, but his family background bears no link to this occupation, as was seen in the record of his father' occupation in 1923, in the Marriage Register.
Fanny Mabel Mary King was living in Brierley Hill, Staffordshire, and working as a Domestic Science Teacher, at the time of the 1939 Register, and she died in November 1955, in Lyme Regis, Dorset.
The King Family Background
Alfred King senior was born on 24th April 1837 in Shelley, Essex and married Eliza Hellen Virtue.  They had a number of children including Alfred Lambourne King's twin, Philip Virtue King, Francis Lambourne King and Bernard William Virtue King.   Alfred was a Fellow of the Royal College of Organists (1868) and Doctor of Music (Oxon, 1890).  He was an organist at :  Cuddeston Theological College (1856), Eastnor Castle (1857-64), St Michael's and All Angel's, Brighton (1865-1877), St Peter's Church, Brighton (1877-1887), Brighton Corporation (1878), the Dome Pavillion, Brighton from 1880. He composed choral music and songs and he died in Brighton on 26 April 1926.  Unlike his son, Alfred Lambourne, his other children followed academic careers.
Alfred Lambourne King's siblings
Philip Virtue King was a student of music, aged 19, at the 1891 census and a sister, Edith, was a student of art, aged 18. He joined the London & Kano Trading Company as a manager and died in Kano, Nigeria in June 1909.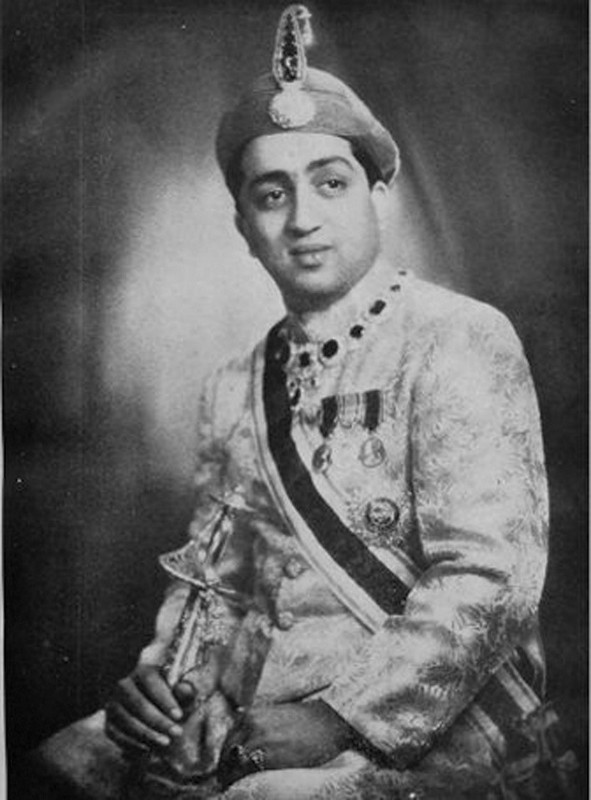 In 1911, Bernard William Virtue King and Francis Lambourne King were joint heads of Sutton Fields College, Seaford, Essex.  This was a small establishment with three teachers, six servants and a matron. Francis was a Cambridge undergraduate in 1901.  He joined the Cadet Corps at Brighton College in 1903, the Territorial Army in 1908 and was called up for service in 1914.  He joined the King's Liverpool Regt, rising to the rank of Captain, and was captured in France in August 1916.  He was awarded a Military Cross in the King's Birthday Honours of 1917.  He married Beatrice Helen Duncombe in 1921 and the same year was appointed Guardian and Tutor to the future Maharaja of Baroda, the 13-year-old Prince Pratap Singh Roa Gaekwad of Baroda (who later became the last Maharaja of Baroda). Francis and Beatrice were in India for a while, returning to London in September 1924 aboard the P&O liner, SS Caledonia. Francis died in 1930, in Guildford.
The only two later references have been found concerning Bernard William Virtue King, who married Martha Moore, in 1913.  In June 1939, the Westminster and Pimlico News, carried a report of him being involved in a court case in London.  In the 1939 Register, his occupation was given as 'Canvasser' and he lived in Fulham.
Conclusions
Alfred Lambourne King followed a completely different path in life to his father and brothers.  He was successful in his career, as market gardening was profitable, particularly during the Great War.  He had joined the Freemasons and rose to become Master of the Abbot Lichfield Lodge in 1912.  It is not known if he lost touch with his family for some reason, but it is strange that none of them signed the Marriage Register in 1923.  Francis may have been in India and Philip had died, but his father and brother Bernard were still alive. However, two siblings did attend his funeral in 1924.
Tom Locke, February 2022