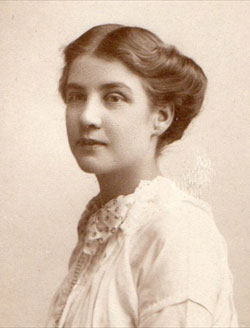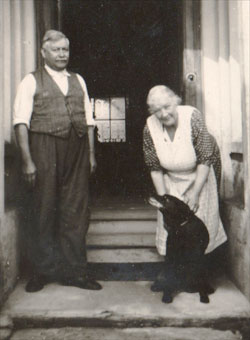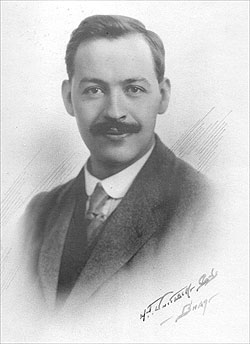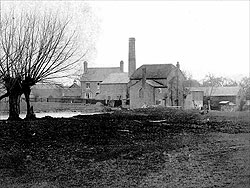 Peggy Selby's mother was born at Aldington Mill. She was part of the Sharp family which ran the mill for more than 40 years. In this article Peggy describes her family, and how her mother's love of gardening and growing things led to her becoming a professional botanist.
My mother, Agnes Elizabeth Sharp, who passed away last summer aged 90, was born at Aldington Mill in 1919. She was the only daughter of John and Agnes Sharp and always known as Elizabeth, sometimes shortened to Lisbeth.
John and Agnes were married in 1915. Agnes was born in 1882, the eldest daughter of William Harris (1853-1910) and Agnes Gower (1859-1919). My mother didn't know very much about her mother's side of the family; apparently there was some great family quarrel and her mother never spoke very much about her family. Agnes trained as a nurse and was at some time employed by an elderly gentleman in poor health; the photograph was taken when they were staying in Southport.
John was the son of Jerry Sharp, who took over the mill at Aldington in 1885. John was born in 1890, the only son (as far as I know) with several sisters. After his father died in 1916, he took over the mill and always described himself as a corn miller, although the mill closed in 1927.
Elizabeth had very happy memories of her childhood at the mill; her uncle Walter (Walter Harris, her mother's brother) worked there with her father "he was great fun to be with, more like an older brother than an uncle". When the mill had to close in 1927 because of lack of trade, Walter went to work with a Mr Olsen, who had a number of glasshouses for tomato growing at Badsey.
The Sharp family moved to Offenham in 1927. John had been left a house there (The Laurels) by his uncle Joseph. Apparently Agnes wasn't happy about this, either because of something to do with the family quarrel, or because it was a large house that had been somewhat neglected. Joseph Sharp had never married and the house had been run by his sister Mary Anne. Mary Anne died twenty years before he did and from that time he hadn't touched or moved anything that belonged to her, either because of grief or (more probably) inertia - there's a family story that someone calling at the house for him one day was told by Mary Anne they were unlikely to get anything out of him, "he's got his arse in his sitting breeches today". When Elizabeth came to clear the house in 1964, the attics were full of Victorian paraphernalia, much of which went to the museum service in Worcester.
After they moved to Offenham, John didn't take to the idea of working for someone else; he tried using the land at The Laurels for market garden produce but they mainly got by through running the house as a guest house. I believe one of their visitors was J R R Tolkien, Elizabeth remembers being sent into the garden to pick parsley to make parsley sauce for the great man's dinner. I don't think it was an easy living, though, neither in the 30's nor during the war, when Elizabeth used to come back home at regular intervals to help with all the paperwork that went with running a guesthouse during the war when food rationing was in place. John and Agnes continued to live at The Laurels until they both died, Agnes in 1960 and John in 1964.
I remember John as a lovely granddad who liked to tease his grandchildren. He was also very practical - I have a table that he made, I believe that when they first had a wireless at The Laurels in the 20s, he devised a speaker system that enabled Agnes to be able to listen to programmes if she was in the kitchen. I remember Agnes as rather more reserved but very, very hardworking, a characteristic inherited by Elizabeth.
Elizabeth attended Prince Henry's Grammar School in Evesham where she won a scholarship to study Botany at Queen Mary College at the University of London. War broke out in the meantime and her college was evacuated out to Oxford. The idea of going to university was not something her parents would have ever considered; apparently one of the teachers from school was instrumental in explaining to them how it could be possible. Elizabeth supplemented her scholarship with a bank loan and often described to us how she was never able to enjoy her student days as much as other students because of her great fear of not getting a good degree, not getting a job and then not being able to pay back the loan. To her daughters, who went to university in the days of student grants, this seemed very strange, but of course the wheel has come full circle now. She also had to contend with her parents not being able to understand that she needed to study during the vacations when she was at home - and at the same time being intensely proud of her and her achievements.
After she graduated, she worked in research in a number of places including the Botanical Gardens at Kew and Rothamsted Experimental Station in Harpenden. In 1949, she applied for a job at a new research laboratory being established at Pitlochry in Scotland. There she met the officer in charge, Kenneth Pyefinch; they were married in 1950. As was the custom then, she gave up paid employment when she married and devoted herself to her home and her family (they had four daughters). She lived in Pitlochry for the rest of her life.
Elizabeth's garden was always very important to her. In the early years in Pitlochry, she turned a large part of the garden over to vegetables, although the Perthshire climate and the stony Perthshire soil must have presented quite a challenge compared to the fertile ground of the Vale of Evesham. Although she derived the most immense pleasure from her garden, it was always very much a workplace for her; the idea of sitting doing nothing in the garden was quite alien to her. She came from a part of the country where growing things is an essential part of life, chose Botany to study and was a devoted gardener for the greater part of her life.
Peggy Selby
May 2011
See also the 'Aldington Mills' chapter by Mike Lovatt in Aldington and Badsey: Villages in the Vale.