William Seward (1702-1740) was the fourth of seven sons of John and Mary Seward, who moved to Badsey in the late 17th century. The Sewards were a wealthy family, interested in estate management, and the house that the family lived in for around a hundred years, still bears the name Seward House today. William Seward was closely involved with the early Methodist movement.
Terry Sparrow, in his book, A Brief History of Badsey and Aldington, has the following to say about William Seward:
Born at Badsey in 1702, William went to London as a young man and there he acquired considerable wealth as a successful business man; he also enjoyed a reputation as a generous benefactor of the poor. But he did not forget the place of his birth and before he was 30, he had given to Badsey Church the Altar Table (still in use), a clock (which was replaced by the present one in 1903) and the box pews (which were removed at the church restoration in 1885). All these gifts are recorded on the charity board which hangs in the ringing chamber in the church tower.

In 1738, William met the Reverend Charles Wesley and soon became closely involved with the evangelistic campaigns of the early Methodists. One of the group, George Whitefield, wrote in his diary in April 1739, "went to Badsey and preached in Mr Seward's brother's yard". In all, Whitefield preached at Badsey on three consecutive days, on the third occasion to "a weeping audience".

In 1740, following his return from a trip to America, William Seward commenced open-air preaching on his own account. He encountered hostile crowds in South Wales and then at Hay-on-Wye in October he was heavily stoned by a particularly aggressive mob and a few days later died from his wounds, thus becoming the first Methodist martyr. He is buried near Hay, in the village churchyard at Cusop. The church there has a memorial tablet, which was dedicated in August 1978, 238 years after Seward's death.
These photographs of St Mary's Church, Cusop, and the memorial to William Seward, were taken by Maureen Spinks on a visit to the church one crisp, sunny afternoon in January 2003.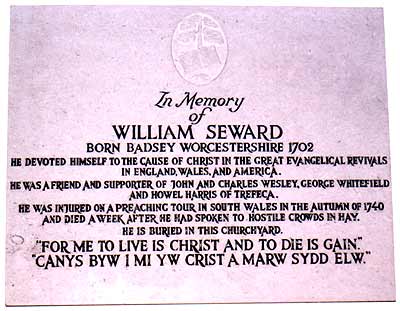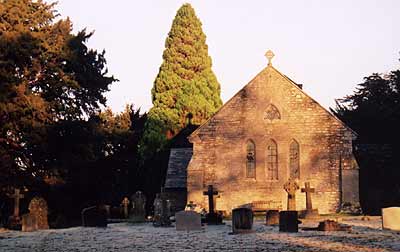 See also an article by Peter Braby.
The Manchester University library has acquired the William Seward 'Manuscript copy book of correspondence pertaining to the Methodist movement in England and Wales in 1738/9'. The octavo volume of c. 300 pages comprises about fifty copy letters sent to members of the Seward family of Badsey, near Evesham. This invaluable item sheds new light on the early history of Methodism, and is particularly significant because it provides a perspective other than that of John Wesley. It was purchased from an American rare book and manuscript dealer.
Updated 16 June 2007.