I lived in Edinburgh when I was a child, with my parents and my brother and sister.  We seldom saw my grandpa as it was a major expedition to visit him in Badsey.  There were no motorways and cars were not as reliable as they are now.  Ours would often overheat when we drove down over Soutra Hill through the Scottish Borders and we had to wait for it to cool down and fill up the radiator.
Grandpa lived with his brother and sisters in Seward House, Badsey.  We thought this was a lovely old house but the grounds were even better!  There was lots of space with a barn, an orchard and a lawn where we played croquet beside a huge tree.  We drove down once in a hired motor caravan where we children slept so there was more room in Seward House.  The photos below show the caravan outside the barn and a family group at the front gate, comprising (left to right) my father, Uncle Jack, Aunt Juliet, Auntie Peg (Uncle George's widow) and Grandpa.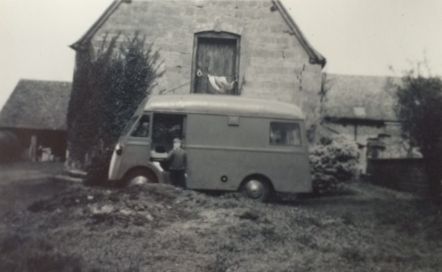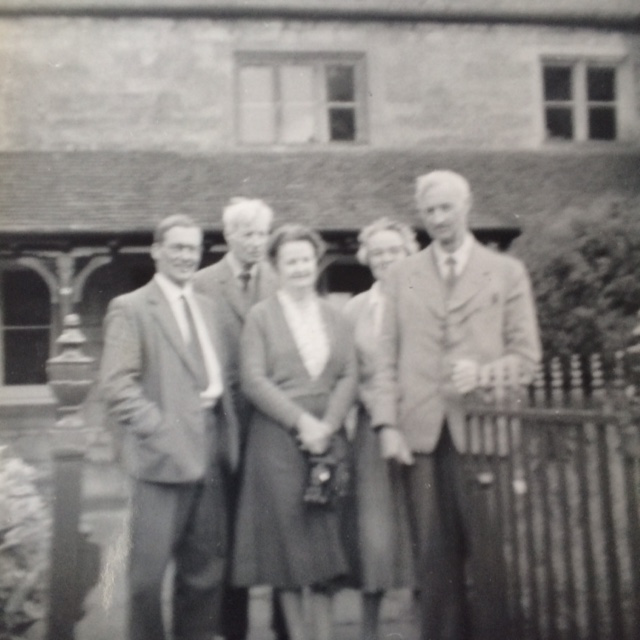 My mother was very fond of her father.  He supported her when she gained  her degree at Reading University and started her career as a psychologist, a new area where few women were involved at the time.  He helped her to buy a flat in Edinburgh that she shared with University colleagues.  She met my father, Dr Jim Naughton, when he came along to her lectures - he had decided to study psychology on his return from the  second World War where he served with the Army Medical Corps in the Middle East and Italy.  My mother had to leave her University post when they were married, as all women had to do then, but they stayed in the flat and I was born there.
I remember Grandpa visiting us after we had moved to the house in Edinburgh that I live in now – here is a picture of him (left) in the back garden.
Grandpa was very much a gentleman of the old school and inspired much awe and respect in us children.  I have some lovely mementos of him in the form of beautiful jewellery that was just right for a little girl but I can still wear now.
My brother, Jimmy, looked up to him greatly and there is a lovely story about my mother asking him to "take Grandpa for a walk" while she was making lunch after the Sunday church service. They did not come back for two hours by which time the lunch was past its best and my mother was beside herself with worry.  It turned out that Jimmy and Grandpa had solemnly walked to the Queens Park and climbed right up to the top of Arthur's Seat before realising they had better return home.
The last time I saw Grandpa was when I stayed at Badsey with my husband when we were students and had just got engaged.  I remember Grandpa sitting in the morning room at Seward House listening to his beloved cricket on the radio.  He was very pleased that we went to the Worcestershire ground to see a match while we were there.
My son, Keith, has quite a look of Grandpa – and he is also a scientist!
Anne Fraser (née Naughton), August 2016