Press Release sent out April 2008 after Tony's death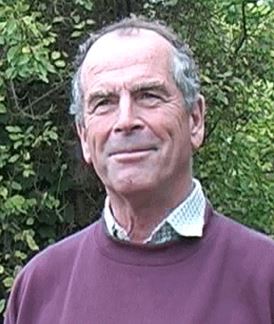 Badsey is a poorer place for the untimely death of Tony Jerram on 3rd April.
Tony was a familiar figure around the streets of Badsey.  Even those who did not know him personally cannot have failed to notice him on his daily walks in the village with two greyhounds in tow.  The dog-walking fraternity will certainly miss him.  Not only did he know all the owners, he also knew all the dogs' names!  And he would always stop for a word with passers-by.  Everyone was treated as an equal and he always took a great interest in the well-being and achievement of others.  Affectionately known by some as "the Colonel", Tony was a real country gentleman.  In the days when chivalry is almost dead, he always raised his hat when he met a lady.
Tony was born in Hampshire but moved to Worcestershire in 1950 when his father took up a Directorship at J M Stokes Ltd.  The family lived in Fladbury and Tony and his two younger brothers travelled daily by train to the King's School, Worcester.  Following two years at the Royal Military Academy, Sandhurst, Tony was commissioned into the Worcestershire Regiment.  He had a distinguished career in the Army, rising to the rank of Lieutenant-Colonel.  In 1988, towards the end of his military service, he began a civilian job at GCHQ in Cheltenham.
It was in the same year that Tony moved with Barbara to Badsey.  He very quickly became involved with the local community.  He was a regular attendee at St James' Church, whether it was dressing up as Pontius Pilate or reading the lesson, Tony frequently took an active part in services.  He assisted with church fetes and, on one occasion at least, he organised the Harvest Supper.  A few years ago, he was one of a group of volunteers that undertook the complete internal redecoration of the church.  He was a member of the Parochial Church Council for several years and, for three years was a member of the Evesham Deanery Synod.  For the last seven years, Tony served as a Trustee for the Aldington & Badsey Relief in Need Fund and was always on the look-out for a needy case.
Tony only became a member of Badsey & Aldington Parish Council last year, but during his short time on the Council, he made a significant contribution.  He was on the Planning sub-committee of the Council.  His knowledge of the parish, largely acquired through his extensive daily walks, made him a valuable member.
Members of the Friday Club and the Church Choir will have fond memories of Tony and Barbara's hospitality after the annual carol-singing round the village.   It was very pleasing to see the convivial atmosphere of some 30 people crowded into the kitchen at Harrington House drinking Tony's famous cider.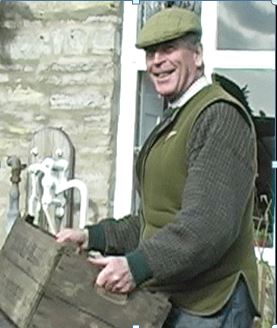 But it will perhaps be by his involvement with The Badsey Society that Tony will be most remembered.  He was one of the founder members in 2002, the first Chairman, and has served on the Committee ever since.  Committee meetings at Tony's house were always very popular because of the cider consumed to aid the decision-making process.  Tony was closely involved with both the asparagus and orchard DVDs published by the Society, acting as narrator and appearing in the opening scenes.  His latest project was as Co-Editor of the next Badsey Society publication, scheduled for 2009.
Tony was always ready to take the lead in events.  The annual Whit Walk was his idea, followed by his equally famous Wit's End Ale.  As we write, this year's brew is currently bubbling away in the Harrington House kitchen, so come and drink a toast to Tony at this year's walk which will take place on Friday 6th June. 
Outside of Badsey, Tony was Chairman of the Vale of Evesham Transport Forum.  He was also to be seen rattling a tin outside supermarkets for the Soldiers, Sailors and Airmen Families Association.
It was only in January of this year that Tony was the subject of the People Profile in Community News.  He said then that he was a strong believer in the English tradition of voluntary service to one's local community.  His many activities show that Tony served his community exceptionally well.
Whilst he attained his three score years and ten, Tony's death came far too early.  Always in the peak of fitness, he had so much more to give, but it was not to be.  It is fitting, though, that his beloved greyhound, Jet, who had been in poor health for some time, died the day after her master.
Tony's passing has left a big gap in our community.  We wish to extend our heartfelt condolences to Barbara in her loss.