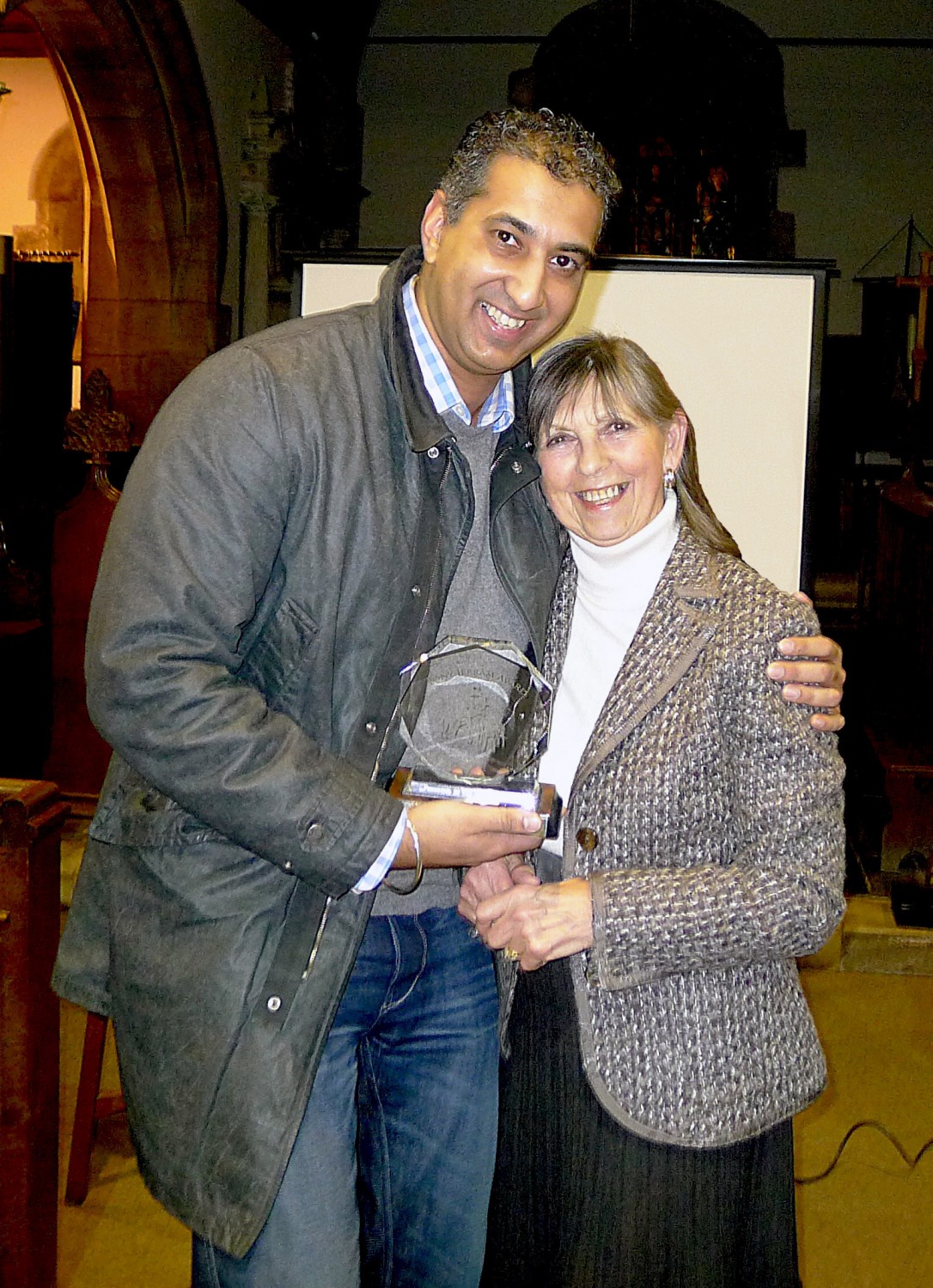 George Sangha was the recipient of the 2012 Tony Jerram Award for services to the community through his involvement with the village shop, The Spar, which he has run for the past 15 years.
In the words of one of the people who nominated him:  "The shop is an asset to the village - and George is the shop's biggest asset.  He engages with all his clientele, from the youngest child to the oldest pensioner.  He remembers the smallest of details, enabling him to have interesting conversations with one and all. On some days, George may well be the only person to converse with some of our more reticent residents.  Without George our village would be poorer.  He has the capacity to brighten our day; he is proof that one person can make a difference.  I believe George to be a worthy candidate for this award."
The Chairman, Mike Lovatt, said in his speech:  "George took over the shop from his uncle some 15 years ago, and since then has built up one of the strongest community hubs a village could have. This is quite simply due to George's unfailing cheerfulness and willingness to talk to everyone as if he had known them for years. You always feel better coming out of George's shop than when you went in, although you might have slightly less money. George regularly supports local causes, makes generous donations and raffle prizes. He also runs a martial arts class in the Village Hall for youngsters.
"Some friends and I regularly go on Boys' Days Out together and a couple of weeks ago we did the No 11. For non-Brummies this is a circular bus route that takes about 2½ hours to go round Birmingham. As we were passing through Harbourne, my colleague John McGhee remarked that this was George land and pointed out Lordswood Road where George actually lives. We got off the bus for some lunch, thought it better to avoid The Green Man pub which is George's local and settled for The Junction instead.  Over lunch I learned George was born in West Bromwich, went to Britannia High School and Kingston Poly and even worked at "The Austin" at Longbridge for a while for his sins. So your ears should have been burning that day, George!
"So, this is the first time a local resident has not won the award but I am sure you will all agree that in George we have a worthy winner. I am also sure George would want to mention Auntie Bim, who shares many of George's attributes and also makes a daily commute from Birmingham.  Thanks, George, on behalf of Badsey and Aldington people, and many from further afield I am sure, it couldn't happen to a nicer chap."