An intriguing note stuck into a book in The Badsey Society's archive led to a family history detective hunt to discover who was the sender and who was the recipient.  The note, in the front of a book called Bengeworth, said:
Dearest – I am more than happy to send you the book.  I hope you enjoy it to the utmost.
To:  Mrs E Cooke, Robin Cottage, Wickhamford, Evesham, England.
From:  F Hayman, Pelly, SOA 220, Sask, Canada.                                           9.7.74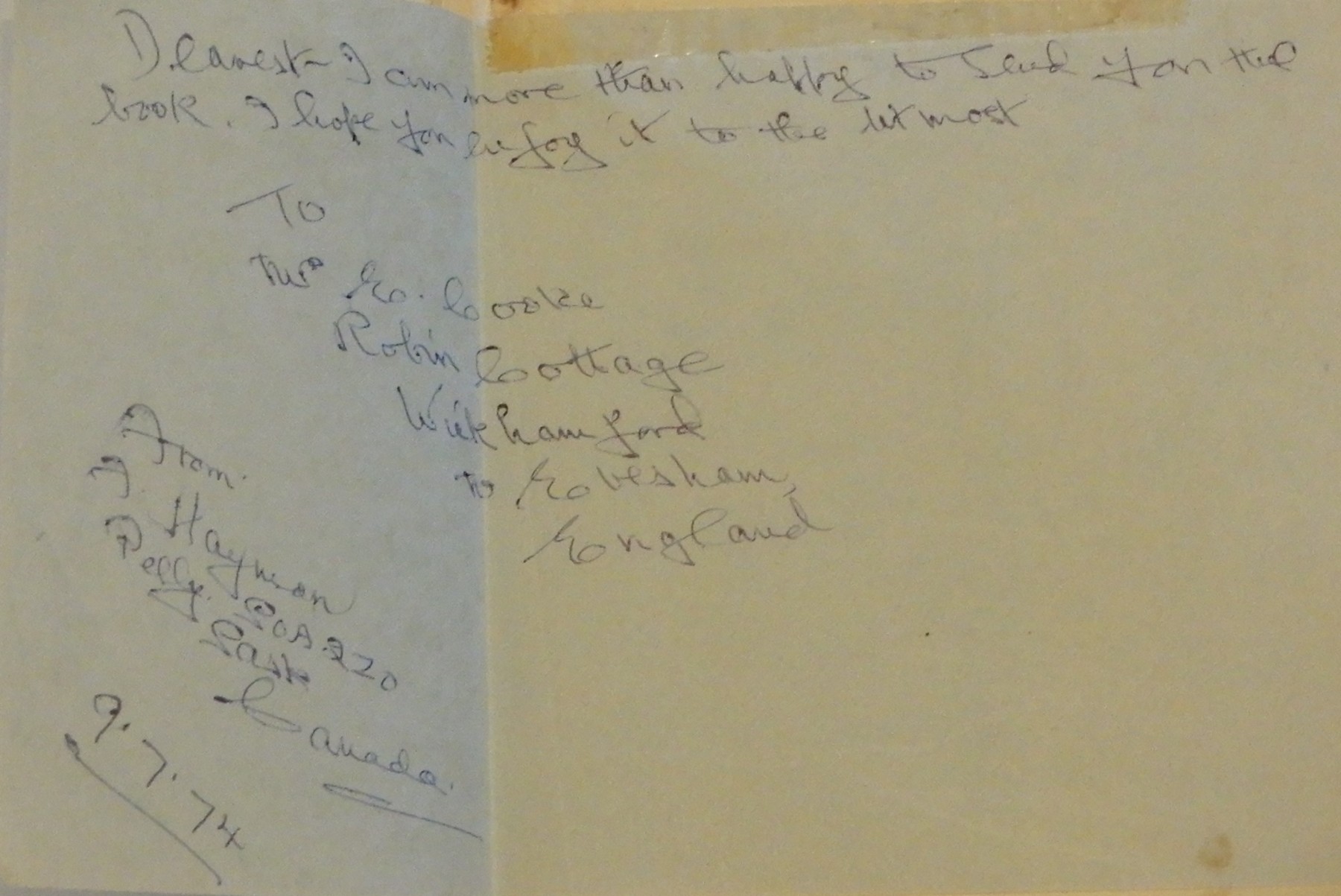 Who was F Hayman?
The reference to Hayman came to light whilst researching emigration to Canada from Badsey and Wickhamford.  One person who emigrated was Alfred George Hayman who was resident in Wickhamford for a short time before the Great War.  He was not a local person, but had come to the area to study farming at Field Farm.  He was killed in 1916, leaving behind a wife and two young daughters who returned to England.  With the name "Hayman" not being a common surname in the Vale of Evesham, it seemed too much of a coincidence that there was not some connection with Alfred.
After much research, the relationship was finally established.  The sender, F Hayman, was Florence Hayman, who had married Alfred's cousin, Stanley Morris Hayman, in about 1913 in Canada.  Florence was an Evesham girl, having been born on 28th August 1889, one of four children of John Hopkins, a cabinet maker, and his wife, Fanny.  She had two older sisters, Mabel and Emily, and a twin brother, Francis John.  The Hopkins lived on Port Street, Bengeworth, Evesham, where their father was a cabinet maker.
It was presumably in 1905-1906 that Florence met her future husband, Stanley Hayman.  Stanley, the son of a Bristol dentist, had come to Field Farm, Wickhamford, as a 17-year-old to study farming with his uncle by marriage, Benjamin Carter.  (Benjamin had taken, as his second wife, Emily Ann Hayman, who was the younger sister of Stanley's father).  Stanley emigrated to Canada in 1907, but one assumes that the teenagers kept in touch.
At the time of the 1911 census, Florence was living and working in Cheltenham, employed as a shop assistant at Cavendish House, which still exists to this day.  Her parents still lived at Port Street, Evesham, and probably around this time she renewed acquaintance with the Hayman family as Stanley's cousin, Alfred George Hayman, also came to Field Farm, Wickhamford, as a farm pupil.  In March 1912, Alfred, too, set sail for Canada with his new wife.
Just under a year later, Florence, by now aged 23, set off for a new life in Canada.  She arrived at Portland, Maine, USA, on 21st February 1913 and then headed for Saskatchewan via the Canadian Pacific Railway.  Stanley was farming at Moose Jaw, Saskatchewan.  It is assumed they married later in the year.  By the time of the 1916 Saskatchewan census, they were recorded as a married couple at Moose Jaw and were still there for the 1921 census.  They had no children.
Little more is known of their time in Canada other than the fact that Florence made a return visit to England, departing Canada in December 1928, giving her destination as 57 Port Street, Evesham, and returning May 1929.  Both her parents were still alive, her twin brother had married earlier in the year and was still in Evesham, as was her eldest sister, Mabel.
The book which sparked all the interest reveals that Florence was, in 1974, living in Pelly, Saskatchewan, a settlement which is some 230 miles distant from Moose Jaw, their last known address.
It is not known where or when Stanley died but, in old age, Florence returned to England, and to her native Evesham.  By then, all her immediate relatives were dead, but she may still have had nieces and nephews in the area.  Her father had died in 1933 and her mother, Fanny, had died in 1957 at the remarkable age of 106 (she very briefly held the record for being the oldest woman in England).  Florence's twin brother had died in 1950.
Florence herself lived to be a hundred, dying in an Evesham old people's home in January 1990.  The following report appeared in various regional newspapers in August 1989 on the occasion of her birthday:
Florence has telegram
A card from the Queen was among greetings for Mrs Florence Hayman who celebrated her 100th birthday yesterday in an old people's home at Evesham, Worcestershire.  Mrs Hayman said she was "feeling so fit and well" she expected to live even longer than her mother, Mrs Fanny Hopkins, who was the oldest woman in England when she died in 1957 aged 106.
Who was Mrs E Cooke?
So who was Mrs Cooke who received the book about Bengeworth?
It transpires that Mrs Cooke, although having spent a number of years in her husband's native Cheshire, was also an Evesham girl.  She was born Eva Cull on 12th February 1891, the fourth of seven children of Bazaleel Hopkins Cull, a baker, and his wife, Sarah Anne (née Dowty).  Despite Eva's father having the middle name of Hopkins (after his mother, Hannah, whose maiden name was Hopkins), no family connection has been found between Eva and Florence.
Instead it is thought that they were most likely childhood friends, first meeting when the families lived close to each other on Port Street.  Eva's grandfather, Bazaleel Cull, had established a bakery and confectionary business in Port Street in the 1850s.  Her father, Bazaleel Hopkins Cull, was also a baker (as also was her uncle, John Ernest Cull, who established the bakery in Badsey in the 1880s).
In 1925, Eva married Edmund Cooke in the Newport district of Monmouthshire; they had no children.  By the time of the 1939 register, they were staying with Edmund's widowed father (Joe Cooke, a retired solicitor) at The Woodlands, Godley, Hyde, Cheshire.  This was where Edmund had been born in 1891.  Edmund was described as having private means.  Edmund's father died in 1940, so perhaps it was after that they returned to Eva's home area of the Vale of Evesham and bought Robin Cottage at Wickhamford.  From the late 1940s onwards (when publication of the Badsey, Aldington & Wickhamford Parish Magazine resumed after nearly a 30-year gap), the Cookes are mentioned regularly as they were very involved with the Church of St John the Baptist.
Eva was widowed in 1969.  In 1974 she received the gift of the Bengeworth book from her old friend, Florence, who had emigrated to Canada many years earlier.
Eva died at Wickhamford on 5th December 1976, aged 85, and was buried five days later.  The following report appeared in the Parish Magazine of January 1977:
Eva Cooke (née Cull) came from a Bengeworth family with connections in Badsey.  She and her late husband came to live in Robin Cottage during the 1940s, and were much involved in the life of the village, not least in the life of the church.  Mrs Cooke was for many years secretary of the Parochial Church Council and one of Wickhamford's representatives on the Ruridecanal Conference.  During the last years of her life she was unable through infirmity to attend service in church and, instead, would receive each month the sacrament in her home.  Her faith in Christ sustained her during times when she found her bereavement and her increasing bodily infirmity a grievous burden.  Requiescat in peace.
The Book
So what was so special about the book that Florence sent to Eva?  The book, entitled "Bengeworth – being some account of the History of the Church and Parish of Bengeworth in Evesham, Co Worcester", was written by J P Shawcross (Vicar of Bengeworth 1917-1926), assisted by E A B Barnard, and was published in 1927.
Obviously, as they both grew up in Bengeworth, Florence and Eva had a shared interest in the history of the area, but there was a particular entry which was special to Florence.  On pages 36-38, there was a glowing tribute to her father, John Hopkins, who had been  Parish Clerk at St Peter's Church since 1869.  At first sight, it seems as though the dates might be wrong but, his obituary in The Evesham Standard of 1933 confirmed that he had become Parish Clerk at the age of 18, when he was then the youngest Parish Clerk in the Church of England.  At the time of his death, after 64 years' service, he was the most senior Clerk in the Church of England.  In January 1937, a window was dedicated to John Hopkins in St Peter's Church.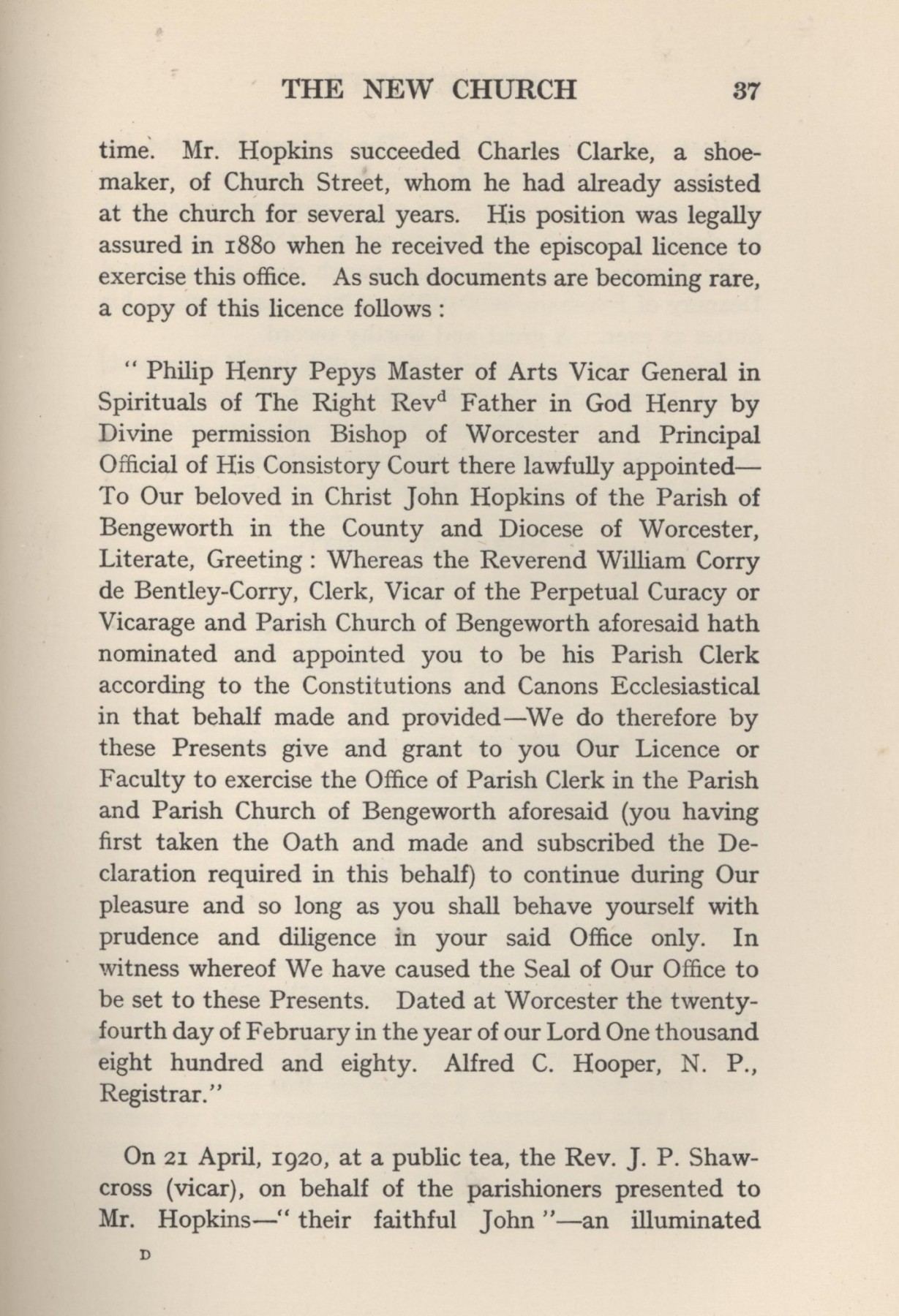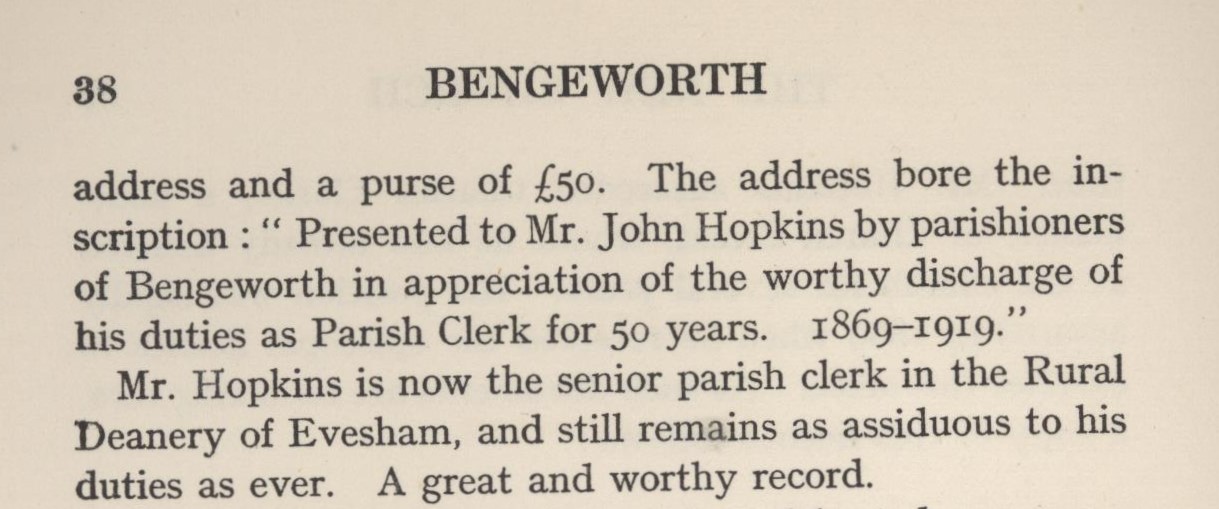 Florence and Eva would both have worshipped at St Peter's as children and Eva obviously knew John's father, so it was probably for this reason that Florence sent her the book.  As Eva had no children, on her death in 1976, her books were presumably sent to a second-hand bookshop.  The Bengeworth book passed into the hands of Tony Jerram (the first Chairman of The Badsey Society) who was an avid collector of local books.  On his death, his library of local history books was donated to the Society.
So that's the story of how a small reference to "Hayman" uncovered the life-story of Florence and Eva.
Maureen Spinks, October 2019