On 6th May 2023, we shall come together to celebrate the first coronation of this century when Charles III and his wife, Camilla, are crowned king and queen of the United Kingdom and the other Commonwealth realms.  We hope that you will join us for a picnic in the community orchard at Pear Tree Fields.  Let's take a look at how coronations were celebrated in Badsey, Aldington and Wickhamford in past times.
* * * * *
19th-Century Coronations
In the 19th century, the coronations of three monarchs were held:  George IV on 19th July 1821, William IV on 8th September 1831 and Victoria on 28th June 1838.  It is likely that there would have been some form of celebration in Badsey, but we have no documentary evidence to confirm this, and it is not clear who might have been the chief organiser.  The Vicar at the time was the absentee Reverend Charles Phillott, so the parish was in the care of the Curate, Charles Bloxham, who lived in Badsey from 1819-1839 which spanned the time period of all three coronations.  The Lord of the Manor was Edward Wilson (1793-1837) who was alive and living at Badsey Manor House at the time of the 1821 and 1831 coronations, so may have become involved in organizing some kind of celebration.  It is tempting to assume that, as a minimum, there would have been bell-ringing and a special church service and perhaps entertainment of some kind.
Whilst we know nothing about what possible celebrations there were in Badsey, Aldington or Wickhamford, we do know that coronations were marked in Evesham.  For King George IV's coronation, the Mayor and principal members of the Corporation met for a dinner at the Town Hall.  At Queen Victoria's coronation, a fund was raised for celebrating the event.  The men were provided with a substantial dinner laid out in the High Street.  When they had finished, cake, tea and other refreshments were provided for the women and children.
20th-Century Coronations
By the time we get to the 20th century, we have The Evesham Standard, The Evesham Journal and the Parish Magazine as prime sources of information.
For the four coronations which took place in the 20th century – Edward VII on 9th August 1902, George V on 22nd June 1911, George VI on 12th May 1937, Elizabeth II on 2nd June 1953 – the format for the day was remarkably similar, beginning with a church service and peal of bells in the morning. The secular activities started in the afternoon and invariably included a meal, a parade, fancy dress, sports, and a dance.  A full description of each of these events can be found as follows:
21st-Century Coronation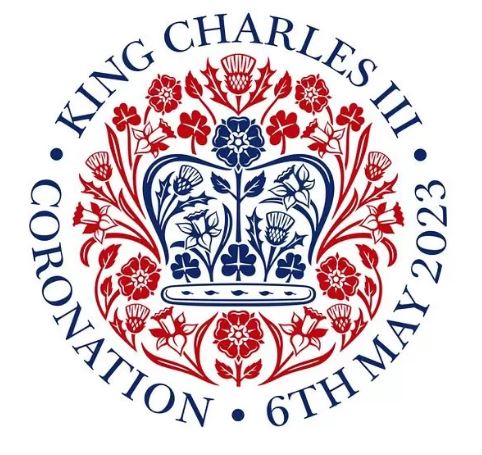 King Charles III will be crowned alongside Camilla, the Queen Consort, on Saturday 6th May 2023 at Westminster Abbey.  This will take place in the morning, so we shall be able to watch this on our TV screens at home.  Buckingham Palace has announced various events for the weekend, including a concert and laser light show at Windsor Castle on Sunday 7th May.
Pubs, clubs and bars across England and Wales will be able to stay open for an extra two hours on Friday and Saturday of the coronation weekend.  There will be an extra bank holiday across the UK on Monday 8th May.  People are being invited to hold street parties, and to take part in volunteering projects in their local community, as part of the Big Help Out initiative.
The Badsey Society is hosting a picnic in the community orchard at Pear Tree Fields on the afternoon of the coronation, Saturday 6th May, 2-5 pm, so come and join us.  There will be burgers and baps but please feel free to bring along your own food, wine/beer/soft drinks and chairs or picnic rug.  This is an informal, family-friendly event allowing people to chat and eat together and to enjoy the new community orchard.  Toilet facilities will be provided.  Wear something red, white and blue if you wish to get into the patriotic spirit!
We know of at least one street party that is taking place in Badsey, but there will probably be a number of other events organized by individuals.  Please populate our Facebook page with photos or send to history@badsey.net to say how you celebrated the coronation weekend in Badsey, Aldington or Wickhamford.
Maureen Spinks, April 2023