James Brewer's bakery was established in 1897 and was still operating in Badsey in the 1950s. Brewers Lane is named after the man and the bakery. Here Don Barnard describes what it was like to work there in the mid-1950s.
This is a personal recollection of working in the summer for Brewer's Bakery, in Brewers Lane. It must have been in 1955 or 1956, when I was 15 or 16, and I was hired on a cash-in-hand basis to help out with the baking.

Apart from two long wide tables for kneading and a couple of mechanical mixers, the bakery had a large oven about 15 feet long fed by a continually moving belt. Loaf tins with risen dough were loaded at one end, carried through as they cooked and taken off at the other. I recall the belt being about 10 tins wide, so unloading at the end was a tricky business. You handled the hot tins with sacking gloves, knocked out the loaves into a tray and stacked the tins, while the rest of the row got nearer and nearer to falling on the floor.

Another difficult task was adding jam to swiss rolls and doughnuts. The jam came in tins about a foot high and an experienced jammer could plunge a forearm into the tin and with one sweep spread most of a flat tray of cooked sponge, before finishing it off and rolling it up. Doughnuts were jammed (literally) onto a hollow spike, then a plunger was depressed, pumping in the jam. Both operations were made more hazardous by the wasps, which had to be picked out of the jam sometimes, before the Swiss rolls could be finished.

I must have been a poor hand at it, for I quickly found myself helping out on the van (an electric float) delivering bread (and I think milk) round the villages, certainly as far as Honeybourne.

Don Barnard, 2007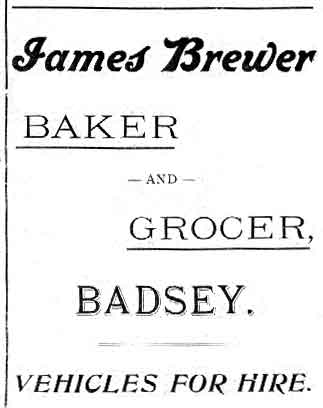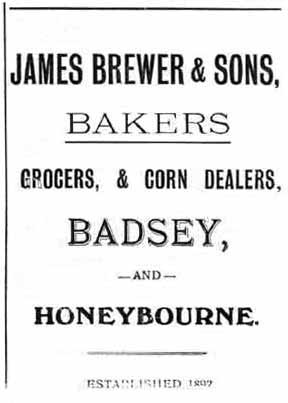 James Brewer's adverts in the Badsey parish magazine.
The first advert on the left appeared in January 1908 and he continued to advertise until at least 1919.
The advert on the right appeared between 1914 and 1918.
Brewer gave his name to Brewers Lane in Badsey where he had his bakery and shop.
In 1901 he was living at 1 Chapel Street - his bakery and shop were directly behind his house.