On a recent visit to Hall's Croft in Stratford-upon-Avon, Maureen Spinks came across a reference to two local women being treated by the eminent physican, John Hall.  In a paperback book entitled John Hall and his Patients, The Medical Practice of Shakespeare's son-in-law by Joan Lane, a useful index revealed that there was one reference to Badsey and one to Wickhamford.  So who was John Hall and who were the women he treated?
John Hall (1575-1635)
John Hall was the son-in-law of William Shakespeare.  He practised as a physician in Stratford-upon-Avon between 1607 (when he married Susanna Shakespeare) and his death in 1635.  When recording his burial, the Holy Trinity Parish Register referred to Dr Hall as "medicus peritissimus" (a most skilful physician).
In the early 17th century, physicians were the highest rank of the medical profession, distinguished by their university education (John had studied at Queens' College, Cambridge).  John Hall followed the humoral medicine of the day.  He favoured medicines which purged the body of excess or tainted humours.  His remedies included herbs, plants, animal extracts, gemstones and rocks.  He considered himself advanced in his ability to diagnose scurvy.
John Hall recorded 178 of his medical cases in a small notebook known as his Little Book of Cures.  After his death, these case notes were purchased by the surgeon, James Cooke (c1614-c1694), who translated the text from Latin to English.  In 1657 Cooke published the translation under the title, Select Observations on English Bodies.  It remained a popular textbook for many years.
The modern-day book written by Joan Lane includes a facsimile edition of an early printed version of Select Observations with medical commentary by Melvin Earles.
Most of Dr Hall's patients lived in and around Stratford-upon-Avon and he usually attended them in their homes.  The Wickhamford person whom he treated was Lady Penelope Sandys of Wickhamford Manor.  The Badsey person was Margaret Delabere of Southam Manor, Gloucestershire, but formerly of Badsey Manor.
Lady Penelope Sandys (1587-1680)
John Hall treated Penelope Sandys in 1624, shortly after the birth of her last child.  His case notes stated: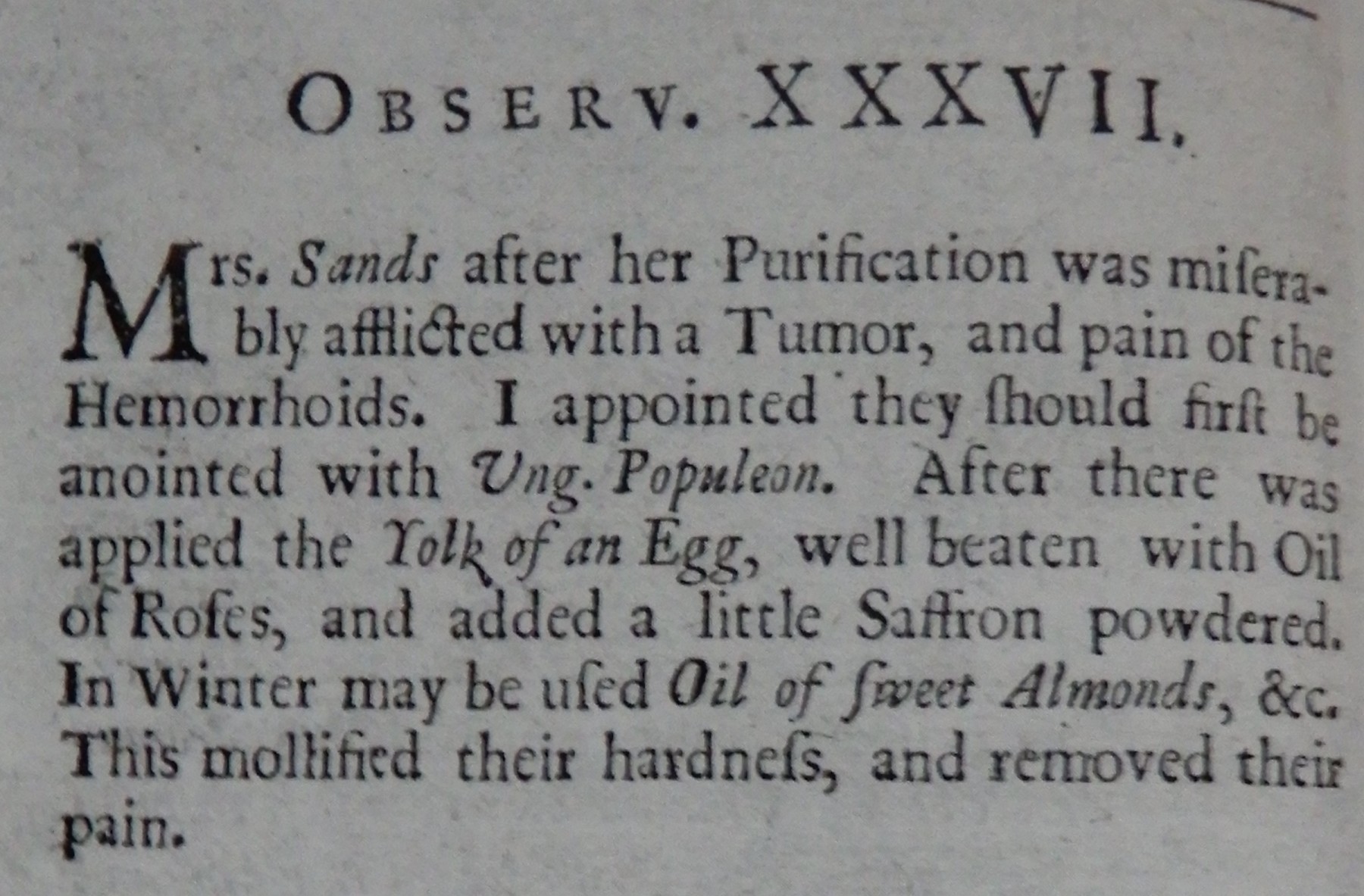 OBSERV. XXXVII.
Mrs Sands after her purification was miserably afflicted with a tumour, and pain of the haemorrhoids.  I appointed they should first be anointed with Ung. Populeon.  After there was applied the Yolk of an Egg, well beaten with Oil of Roses, and added a little Saffron powdered.  In winter may be used Oil of Sweet Almonds, etc.  This mollified their hardness, and removed their pain.
Penelope, Lady Sandys, was the daughter of Sir Richard Bulkeley of Beaumaris, Anglesey.  She had married Edwin Sandys of Ombersley in 1604 and they had eight children, but four died in infancy.  They lived at both Ombersley and Wickhamford.  Her husband died on 25th September 1623, having succeeded his father to the title only a month before.  Eight months later, a posthumous son, Martin, was born.  Further information about the Sandys family may be seen in the article, The Sandys family at Wickhamford.
In his medical commentary, Melvin Earles notes:  "Following childbirth Lady Sandys suffered from painful haemorrhoids (piles).  Hall recommended Unguentum Populeon, which takes its name from Oculi populi, the young buds of the black poplar tree which yields a balsamic juice.  The ingredients for the ointment also included mandragora or mandrake, a legendary drug due to the imagined resemblance of its root to the human form.  It was believed to have narcotic powers comparable with those of opium."
Margaret Delabere (1586-aft1639)
The date of Margaret Delabere's treatment is unknown.  She was living at Southam, Gloucestershire, at the time of her treatment, but she spent most of her childhood and early womanhood in Badsey.  Her case notes stated: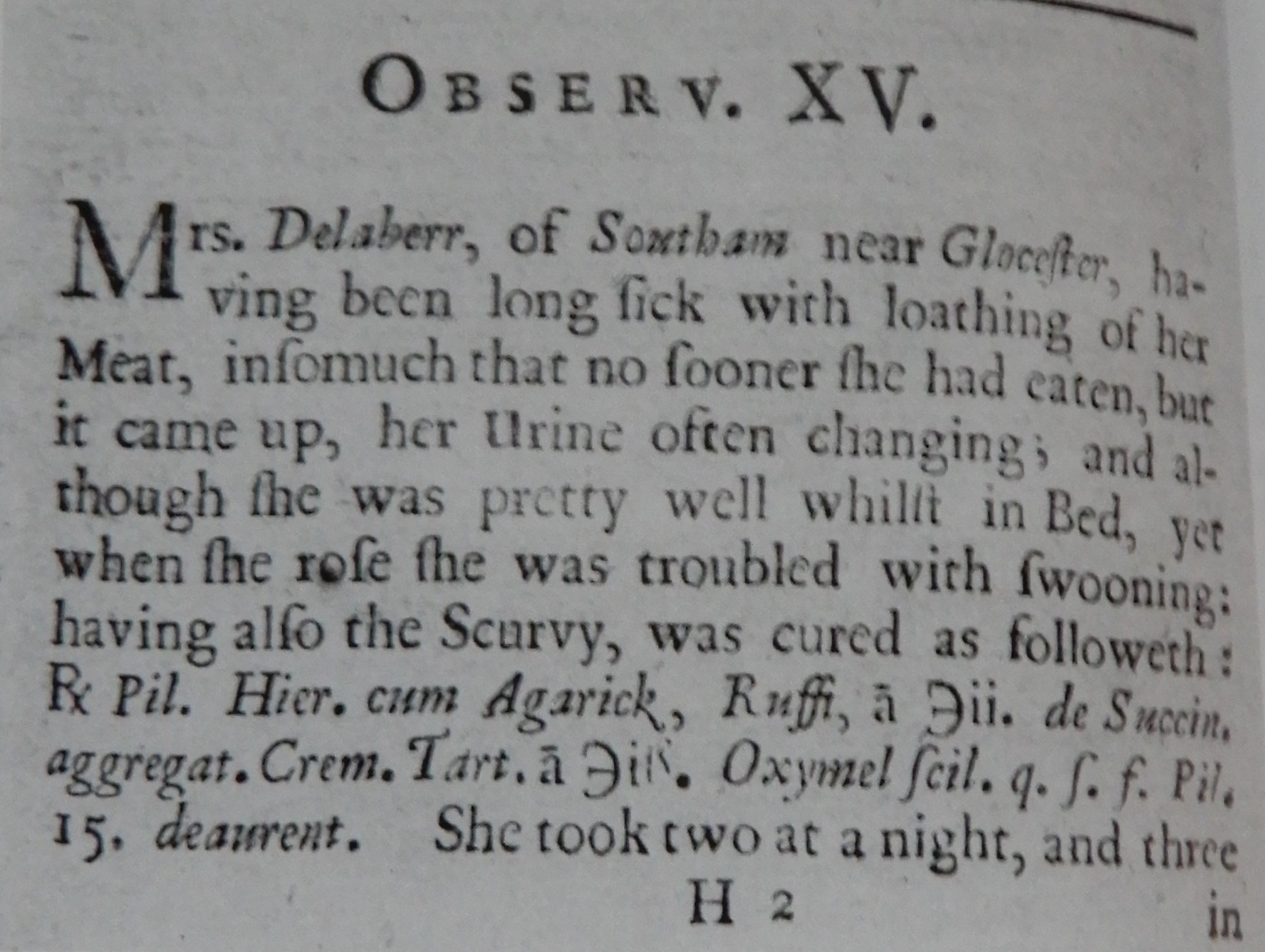 OBSERV. XV.
Mrs Delaberr, of Southam near Glocester, having been long sick with loathing of her meat, insomuch that no sooner she had eaten, but it came up, her urine often changing; and although she was pretty well whilst in bed, yet when she rose she was troubled with swooning:  having also the scurvy, was cured as followeth:  ℞ Pil. Hier. cum Agarick, Ruffi, ā ℈ii. de Succin. aggregat. Crem. Tart. ā ℈iss. Oxymel scil. q. s. f. Pil. 15. deaurent.  She took two at a night, and three in the morning, every third day, she being well purged.  To the Spleen was applied this Plaster, ℞ Cerat. de Ammoniac. Forest. ℥i. Emplast. de Melilot. ℥ss. Misc. Spread it upon Leather, and a red Sarcenet upon it.  Those days she purged not, she took of this Electuary: ℞ Conserve of Damask Roses ℥i. Conserve of Scurvy-grass ʒiii. Conserve of Bugloss, ʒii. Spec. pleresarch. ʒss. Cream of Tartar, prepared Steel, each ℈ii. Wake-robbin roots prepared ℈i. Confect. Alkerm. ʒi. with sufficient quantity of sugar making a soft Electuary. Dose, in the evening the quantity of a Bean, and in the morning before she rose, the quantity of a Nutmeg, and so for two days, the third she purged, by which she came to be so much better, as that to walk and ride, and then would to the Bath, where she used the following Decoction, when she came out of the Bath, and went to bed and swet:  ℞ Chips of Guaiacum ℥iii. Bark of the same ℥ii. Sassafras ℥i. China cut thin ℥ss. Shavings of Ivory ʒiii. Liquoris ℥i. Agrimony, Carduus benedictus, Scurvy-grass, Water-cresses, Brook-lime, each M ss. the tops of Fumitory, Flowers of Bugloss, Stoechados, Rosemary flowers, each p. i. Nutmegs, Cinamon, each ʒii. Infuse them upon the Fire for twelve hours in six quarts of Water, after boyl them to the half, and then strain it, and being sweetned with Sugar, Dose was ℥iv.  It was used in the morning every fourth day, purging with these Pills:  ℞ Pil. Hier. cum Agar. Ruffi. ā ℈ii.  with which being well purged, she used no other Physick, but went home very well.
Key to the characters used
℥ = an ounce.
ʒ = a dram.
℈ = a scruple.
gr. = a grain.
p. = as much as may be held between the Thumb and two first Fingers.
M. = a handful.
ss. = half.
q. s. = quantity sufficient.
f. = make.
ā = each.
Misc. = Mix.
Until 1864, the apothecaries' weights and measures system was used by physicians and apothecaries for medical recipes which were written in Latin, often using special symbols to denote weights and measures.  The smallest unit was the grain and a scruple was equivalent to 20 grains. A dram was 3 scruples, an ounce was 8 drams and a pound was 12 ounces.
pound
(℔, ″̶)

ounce
(℥)

dram
(ʒ)

scruple
(℈)

grain
(gr)

 1 ℔

12 ℥

96 ʒ

288 ℈

5,760 gr

 

  1 ℥

  8 ʒ

  24 ℈

   480 gr

 

 

  1 ʒ

    3 ℈

     60 gr

 

 

 

    1 ℈

     20 gr
Margaret Delabere (née Newman) lived at Badsey Manor House for about 15 years prior to her marriage.  Margaret, born in 1586 at Chaddesley Corbett, was the daughter of John and Margaret Newman.  Her father died when she was young and her mother married again in 1593 to Richard Hoby.  In 1558, Richard had inherited Badsey Manor House from his half-brother, Sir Philip Hoby, so it would have been then that Margaret moved to Badsey.
On 12th May 1608, Margaret married Richard Delabere (1559-1636) in the Church of St James, Badsey.  Richard, a Barrister of Law at Lincoln's Inn, had inherited his family's estates after his brother John's death in 1607 and, over the next two years, he purchased the 800-acre manor of Southam in Gloucestershire from the 1st Earl of Salisbury.  The purchase may possibly have been intended to provide a jointure estate after his marriage.  In the marriage settlement made in 1608, Margaret was described as the daughter of Richard Hoby.  Southam became the Delaberes' principal residence from this time.
Margaret Delabere was one of Hall's few patients to undertake hydrotherapy, for which she travelled to Bath, some 20 miles from her home.  In his medical commentary, Melvin Earles notes:  "Margaret Delabere's loss of appetite, vomiting and [?] symptoms were treated by Hall's usual methods for expelling ill humours.  He prescribed a sweating decoction containing guaiacum and sassafrax to be taken when she emerged from the hot springs. The instructions for the plaster to be applied in the area of the spleen was that it was to be 'spread upon Leather and put Sarcenet upon it'.  Sarcenet is a fine soft silk material and used in this case to lie between the plaster and the skin."
Some time after the death of her step-father in 1616, Margaret's mother, Margaret Hoby, went to live with them at Southam.  She died there in July 1625.  Margaret Delabere erected a magnificent memorial in St James' Church, Badsey, to her mother and step-father.  Her step-father's first wife and child were not mentioned on the memorial, but she ensured that her own name was included.
Richard Delabere died at Southam on 25th February 1636.  Margaret had a handsome marble monument built in the south aisle of St Michael's Church, Bishops Cleeve, in 1639, at a cost of £400.  The monument, with the recumbent effigies of Richard and Margaret, was restored in 1803, but no original inscription remains.
Maureen Spinks, January 2019