Sandys Family origins
The Sandys family can trace its origins back to beyond 1300. The surname is pronounced 'Sands' and spelled 'Sandes' in early documents. They were resident in Cumberland when Richard del Sandys was one of the two Knights representing the county in Parliament in 1377, the first year of the reign of Richard II. Another branch of the family were established in Hampshire at 'Vyne', Sherborne St John. It was not until 1594 that one of the Sandys family acquired property in Wickhamford, the Manor House and its estates.
ARCHBISHOP EDWIN SANDYS (1519-1588)
Edwin was the son of William Sandys (ca 1480-1548) and his wife Margaret nee Dixon and he was born in 1519 at Esthwaite Hall, Cumberland, the family seat at that time. William Sandys had been appointed by Henry VIII as Receiver in Furness, with responsibility for the collection for the Crown the tithes that had previously gone to Furness Abbey prior to its Dissolution.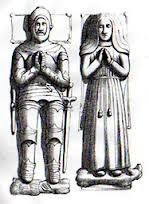 Edwin was probably educated at Furness Abbey and went to St John's College, Cambridge, where he obtained a B.A. degree in 1539 and became a Doctor of Divinity ten years later. In 1547, Edwin Sandys became Master of Catherine Hall and by 1553 was Vice Chancellor of the University.
After the death of Edward IV in 1553, Lady Jane Grey was placed on the throne by the Duke of Northumberland, and his followers marched on London. They arrived in Cambridge and demanded that Edwin Sandys preached a sermon to the troops. When Mary I quickly overthrew the attempt on the crown, Edwin was imprisoned in the Tower of London. He was later moved to Marchalsea prison, from which he escaped and fled to the continent, eventually settling in Zurich. When Elizabeth I came to the throne Edwin Sandys returned to England, where he became, successively, Bishop of Worcester, Bishop of London and then Archbishop of York. His first wife, Mary Sandys of Wadham, a cousin, and his infant son, James, had died of the plague while with him in Strasburg, and he married Cicely Wilford on 19th February 1558/59.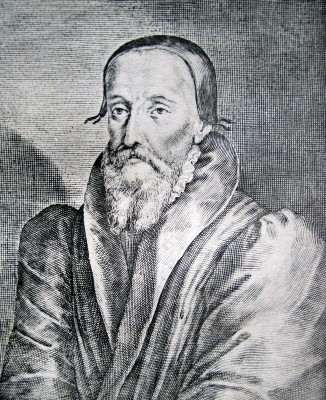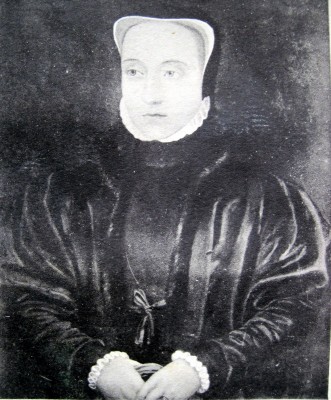 He died in 1588 and it buried in Southwell Minster, Nottinghamshire. Cicely lived to be 70 and died in 1610; she is buried in Woodham Ferrers, Essex.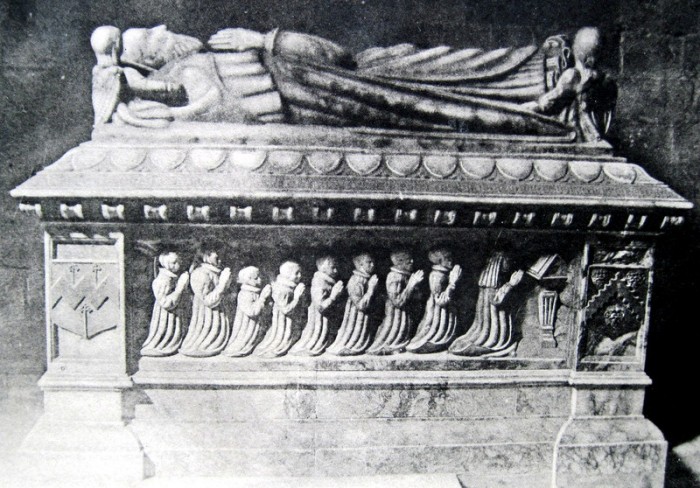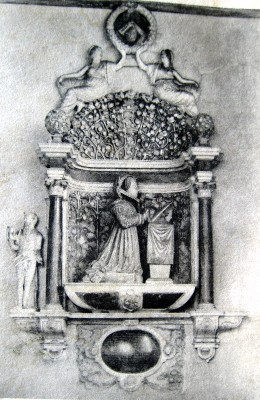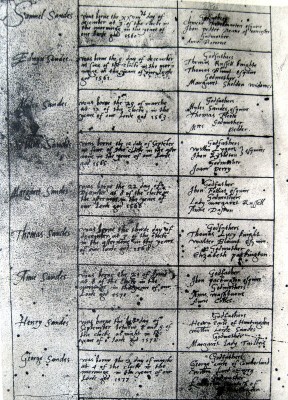 Wickhamford Manor and the Sandys family connection
The Manor had been in Royal hands from the time of the dissolution of the monasteries until it was granted to Thomas Thockmorton by Elizabeth I in 1562. His son, John Throckmorton, conveyed the properties to Sir Samuel Sandys and his wife, Mercy nee Culpepper, in 1594.
SIR SAMUEL SANDYS (1560-1623)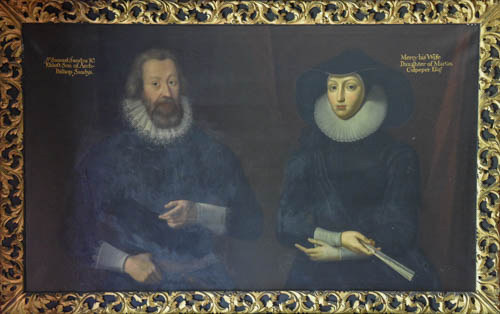 Samuel was the eldest son of Edwin Sandys, Archbishop of York, and his second wife, Cicely; he was baptised in Hartlebury on 1st January 1560/61, having been born on 28th December 1560, at 3 o'clock in the morning. Samuel married Mercy Culpepper in 1586 at Southwell. He purchased the Manor of Ombersley with his wife's fortune and was Sheriff of the County of Worcestershire in the 10th year of James I's reign (1612) and represented it in Parliament in 1615 and 1622. Samuel and Mercy Sandys had eleven children from 1590 to 1602, four sons and seven daughters.
At the time of his death, on 18th August 1623, he possessed the Manor of Wickhamford, the Manor of Ombersley, the Manor of Edwards, and 260 acres of land, in Woodham Ferrers, Essex, land at Stelton, Yorkshire and other properties. He was buried in Wickhamford Church on 20th August. His wife, Mercy, died in 1629 was buried on 26th January. Their ornate tombs are in the Chancel of the Church of St John the Baptist, but the dates of their deaths and burial inscribed there are at variance with the dates in the parish Burial Register. The inscription wrongly gives Samuel's death as on 2nd September 1626 and Mercy's burial as 20th January 1629.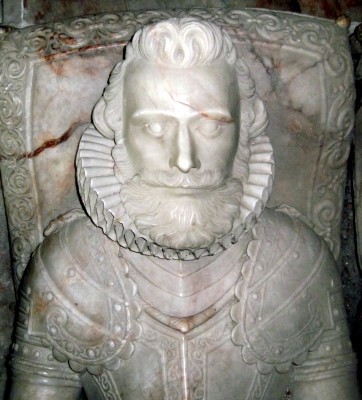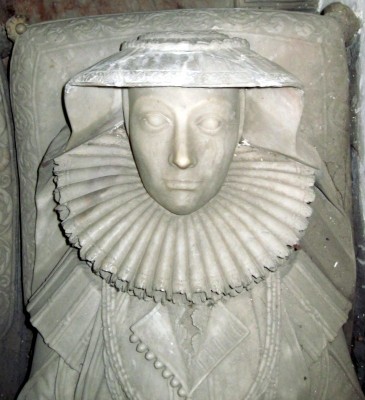 SIR EDWYN SANDYS (1591-1623)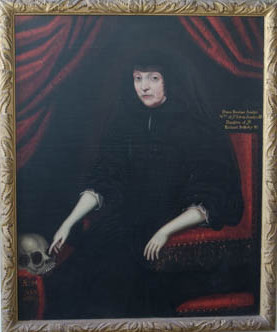 Sir Samuel Sandys eldest son, Sir Edwyn Sandys, succeeded to his father's estates but himself died only a few days after his father. He was baptised at Woodham Ferrers, Essex. After spending a year at Oxford, Edwyn entered the Middle Temple, where he stayed for at least seven years. A sound knowledge of the law was particularly advantageous, as his family was engaged in a long-running dispute with its tenants at Ombersley. In 1614, Edwyn was elected to Parliament, at the comparatively young age of 23, at nearby Droitwich, where his brother-in-law John Brace had sat in 1604. That same year, Edwin married Penelope Bulkeley, daughter of Sir Richard Bulkeley of Baron Hill, Anglesey and they had five sons and three daughters. He was buried in the Chancel on 9th September 1623, aged only 33. At his death Edwyn owned lands in Worcestershire (including rights to present to the rectory at Ombersley) and Kent, a small amount of urban property around the Hailgate in Howden, Yorkshire, and 280 acres in Woodham Ferrers, as well as land in Westmorland and Shoreditch. Lady Penelope Sandys lived on for many years and was buried next to her husband on 21st September 1680.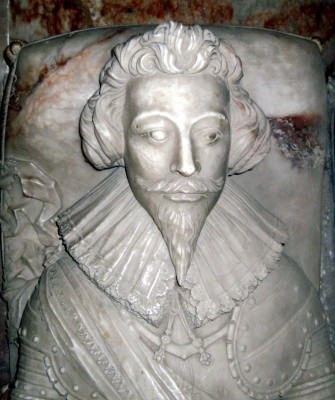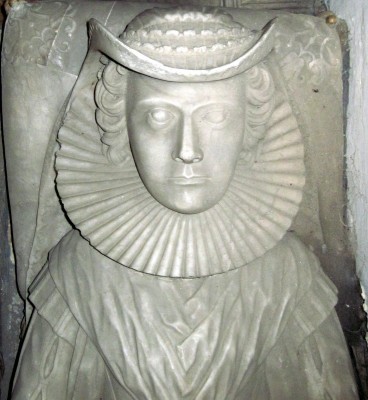 The four Alabaster effigies above are from the Sandys tombs in Wickhamford Church.
As with Samuel and Mary, the dates on the tombs of Edwyn and Penelope do not tally with the information in the Wickhamford Burial Register. The inscription gives Edwyn's death as on 23rd September 1626 and Penelope's burial as 21st September 1680.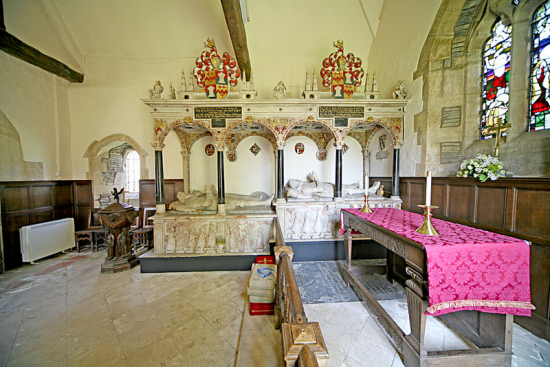 The tombs, effigies and depictions of the children of the couples on the sides of the tombs are similar to those of other Sandys tombs of the period. The ornate canopy may have been added when the family monuments were "restored and beautified" by Arthur, Lord Sandys in 1841. It is possible that the incorrect dates were added at that time.
SAMUEL SANDYS (1615-1685)
The eldest son of Edwyn and Penelope Sandys was Samuel. He was an eminent supporter of Charles I during the Civil War and at one time he represented Droitwich in Parliament. He was Governor of Evesham in 1642 and commanded a troop of horse at the Battle of Edgehill that year. He firstly married Mary Barker, daughter of Dr Hugh Barker, and had two sons and a daughter. After her death in 1681 he married Elizabeth nee Packingham, who was the widow of Col Henry Washington. Elizabeth's daughter, Penelope Washington accompanied her mother to Wickhamford and died there, unmarried, on 24th February 1697. She is buried in the Chancel, where there is a gravestone for her in the floor and there is also a memorial tablet to Samuel's first wife, Mary, in the Nave. Samuel Sandys died in 1685 and is buried at Ombersley.
Other Sandys entries in Wickhamford Church Registers
None of Samuel and Mary's eleven children or Edwyn and Penelope's seven children were baptised in Wickhamford. Apart from the entries for these four Sandys, there are records of the burials of Hannah Sandys and Margaret Sandys, wife and daughter of Mr George Sandys on 4th and 6th February 1647. Mrs Mary Sandys was buried on 21st September 1681 and last burial entry for this surname is for Mrs Elizabeth Sandys, widow, on 11th August 1698. The only baptismal record is for the Margaret Sandys mentioned above, on 4th February 1647 and there are no Sandys marriages recorded. The Sandys family's main residence in Worcestershire is at Ombersley and the majority of family events would have taken place there.
Later generations of the Sandys family
As the Sandys family did not sell Wickhamford Manor until 1869, the following lineage of owners is presented. The Manor was presumably rented out to numerous tenants, and these may have included the few Sandys family members to be found in the Parish Registers mentioned above.
SAMUEL SANDYS (1638-1701)
Samuel Sandys (1638-1701), the eldest son of Sir Samuel Sandys and his wife, Mary, was baptised at Ombersley in 1638. Samuel married Elizabeth Pettus, only daughter of Sir John Pettus, in 1655 at St Margaret, Westminster, London. Wickhamford Manor was used as part of the marriage settlement. They had three sons and four daughters, all baptised at Ombersley. 
Like his father, Samuel became Member of Parliament for Droitwich. Samuel died in 1701, his eldest son having pre-deceased him, so his inheritance went to his young grandson, Samuel.
EDWIN SANDYS (1659-1699)
Edwin Sandys (1659-1699) was born at Ombersley in 1659, the eldest son of Samuel Sandys and his wife, Elizabeth. He married Alice Rushout, daughter of Sir James Rushout, first baronet, of Northwick Park, Blockley, Worcestershire. Wickhamford Manor was used as part of the marriage settlement. They had one son, Samuel.
Edwin, served as knight of the shire during 1695–8 but predeceased his own father in 1699. The bulk of the estate, having already been transferred to Edwin Sandys at his marriage in 1694, was consequently inherited by his son, Samuel, when he was barely four years of age. Alice Sandys died at St Andrew Holborn, London, in 1703.
SAMUEL, 1st BARON SANDYS (1695-1770)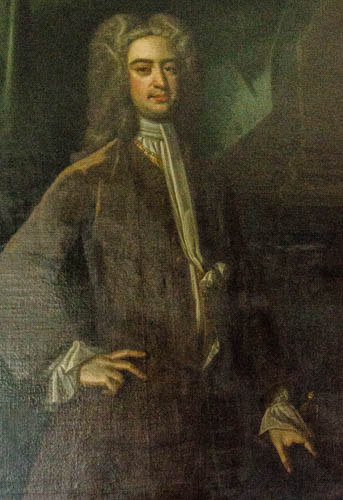 Samuel Sandys (1695-1770), the only son of Edwin and Alice Sandys, was born in London and baptised at Greenwich at one day old. He was only four years old when his father died in 1699. In 1701 he inherited the remainder of the estate on the death of his grandfather and namesake. In April 1711 the young Samuel matriculated at New College, Oxford, and in due course travelled abroad. As Member of Parliament for Worcester, he held high office in Government, becoming Chancellor of the Exchequer and Leader of the House of Commons.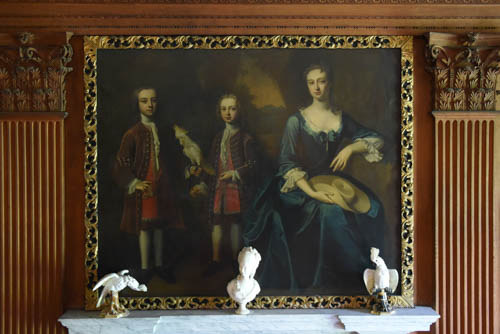 Samuel married Laetitia Tipping (d. 1779) in 1725. He had Ombersley Court built in 1724. They had seven sons and three daughters. Samuel Sandys was created 1st Baron Sandys of Ombersley in 1743 (a title created for a second time in the British Peerage). Six of his seven sons pre-deceased him. Samuel died on 21 April 1770 from injuries received when his carriage overturned on Highgate Hill, and was buried at Ombersley.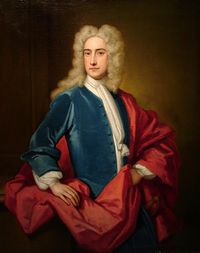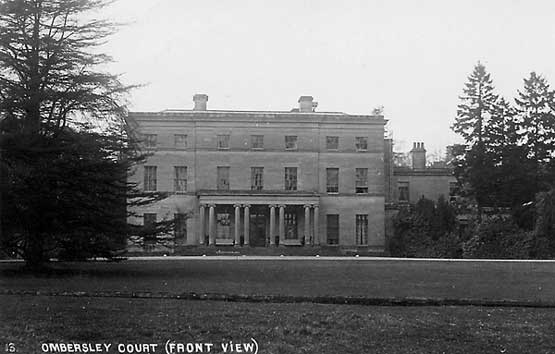 EDWIN, 2nd BARON SANDYS (1726-1797)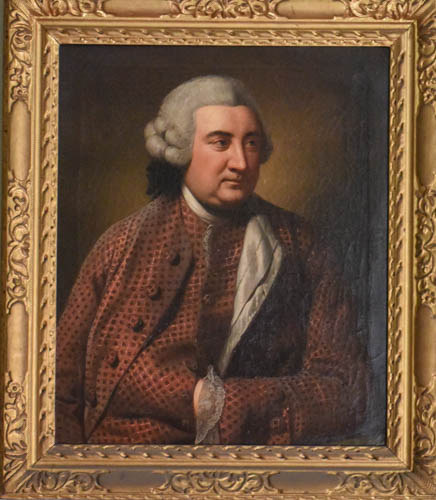 Samuel was succeeded in the barony by his eldest son, Edwin, who had entered Parliament in 1747. He represented Droitwich, then Bossiney, Cornwall and finally Westminster. However, he died in 1797 leaving no children and the title became extinct. The Gentleman's Magazine wrote about him in 1800 (p. 59): '[he] had no great judgement of his own, but was easily guided; very conversant in English history and forms of Parliament, especially of the House of Commons, which he constantly attended while a Member'.
MARTIN SANDYS (1729-1768)
Martin Sandys (1729-1768), the third son of Samuel and Laetitia Sandys, was baptised at Ombersley in 1729. He married Mary Trumbull of Easthampstead Park, Berkshire, in 1760 at Easthampstead. Martin was a Colonel and he and Mary had two sons and one daughter: William (1761-c1761), Mary (1764-1836) and William (1765-1765). Martin died in 1768 leaving Mary as his only child.
MARY SANDYS, 1st BARONESS SANDYS, MARCHIONESS OF DOWNSHIRE (1764-1836)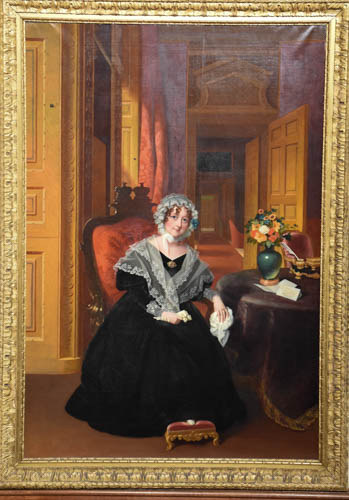 Mary Sandys (1764-1836) was born at Easthampstead Park, Berkshire, the family seat of her mother's family, the Trumbulls. She had two brothers who died as children. She was just four years old when her father died.
In 1786, Mary married Arthur Hill at St Mary's Church, Marylebone Road, London. On the death of his father in 1793, Arthur became the 2nd Marquis of Downshire. In 1797, on the death of her uncle, Edwin Sandys, Mary inherited the family estates of the Sandys family. In 1802, the Barony of Sandys was revived in favour of her when she was created 1st Baroness Sandys of Ombersley. The title was created with remainder to her younger sons successively, and failing them to her eldest son.
At the time of the Aldington and Badsey Enclosures in 1808 and 1815 respectively, the Marchioness of Downshire was named as leasing land from the Dean and Chapter of Christ Church, Oxford, and was allotted land in lieu of tithes.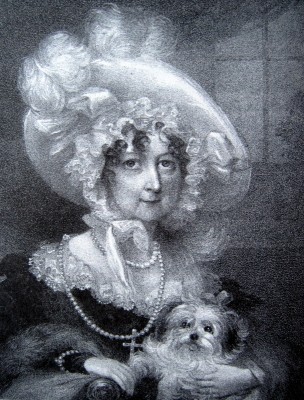 Mary had five sons and two daughters, all born at Hanover Square, London: Arthur Blundell Sandys Trumbell (1788-1845), Arthur Moyses William (1792-1860), Charlotte (1794-1821), Mary (1796-1830), Arthur Marcus Cecil (1798-1863), Arthur Augustus Edwin (1800-?) and George Augustus (1801-1879). The 2nd Marquis died in September 1801 at Hillsborough Castle, County Down, three months before the birth of his last child; his eldest son, Arthur Blundell Sandys Trumbell, was only 12 when he became the 3rd Marquis. Mary died at Downshire House, Roehampton, Surrey, in 1836.
ARTHUR MOYSES WILLIAM HILL, 2nd BARON SANDYS (1792-1860)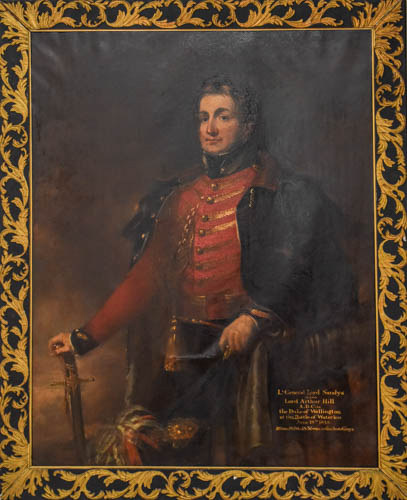 Arthur Moyses William Hill (1792-1860), the second son of Arthur and Mary Hill, was born at Hanover Square, London and educated at Eton. He was Cornet 10th Light Dragoons, Lieutenant 1810, served in the Peninsular War (fought in the Battles of Vittoria and Pamplona), Staff Officer Waterloo Campaign 1815, Lieutenant-Colonel 1819, Lieutenant-Colonel 2nd Dragoons (Scots Greys) 1832–37, Colonel 1837. Arthur entered Parliament as one of two representatives for County Down in 1817, a seat he held until 1836, when he succeeded his mother in the barony. He became 2nd Baron Sandys of Ombersley, as the title had been created with remainder to the younger sons (his elder brother being the 3rd Marquis of Downshire).
In 1841, Arthur undertook restoration of the church at Wickhamford. A plaque in the church says: "This church and the family monuments within were restored and beautified by Arthur Lord Sandys of Ombersley Court, 1841."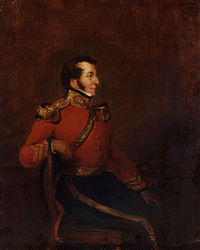 Lord Sandys died in July 1860, aged 67. He was unmarried and was succeeded in the barony by his younger brother. At his funeral, on 24th July, three of his principle Wickhamford tenants were amongst the mourners – Robert Taylor of Field Farm, William H. Smith of Pitchers Hill Farm and John Nind of Wickhamford Manor.
ARTHUR MARCUS CECIL HILL, 3rd BARON SANDYS (1798-1863)
Arthur Marcus Cecil Hill (1798-1863), known as Marcus, the third son of Arthur and Mary Hill, was born at Hanover Square, London. Marcus was educated at Eton and Edinburgh University. He was Attaché in Madrid, Précis Writer to Foreign Secretary 1822, attached to the UK Mission Congress Verona 1822, Attaché in Paris 1823, Sec Legation Florence 1824, Sec Embassy Lisbon 1825, Rio de Janeiro 1825, St Petersburg 1827. He sat as Member of Parliament for Newry and Evesham.
Marcus Hill married Louisa Blake in 1837. They had four sons and six daughters: Mary Georgiana Caroline (1838-1903), Augustus Frederick Arthur (1840-1904), Anna Maria Frances (1841-1876), Cecil Josephine (c1844-1935), Charlotte Blundell (1845-1854), Rosa Louisa Vernon (1847-1943), Marcus Windsor George (1849-1897), Nina Violet America (1852-1905), Michael Edwin Marcus (1855-1948) and Edmund Arthur Marcus (1860-1914). In 1851, the family was living at 2 Chesham Street, St George Hanover Square, Westminster; Marcus was MP for Evesham and Treasurer of Her Majesty's Household. Marcus became 3rd Baron Sandys of Ombersley in 1860 on the death of his brother. In 1861 Lord Sandys assumed by Royal license the surname of Sandys in lieu of Hill. By 1861, they were living at Ombersley Court and appeared under the surname of Sandys; Marcus was described as a Privy Councillor and Deputy Lieutenant.
Marcus died in 1863 and was succeeded in the barony by his eldest son.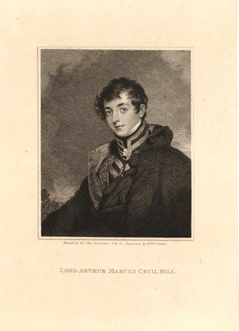 AUGUSTUS FREDERICK ARTHUR SANDYS,
4th BARON SANDYS (1840-1904)
Augustus Frederick Arthur Sandys (1840-1904), the eldest son of Arthur Marcus Cecil and Louisa Hill, was born at Hanover Square, London. He became 4th Baron Sandys of Ombersley in 1863 on the death of his father.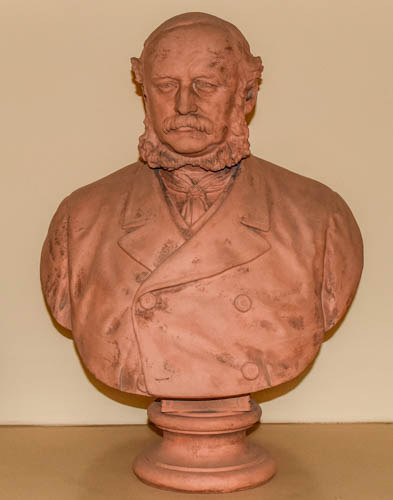 On 12th October 1869, an indenture was made between between Sir Edmund Filmer of the first part, the Right Honourable Augustus Frederick Arthur, Lord Sandys, Baron Sandys of the second part, John Pickup Lord of the third part and Richard Barlow Dodgson and Francis Parker of the fourth part, which was a conveyance of the Manor and all the manorial land in Wickhamford from Lord Sandys to John Pickup Lord, with Dodgson and Parker as trustees. (The precise details are unknown, because this is just a small section in the deeds of No 52 Manor Road, Wickhamford).
Presumably, after the death of the 3rd Baron, the family decided to sell the Wickhamford estate, which had not been lived in by the family for over 160 years. They retained the Ombersley estate, which is still in the family to this day. Sir Edmund Filmer was Augustus' brother-in-law. Augustus' elder sister, Mary Georgiana Caroline, had married Sir Edmund in 1858.
Thus ended the Sandys connection with Wickhamford after nearly 300 years.
Acknowledgements
We are grateful to Martin Davis for allowing us to reproduce images of some of the portraits hanging in Ombersley Court which appear in Ombersley Court - Records of the Sandys and Linked Families.
The detailed notes on the Sandys family after the death of Samuel Sandys (1615-1685) were kindly supplied by Maureen Spinks. The portrait of Mary Sandys appears in Sacred to Patriotism by Judith S. Lewis (2003).
Tom Locke – July 2013
Also see: