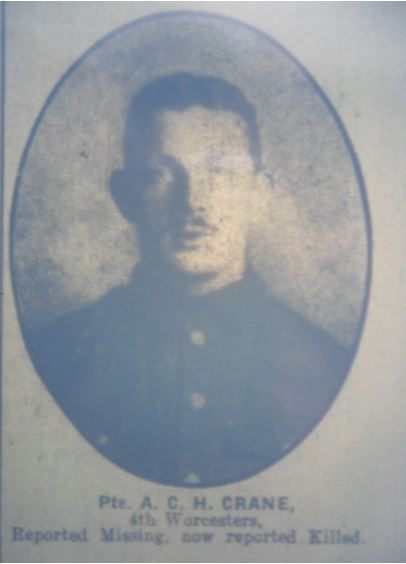 Cecil Harry Crane was Badsey born and bred, his father having moved to Badsey from Wickhamford in the early 1870s, and his mother's family having lived in Badsey since the 18th century.  Private Crane's name is recorded on the war memorial in St James' Church, Badsey, at Badsey School and on the Helles Memorial, Turkey.
* * * * *
Cecil Harry Crane was born at Badsey on 9th January 1892 and baptised in St James' Church the following month.  He was the youngest of six children of John and Elizabeth Crane.  His elder siblings were:  Thomas (1874), John Albert (1875-1960), Sarah Ann (1879-1879), George Henry (1882-1955) and Lydia Ellen (1886-1967).
Cecil was a pupil at Badsey School from 1895-1904.  The normal school-leaving age was 14, but children who passed an examination showing proficiency at Standard V were allowed to leave early.  Cecil, who was obviously quite bright, was 12 when he left school and went to work as a market gardener's labourer.  The family lived at Silk Mill Cottages, Mill Lane (present-day No 4).  In the adjoining block of cottages (demolished in the 1970s), lived John Crane's brother, Thomas, and his large family.  One of Thomas's sons was Walter, four years younger than his cousin, Cecil, who was to die in the Great War in 1916.
Cecil played an active part in village life, being a chorister and a stalwart of Badsey Rangers Football Club.  Just before the Great War which claimed his life, Cecil wrote the following verse about the Rangers:
They all pulled together through dangers,
And every man stuck to his tack;
They go by the name of the Rangers,
The invincible scarlet and black.
In 1912, Cecil married Helen Margaret Staite of Evesham and they made their home in Badsey.  A daughter, Evelyn Margaret, was born in July 1912.
In April 1914, John Crane died.  Within a few months, the First World War had started and Cecil had enlisted with the Worcestershire Regiment.  His first overseas posting was to France on 5th February 1915 but, by the spring, he was fighting on the Gallipoli Peninsula.  The June 1915 Parish Magazine includes an extract from a letter which Cecil wrote to his wife, Helen, on 6th May 1915:
I haven't written for a fortnight as we have been fighting day and night and only got relieved out of the firing-line yesterday.  We have had some terrible fighting here, especially the last four days.  The first was bad as we had to land under a heavy fire and then drive them back with the bayonet.  The fourth day was the worst (April 29).  How I shall remember that day!  We were fighting from morning till night and lost a lot of men ….  G Crisp, A Caldicott and S Byrd were wounded, but Jeff and I and most of the other Evesham chaps got through it all right.  You will be glad to hear, if you haven't seen it in the papers when you get this, that the Worcesters were singled out for special praise; so you see we soon made our name, tho' at what a cost!  And we who are left can only thank God for bringing us through such a day, as we were outnumbered by 10 to 1.  How they cut us down you can only guess and we were forced to retire at the finish with about half as many men as we went out with; but we have got through the worst, I think, as we have got a lot of reinforcements come now, so I think we shall soon push them back.  We have got the Gurkhas here now and they are terrors with their knives.  I have got a Turkish bugle which I am trying to keep to bring back.  I forgot to mention that in the big fight we threw our packs away and of course our writing-paper with them so you might send me some if you can.  You needn't send any tobacco as I have got over 2 lbs now as they serve us out some and I get Jeff's [Jeffries] as well.  Remember me to all and tell them I hope to be with you all again soon.
In July 1915, Cecil met up with Captain Cyril Sladden of Seward House, Badsey, who had recently arrived in the Dardanelles with the 9th Worcestershire Regiment.  Cyril described the meeting in a letter to his mother of 18th July.
George Crisp and Cecil Jeffries, whom he mentions in the letter, were both fellow choristers.
In a postcard written on 13th May 1915, Cecil said that he had been wounded and invalided to a hospital in Malta but was going on well.  By July, he had returned to active service.  The August 1915 Parish Magazine reported on "one very narrow escape, his rifle being smashed in his hands by a Turkish bullet."  The September 1915 Parish Magazine contained an extract of a letter written by Cecil on 27th July 1915 to Mr R Pethard:
Since I last wrote to you I've seen some life and had one or two near ones, but, thank God, they haven't got me yet, although there's only a few of us left now that were in the landing.  I daresay you know that Jeffries is wounded, so that I'm the only lucky one out of all the Evesham District now.  But I mustn't brag as you never know when your turn is coming, and it makes you think seriously of higher things here when you are seeing death every day in different forms, and you can't help but think that one of these might easily have been you.  You may have seen the account of a charge by one company of Worcesters and one of the Royal Scots, on June 4th I think it was.  Well, I'm proud to think it was W Co, and we had nothing but compliments for a good many days after.  I think we went mad somehow as we only wanted four trenches, but once we started they wouldn't stop, and we had taken seven before we gave in, only we had to go back three because the others were left behind on either side of us.  The last position we held was one taken by the Gurkhas.  My word, what a sight it was! ….  I suppose you are having a busy time now?  ….  The worst part out here is the water which it is a job to get, and we have known the meaning of the word 'thirst' above once, I can tell you, though it keeps getting better.  Well, I suppose I must close now, hoping to be remembered to all old pals.
But then came the news that households all over the country dreaded.  In the very same Magazine in which the 27th July letter was printed, was a short footnote:  "We regret to learn, as we go to press, that Mrs Cecil Crane has been officially informed that her husband is missing.  We hope she may soon have reassuring news of him."  Juliet Sladden, in a letter to her mother of 17th October 1915, enquired:  "Has anything more been heard about Cecil Crane?"
But no further news was received.  It was not until the following year that Helen Crane was notified that her husband must be presumed to have died on or about 6th August 1915.  The April 1916 Parish Magazine contained the following:
Universal sympathy is felt for Mrs C H Crane who, after hoping against hope for six months, has at last been informed by the War Office that her husband, Private C H Crane, of the 4th Worcesters, must be regarded as having been killed in action on or about August 6.  A full congregation assembled for the memorial service held on March 7th.  The service was choral and the rendering of the music was a credit to both choir and organist.  A prayer for the departed was taken from the Worcester Diocesan Monthly Intercession Paper.
Helen Crane, aged 25 when she was widowed, never remarried.  She remained for some time at the Silk Mill Cottages bringing up her young daughter, living in the same home as Cecil's widowed mother, who died in 1925.  Helen later moved to a house in School Lane.