The Scottish-born artist, Arthur Claude Strachan (1865-1954), lived in Evesham for around ten years.  He was a water-colour painter of landscapes, best known now for his sentimental pictures of cottages and village scenes.  One such painting was of Corner Cottage and Corner House, Aldington.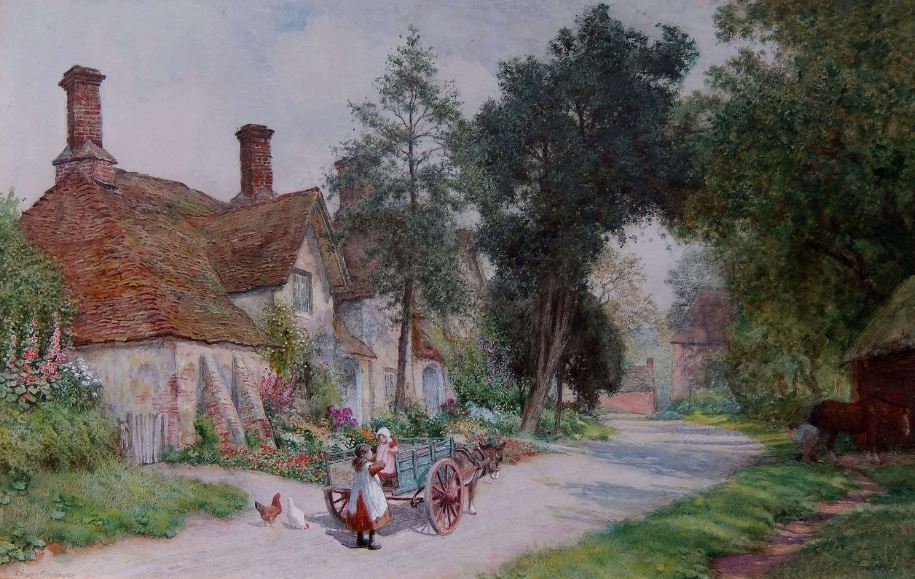 The painting
In 1910, Arthur Claude Strachan visited Aldington and painted the cottages known today as Corner Cottage and Corner House.  He called it simply, "Aldington, near Evesham" and signed his painting as Claude Strachan.
The current owner of Corner House came across the painting whilst browsing on the internet.  She did a "double take" because she realised that she was looking at her own home!  The large tree in the front has since been cut down, when the renovations took place in 2008, and the flower beds are no longer there.  The buildings in the background are Ivy House (demolished in the 1970s) and Manor Court.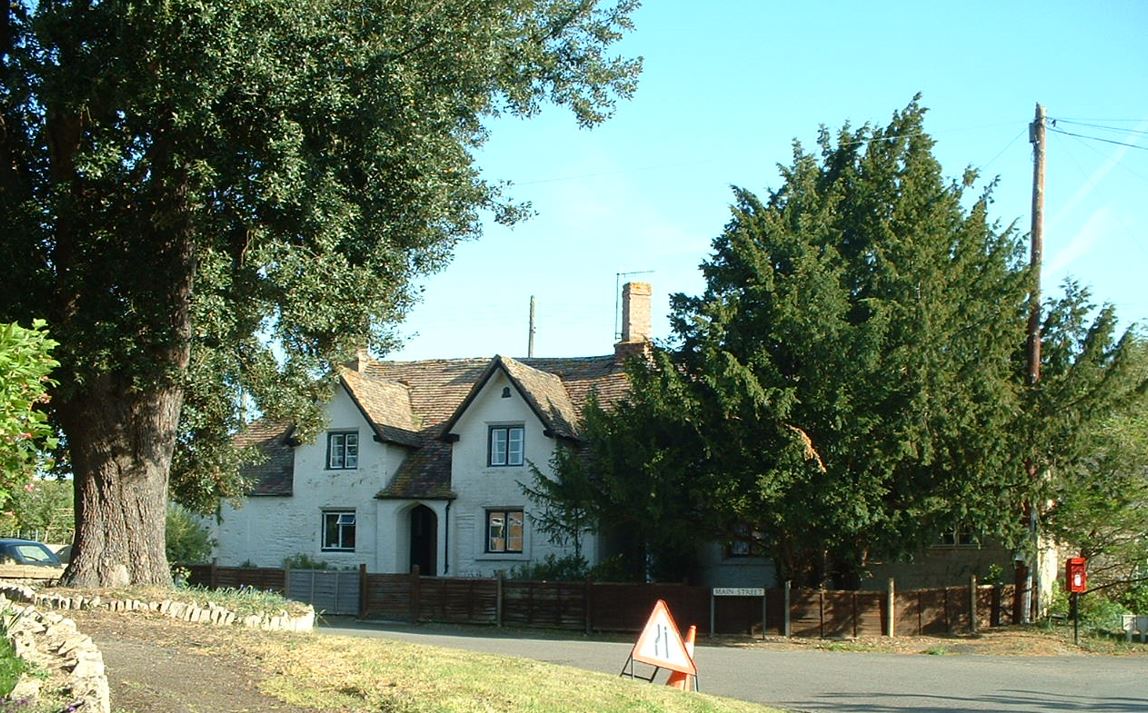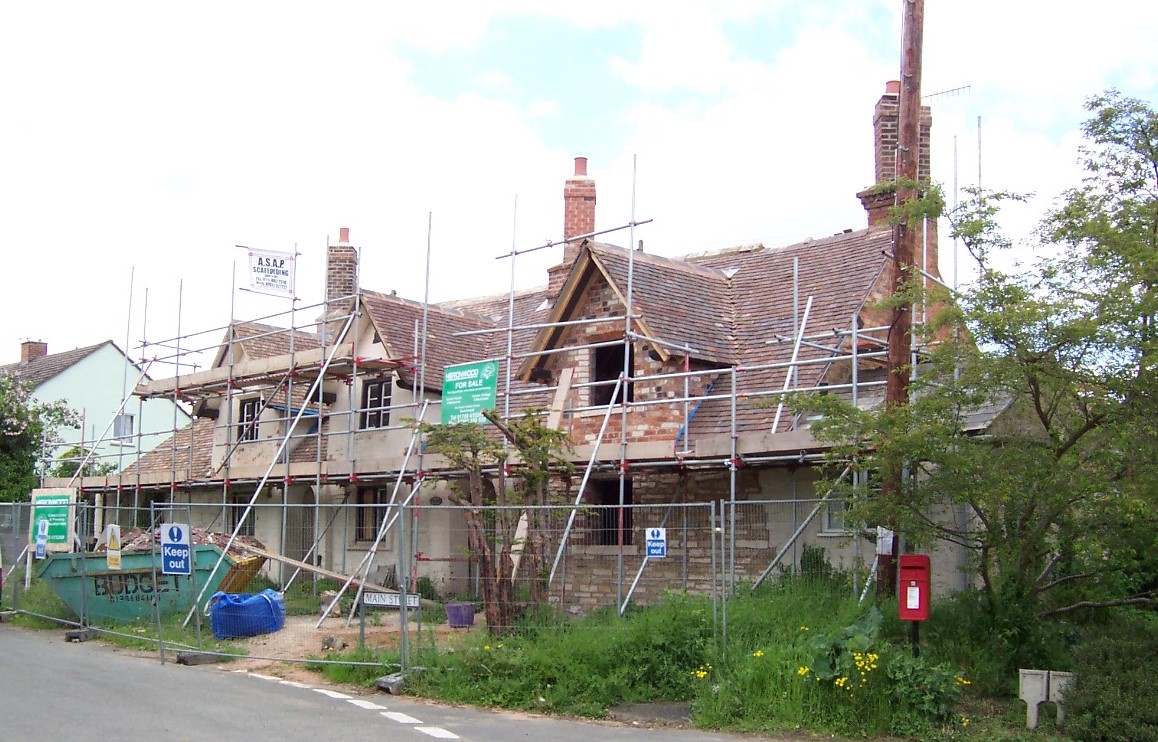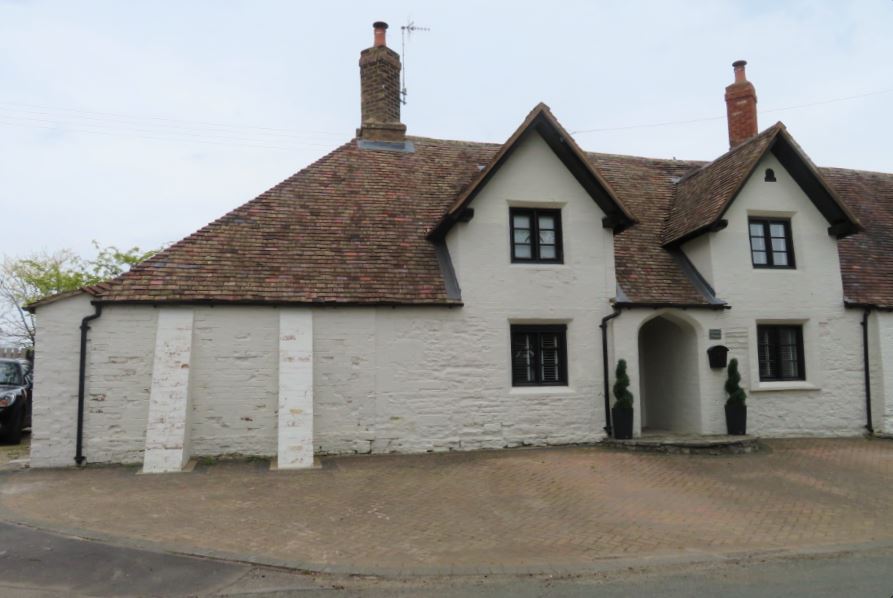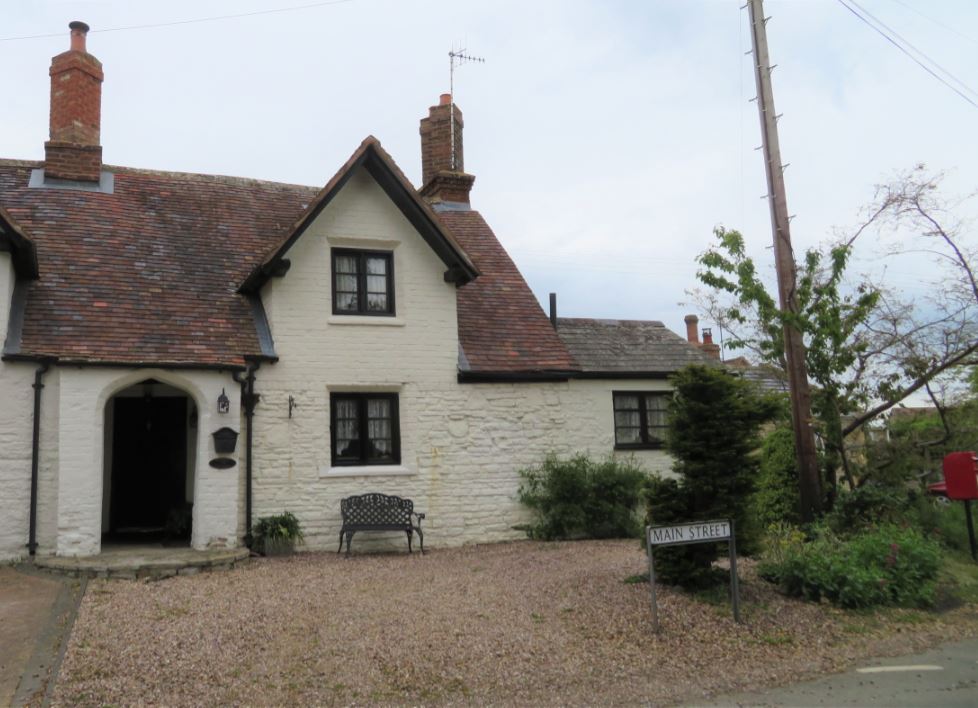 The people in the painting
The painting shows two children with a donkey-cart in the road.  Were these children who lived at the cottages?
Corner House and Corner Cottage were, for many years, occupied by the Stewart and Bell families.  The Bells had lived there since at least the 1860s and members of the family continued to live there until Geoff Bell's death in 2005.  The Stewarts had lived there since at least the 1880s.
At the time of the 1911 census, at Corner House lived Henry William Bell, a market gardener, and his wife, Martha, and their five children:  11-year-old Eva May, nine-year-old Ralph, seven-year-old Edward, four-year-old Maud Mary and three-month-old Annie Brittymart.  Next-door at Corner Cottage lived William Henry Stewart, a market gardener, and his wife, Charlotte with four of their children:  William, Walter and Elsie (all adults) and eight-year-old Edith Evelyn.  
It is possible that the two children featured in the painting may have been Eva and Maud Bell, or possibly Edith Stewart with Maud Bell.
The painting also shows a farrier shoeing a horse.  At the time of the Aldington Enclosure Awards in 1808 there had been a smithy further along Main Street but there was no longer a blacksmith in the village by the time that census returns began in 1841.  According to Arthur Savory, who lived at Aldington Manor from 1875 to 1902 and was the author of Grain and Chaff from an English Manor, a blacksmith visited the village twice a week.  This may possibly have been Frank Caswell of Badsey.  He is seen plying his trade on a strip of land beside the orchard belonging to the Manor House.  Today there is a semi-circular wall made of blue lias standing about three foot high, which is known as "The Horseshoe". 
Arthur Claude Strachan's life
Arthur Claude Strachan was born in Edinburgh on 15th March 1865, the son of George Strachan, an architect, and his wife, Mary (née Dalrymple).  He studied art in Liverpool and later travelled throughout the UK painting the country landscapes.  Between 1885-1929 he exhibited in London and in the provinces and also showed four works at the Royal Academy.
The whole Strachan family moved to Liverpool some time in the 1880s.  At the time of the 1901 census, Arthur Strachan was living with his widowed mother and four siblings (all unmarried) at Normanby Street, Toxteth Park, Liverpool.
At the age of 38, Arthur married Alice Forbes in the second quarter of 1903.  The wedding took place at Toxteth Park, Liverpool, but they must have moved to Evesham shortly after this as their first child, Mabel, was born in Evesham early in 1904.  She was followed two years later by Evelyn Mary in 1906.  The 1905 Electoral Register for 1905 gives Arthur as living at Northwick Road, Evesham.
Local press reports reveal that Arthur was a member of Evesham Choral Society and played the cello.  The Evesham Standard of 20th April 1907 records that he was one of a 100-strong band which performed with Evesham Choral Society in All Saints, Evesham.
In 1911, Arthur was living at 71 Burford Road, Bengeworth, Evesham, with his wife, Alice, and daughters, Mabel and Evelyn, plus a servant.  Arthur was described as a painter artist.
It is not known when the Strachans left Evesham, but they were living in Wallasey, Lancashire, by 1921.  They later moved to Minehead in Somerset where Alice Strachan died on 10th February 1934.  Arthur was living at 14 Queens Road, Minehead, at the time of the 1939 register; his two daughters lived with him.
Arthur died, aged 89, on 7th August 1954 at The Williton Hospital, Minehead (the majority of sources on the internet give his date of death incorrectly as either 1929 or 1938).  Interestingly, although he had not lived in Evesham for many years, he still retained the same solicitors:  Cross, Son & Hodgetts of Evesham.  Arthur's daughters never married and remained living in Somerset.  Mabel died in 1958 and Evelyn in 1964.
Are there other paintings of the local area?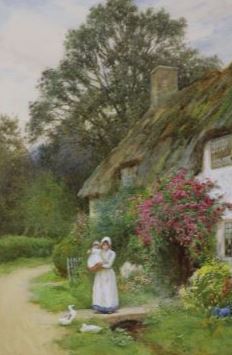 As Strachan lived for some time in Evesham, it is probable that he painted other cottages in the area but, as yet, only Corner Cottage and Corner House in Aldington have been identified.  The paintings below are all ones which have been described as Evesham or near Evesham.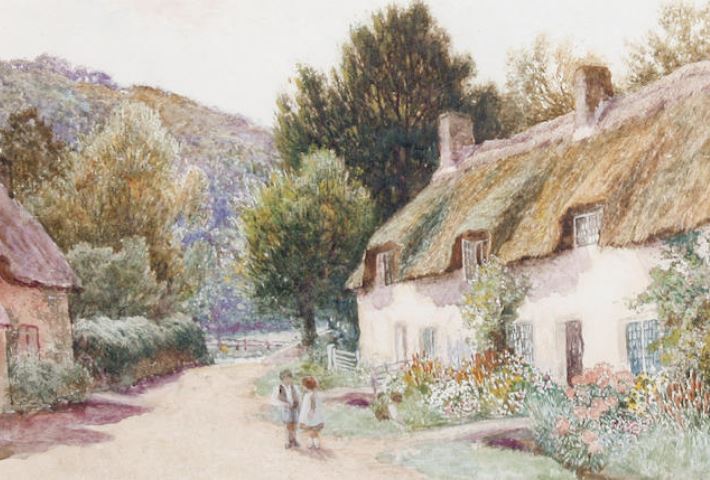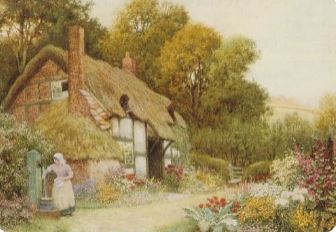 Maureen Spinks
February 2022
Acknowledgements
With thanks to the current owners of Corner House and to Rosemary Blyth for bringing this painting to our attention.