Benjamin Carter (1842-1926) was born in Somerset and by the time of the 1891 census he was living at what is now called 'Field Farm', Longdon Hill, Wickhamford.  He remained there until his death on 16th October 1926.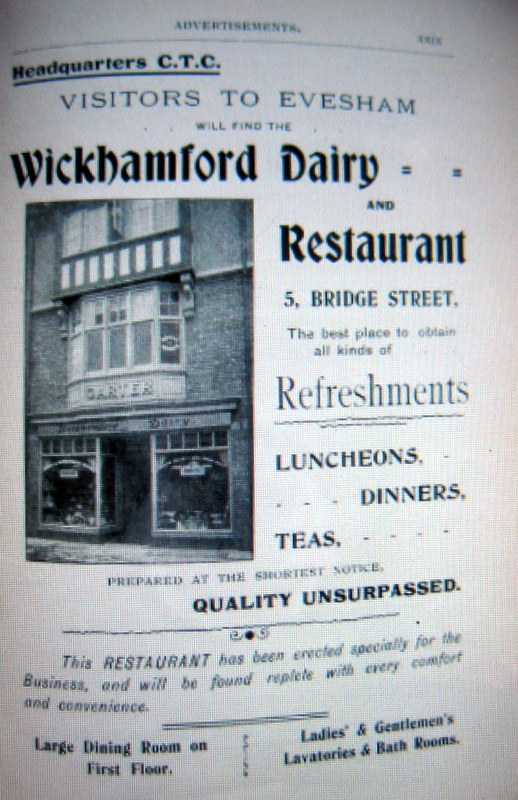 In early 1894, Benjamin Carter opened a dairy in Evesham at 60 Bridge Street 'to supply a long felt want in Evesham', according to his notice in the Evesham Standard on 3rd March.  It was said to be going to supply all kinds of dairy produce, "fresh daily".  Benjamin and his wife, Emily, also provided outside catering.  For example, the Evesham Standard of 8th February 1896 mentioned that she catered very satisfactorily for a Choir Supper and Dance in Bengeworth.  The Kelly's Directory of Worcestershire for 1896 lists Benjamin Carter as having 'refreshment rooms' at 60 Bridge Street.  By 1911, the census recorded this premises still being used as refreshment rooms, but run by Frederick Charles Byrd, a baker, who specialised in Evesham Hunt Pork Pies.
By 1902, the Carters had moved their premises in Bridge Street to No 5, (see Notes) the shop now next door to W.H Smith.   (Bridge Street numbering has since changed, the odd numbers now being on the opposite side of the road.)   An advertisement in a local publication in 1902 stated that all kind of refreshment were available in 'Wickhamford Dairy and Restaurant'.  Luncheons, Dinners and Teas were 'prepared at the shortest notice; quality unsurpassed'.  The restaurant had been erected specially for the business and 'will be found replete with every comfort and convenience'.  There was a large dining room on the first floor and also ladies' and gentlemen's lavatories and bath rooms.   At this time the one thing the premises did not have was a licence to sell alcohol.
A notice in the Evesham Standard of 28th March 1903, stated that 'Carter's Restaurant and Wickhamford Dairy' had now secured the services of S. T. Mountford as a manager (see Notes).  Mr Mountford had, with his late uncle, been a Caterer and Restauranteur in High Street, Worcester for 18 years and also had valuable experience in London and Birmingham.
Licence Application 1903
Benjamin Carter made an application for a licence to sell alcoholic drinks in February 1903.  His case was heard by members of the Licencing Committee and there was much interest in court, with many temperance party members present.  Also, the Evesham Licence Victuallers Association was objecting to the granting of a licence to the restaurant. The Evesham Temperance Union also objected.  The application appeared to be refused on a technicality regarding a posting of notices about the application attached to the premises.  Benjamin Carter's solicitor, said that he would re-apply in March.
The Evesham Standard of 7th March had a lengthy report on Benjamin Carter's second appearance applying for a drinks licence.  It told how he had employed Mr and Mrs Mountford, and three servants, to oblige gentlemen who came for their meals. At present, if they required beer etc., it had to be sent out for and he had lost customers because of the inconvenience.  Sometimes servants working in the kitchen had to wash their hands, put on a hat and go out for a beer, something that could take 10 minutes.
In answer to a question, he said that the business was in his wife's name so as to avoid confusion with his farm business in correspondence.  He was also asked if his was his intention to serve beer and wines only with meals, which it was.   He was not requesting a licence to serve alcohol on a Sunday.   The Evesham Temperance Union's solicitor opposed the application and had already handed in a petition with 100 signatures.  This was on the grounds of drunkenness in Evesham, which was notorious for the number of convictions for this offence.  Also, there was already ample outlets for the sale of drink in the town, some 40 in total.  If Mr Carter got his licence, other restaurants in Evesham would also apply.
The Licence Victuallers Association's solicitor objected because Mr Carter would not be opening his premises for the long hours that publicans were obliged to do.  Superintendent Cope of Evesham Police asked to be heard and he also objected, as there were already 15 licenced houses within 250 yds of Mr Carter's premises.  He also stated that there were larger restaurants than Mr Carter's in Evesham and they had not applied for a licence.
The magistrates retired for a quarter of an hour and then announced that they had given approval to Mr Carter's application, subject to approval by the full bench.  Their meeting was held a few days later, and the Cheltenham Chronicle of 4th April 1903, reported that the full bench was evenly split on whether to grant the licence, so the Chairman had to refuse the application.  There are no further newspaper reports in the following few years concerning any other licence applications, so Benjamin Carter appears to have accepted the outcome.
1911 census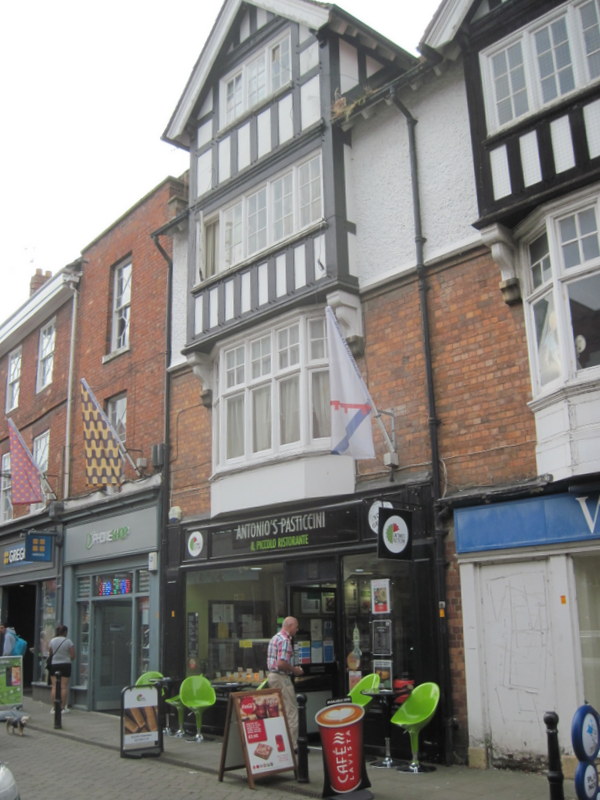 It is unclear how long Benjamin Carter kept the restaurant in Bridge Street.  For the 1911 census, 5 Bridge Street, Evesham, was occupied by Ernest and Alice Frape, 'Restaurant Proprietor' and 'Assisting in Business', plus a young son and Cissie Jones, a cook and Marion Bradley, a waitress.  The property had thirteen rooms.
At this time, Benjamin Carter was recorded at Field Farm, Wickhamford, as a 'farmer (employer)' but Emily had no occupation recorded.  Also present on census night were two servants, Emily's 'companion' and two farm pupils as boarders.  It seems likely the Carters had given up their interest in the Evesham business by this time.
Notes
The 'S.T.Mountford' who came to work at the restaurant in 1903 was Samuel Townsend Mountford (b. ca 1860).  His wife was Fanny, and in 1901 they lived in Kings Heath, Birmingham, where he was a cook and confection shop keeper.  His whereabouts for the 1911 census is unknown, but Fanny Mountford was living with a son in Kings Norton.  The following year they both emigrated to South Australia; he died in 1929 and she in 1950.  They are buried in Mitcham General Cemetery, South Australia.
Tom Locke - September 2021