Although living in Althorpe, Lincolnshire, for a few years prior to the outbreak of war, William Henry Barnard was Badsey born and bred and came from a family which had lived in Badsey since the 1840s; towards the end of the war, his parents returned to live in Badsey.  Lance Corporal Barnard's name is recorded on the war memorial in St James' Church, Badsey, in Badsey School and at Althorpe, Lincolnshire.  He is buried in Lonsdale Cemetery, Authuille, France.
* * * * *
William Henry Barnard was born at Badsey on 26th January 1896 and baptised at St James' Church three months later.  He was the only son of John and Phyllis Barnard.  The family lived at Sharps Row, Badsey (a row of cottages demolished in the 1940s on which the Garden of Remembrance is now situated).  William attended Badsey School which he left in February 1910.  By the time of the census in April 1911, John, Phyllis and William were living in Althorpe, a small village in North Lincolnshire.  John was working as a farm labourer and 15-year-old William was a groom at the farmhouse.  He later became a cleaner for the Great Central Railway, based at Keadby, CME Department.
On the outbreak of war, William Barnard enlisted at Epworth with the Lincolnshire Regiment (13587).  He first went overseas on 16th April 1915.  He obviously still kept in contact with his childhood home as snippets about his war service appeared in the Badsey Parish Magazine.  In August 1915 there was a sentence to say that Corporal Barnard had been wounded in France and was now in hospital at Halifax.  There were also references to his wound in letters written by the Sladden family, as William's mother, Phyllis, had been the Sladdens' cook before her marriage.  On 16th July 1915, May Sladden wrote to her mother:  "We heard yesterday from the Vicarage people that Willie Barnard has been wounded in the arm, they thought not badly. He is at Halifax so I expect Phyllis would go and see him."  And on 18th July, Julius Sladden wrote to his wife:  "We hear through the Carters that Willie Barnard is wounded in the arm and is in hospital at Halifax, but have no other particulars."
On 24th October 1915, Phyllis Barnard herself wrote to her former employer, stating that William had gone back to the front.  In November 1915 there appeared the following sentence:  "The Vicar has received a cheery letter from Corporal W Barnard."
But the tenor of the reports changed in 1916.  "Cpl W Barnard, of the Lincolns, has been missing since July 2," wrote the Vicar.  "We trust Mr & Mrs Barnard's anxiety may soon be relieved by news of their only son."  And in September 1916:  "There is no news of Cpl W Barnard."  And finally, in May 1917:  "Mr J Barnard, of Althorpe and formerly of Badsey, has been officially informed that his only son, Cpl W Barnard of the Lincolns, who has been missing since July 1, must now be assumed to have been killed in action on or since that date.  Mr and Mrs Barnard have the sympathy of their many friends in Badsey."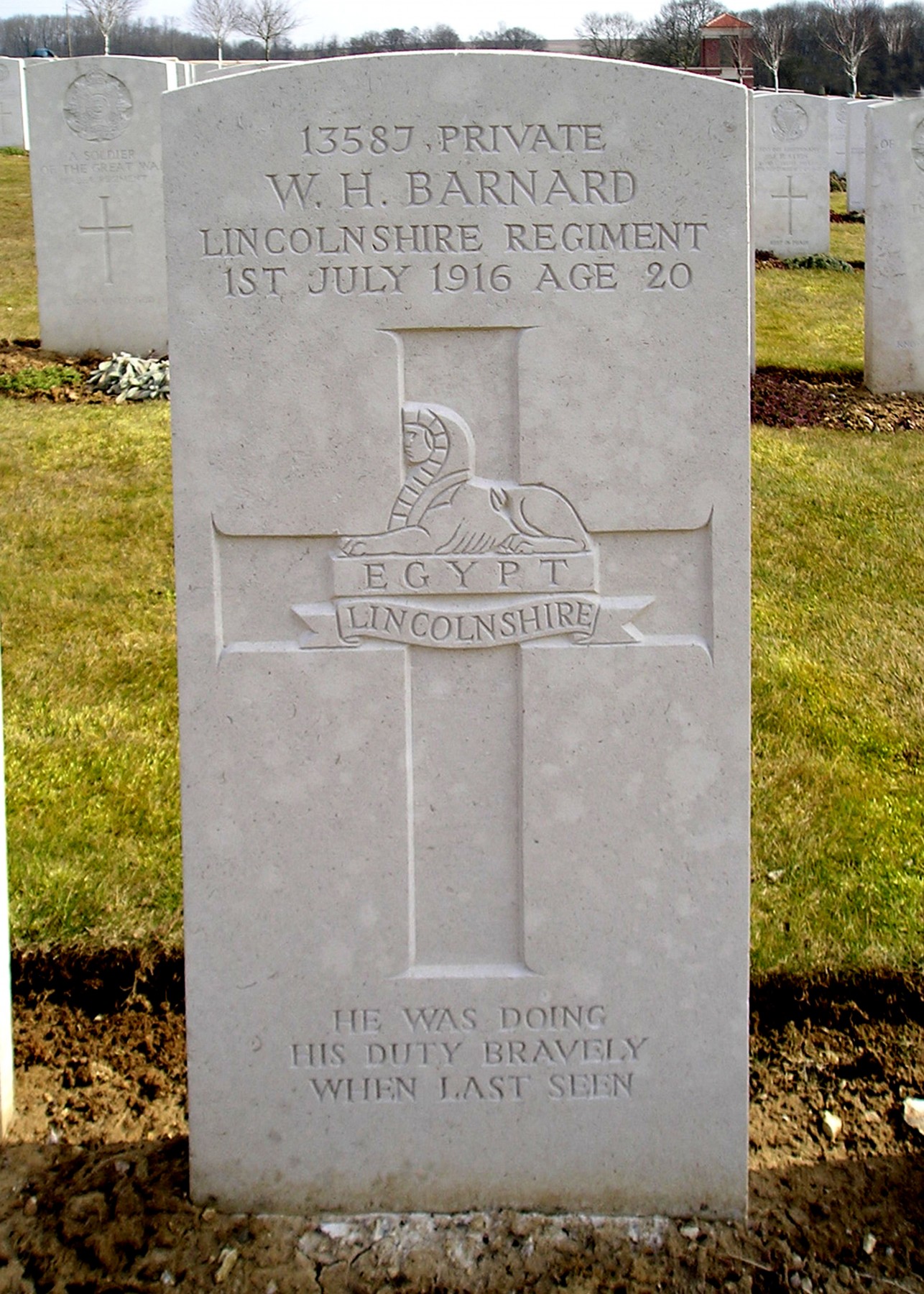 William Barnard's official date of death was officially given as 1st July 1916 when over 60,000 men lost their lives during the Battle of the Somme.  He was just 20 years old.  He is buried in Lonsdale Cemetery, Authuille, France. 
William's grieving parents returned to live in Badsey, moving into a house in The Alley (demolished in the mid 20th century, on the site of Poplar Court).  Phyllis died at Badsey in 1930 and John died in 1937.
A special service was held in St Paul's Cathedral on 14th May 1919, in the presence of King George V, in memory of the railwaymen who lost their lives in the Great War.  Of the 186,475 railwaymen of Great Britain and Ireland who joined the Colours during the war, 18,957 lost their lives.  William Barnard's name was included in the programme; the names appeared in alphabetical order under the Company for which they worked.