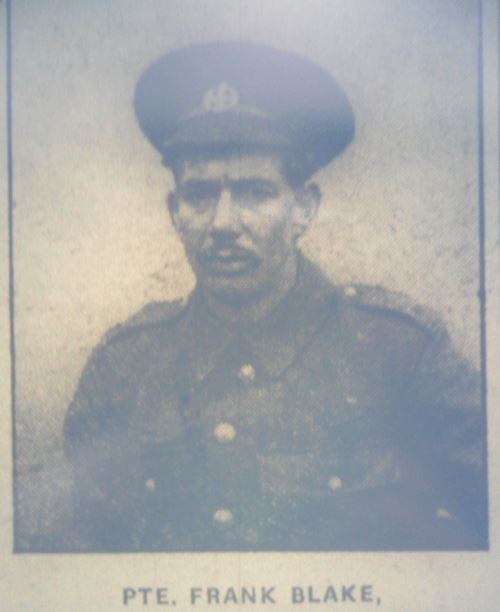 Although born in Crawley, Francis Henry Blake (known as Frank) lived in Badsey from round the age of nine when he came to live with relatives in the village; various members of the Blake family had lived in Badsey since the early 1880s.  Rifleman Blake's name is recorded on the war memorial in St James' Church, Badsey, at Badsey School, the Parish Church of St John the Baptist, New Alresford, Hampshire, and on the Ypres (Menin Gate) Memorial, Belgium.
* * * * *
The Blake family hailed from Hampshire, where Francis' grandfather, Henry Blake (1830-1887) was born at Farley Chamberlayne.  He married Mary Goodall and their two sons and four daughters were all born in Hampshire.  Some time in the early 1880s, most of the Blake family moved to Badsey presumably because Sarah, the eldest child, had married Henry Geden, whose family lived in Badsey.  The exception was Henry Frederick Blake (known as Frederick), Francis' father, who remained in Hampshire.
Francis Henry Blake (known as Frank) was born at Crawley, Hampshire, on 30th May 1888, the second of seven children of Henry Frederick and Katherine Blake.  Frank started school at Crawley National School but, in January 1898, he moved to Badsey and enrolled at Badsey Board School as it was then called.  His guardian was listed as his uncle, Walter William Blake.  It appears that Frank  may have stayed with different members of the family as, at the time of the 1901 census, he was living with his aunt, Sarah Geden, at West View on Birmingham Road.  By 1911, he was working for a market gardener and living with his widowed grandmother, Mary Blake, at The Leys (a row of cottages demolished in the 1950s on the site of Hither Green); Francis signed the census form on his grandmother's behalf.  Frank's grandmother died in April 1914, so he may well then have gone to stay with another family member until leaving Badsey to go to war.
Frank enlisted with the Rifle Brigade and first went overseas in 1915, arriving in France on 20th May.  Just over two months later, he was killed in action in Belgium on 30th July 1915.  His body was never identified, so he is remembered on the Ypres (Menin Gate) Memorial.  There are no reports about him at all in the Parish Magazine, but one assumes that, as his body was never found, he was reported as missing and then, only at a later date, was an official death date given.
Frank's family of aunts and uncles and cousins were left in Badsey to grieve him:  Sarah and Henry Geden; Louisa and Charles Chives and their daughter, Olive; Walter and Myra Blake and their daughters, Floretta and Gertrude; Ethel and Henry Johns and their children, Margaret and Lancelot.  Frank's younger brother, Walter William Blake, had remained in Hampshire in childhood, but he, too, settled in Badsey, although this was after Frank's death.  Frank's parents remained living in Hampshire, at Alresford.