Walter Crane was Badsey born and bred.  Private Crane's name is recorded on the war memorial in St James' Church, Badsey, and at Badsey School.
* * * * *
Walter Crane was born at Badsey on 4th October 1896 and baptised at St James' Church, Badsey, four months later.  Walter was the ninth-born of 15 children of Thomas and Lydia Ellen Crane, but four of his siblings died in infancy.  Of the children who survived, he had three older sisters (Charlotte, Eliza, Ellen), two older brothers (Thomas William and Ernest), four younger sisters (Ethel, Rose Annie, Edith and May) and one younger brother (Charles).
Walter was a pupil at Badsey School from 1899-1910.  The family lived at Silk Mill Cottages, Mill Lane (demolished in the 1970s).  In the adjoining block of cottages, lived Thomas Crane's brother, John, and his family.  John's youngest son was Cecil, four years older than his cousin, Walter, who was also to die in the Great War in 1915. At the time of the 1911 census in April, Walter was working as a market gardener for his father.  Four months later, Walter's father, Thomas, died.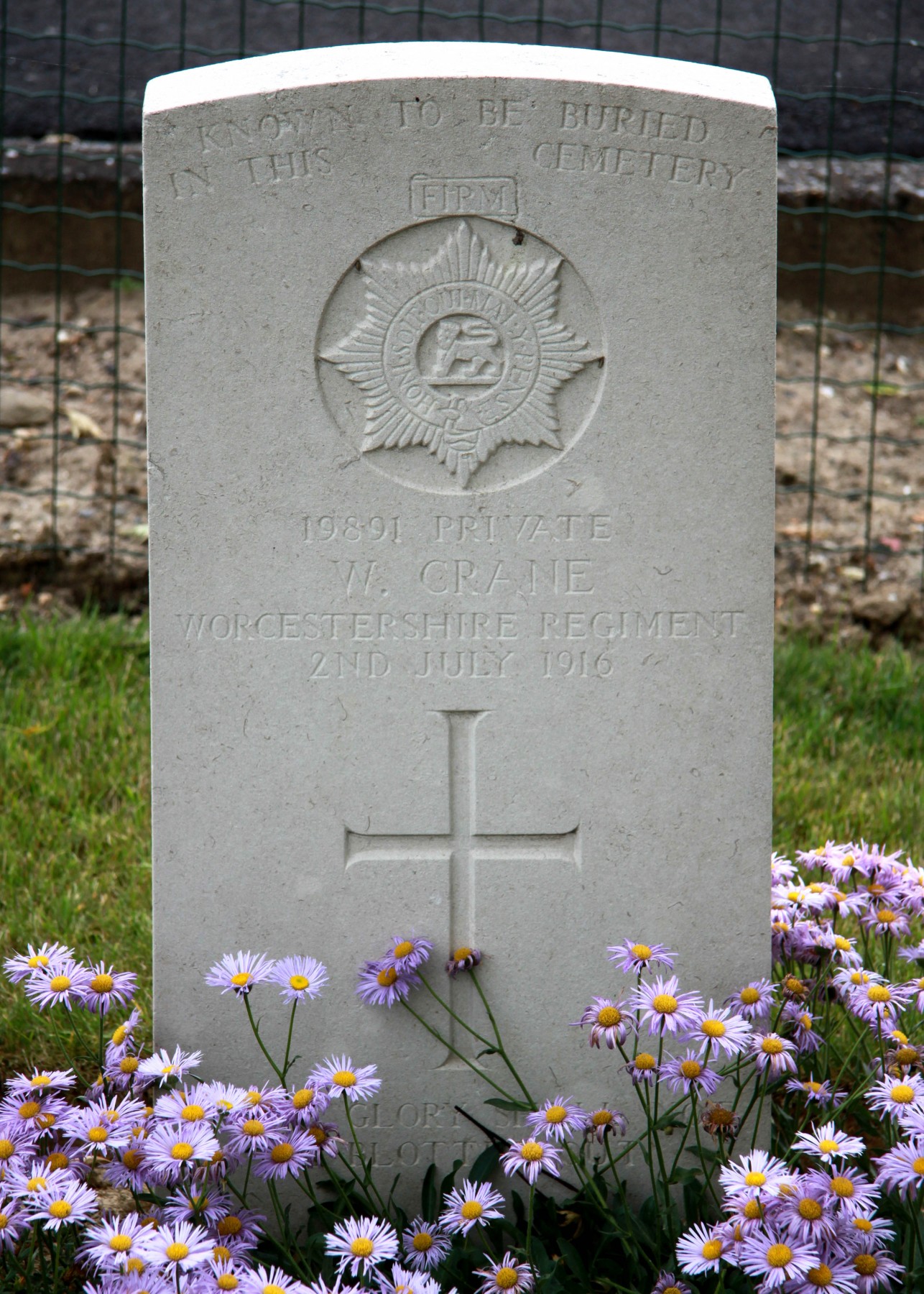 Walter Crane enlisted with the Worcestershire Regiment in either 1914 or 1915.  He first went overseas in May 1915 when he entered France on 4th May.  The only report of Walter in the Parish Magazine is in the issue of August 1916, telling of his death:
Private Walter Crane, of the Worcs Regt, died on July 2 of wounds received in action.  There was a Memorial Service for Pte Crane at Badsey on July 14.
Walter Crane was only 19 years old.  He was buried in Albert Communal Cemetery Extension, Somme, France.  Private Crane's actual grave was unknown, so the words "Known to be buried in this cemetery" appeared at the top of his headstone. His grieving mother remained living at Silk Mill Cottages.