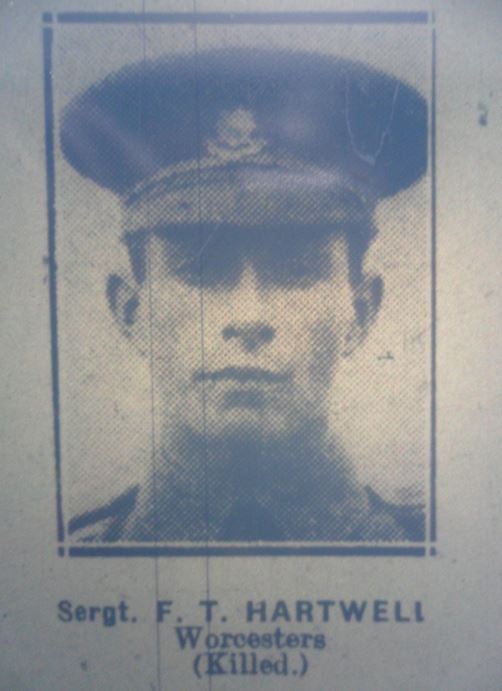 Frederick Thomas Hartwell was Badsey born and bred and came from a family which had lived in Badsey since the 18th century.  Lance Sergeant Hartwell's name is recorded on the war memorial in St James' Church, Badsey, and at Badsey School.
* * * * *
Frederick Thomas Hartwell was born at Badsey on 31st August 1893 and was baptised in St James' Church, Badsey, two months later.  He was the fifth of seven children of Daniel Jonathan and Elizabeth Hartwell.  He had two older brothers (James and William), two older sisters (Kate and Charlotte) and two younger brothers (Cecil and George).
Frederick was a pupil at Badsey School from 1896-1906 and lived with his family at a house on Bakers Lane (now School Lane).  On leaving school, Frederick became a market gardener's labourer.  In 1906, new houses called Cotswold View were built on Willersey Road and the Hartwells moved into No 9 (present-day No 50), which was where they were living at the time of the 1911 census.  Sadly, Frederick's father, Daniel, died suddenly at the end of 1911.
When war broke out, Frederick was among the first to enlist, joining the Worcestershire Regiment.  In December 1914, the following extract from a letter was printed in the Parish Magazine:
I thought you would like to know how I was getting on, so that you could advise some of the other Badsey chaps to join, but I expect they are a bit timid.  But tell them not to hang back for they may have to come in the finish, and they will find it the best life going for them, with plenty of open air and drills.  They would find it hard at first but would soon get used to it.  I have been up 12 weeks and I wish now I had joined before, for we get plenty of good food and what could a man wish more?  We are billeted in cow-sheds and barns, but we are all quite happy with a straw bed and three blankets and two blue suits.  Cecil Jeffries and George Crisp are at Tregantle Fort about four miles away, and the last time I saw them they were quite well and happy, but I don't see them very often now.  I am the only Badsey chap in our company, but there are some Bretforton chaps here and what one has not got and the others have we all share like brothers.  But just buck the other fellows up and get them to join and then old Badsey will not be behind.  We sometimes get an Evesham paper here and we are soon after the Evesham chaps for it for we like to see some of our district news.
Frederick Hartwell did not see overseas action until September 1915 when he arrived in the Balkans on 11th September.  Just over a year later, he was dead.  The following report appeared in the November 1916 Parish Magazine:
Lance-Sergt Frederick Thomas Hartwell, of the Worcestershire Regiment, son of Mrs D Hartwell, was killed on October 9th by a shell which burst in the entrance to his dug-out.  Sergt Hartwell will be remembered as one of those who volunteered very soon after the outbreak of war, and long before the authorities found it necessary to resort to "compulsion".  In the course of an appreciative letter to Sergt Hartwell's mother, his chaplain writes:  "Your son was respected and liked by all who knew him as a gallant man and a good NCO, and the Commanding Officer, his Company Officers, and comrades all send you their sincerest sympathy."  Lieut Brewer also writes:  "I was his Platoon Officer and, although I had not been with his platoon long, I had begun to look on Sergt Hartwell as someone whose courage and devotion to duty I could rely on."  The funeral took place in "the little cemetery just behind the trenches", and the large congregation which assembled for the Memorial Service at Badsey on October 25 showed respect for the dead and sympathy with the bereaved.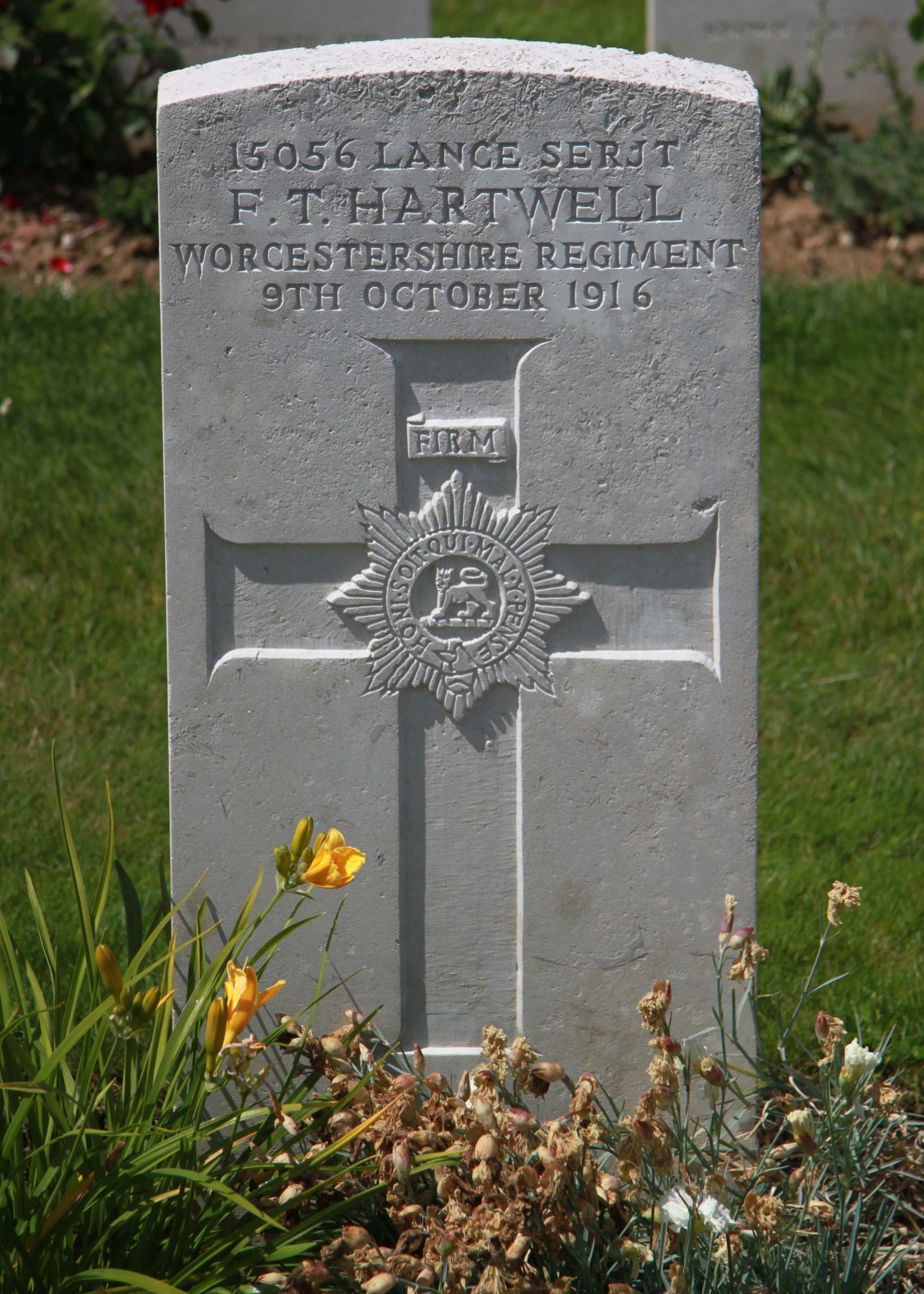 The "little cemetery" referred to by his Platoon Officer was not to be Frederick Hartwell's final resting place.  A Burial Return of The Canadian Graves Detachment, published on the Commonwealth War Graves website, reveals that Lance Sergeant Hartwell was reburied at Pozières British Cemetery, Ovillers La-Boiselle, Somme, on 30th June 1919.  This was common practice.  After the war had ended, old battlefields were searched for small cemeteries (usually of less than 40 graves) and isolated graves and gathered into "concentration" cemeteries, either newly created or built up around already existing burial grounds.
Frederick's grieving mother remained in Badsey until her death in 1935 and some of his siblings remained in the Evesham area.