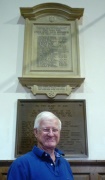 Geoff Clarke of Birmingham, and a member of The Badsey Society, has written the following article about his great-uncle, Charles Harwood, who died aged 19, on 22nd April 1918 in France.  Charles' name is recorded on the war memorial in St James' Church, Badsey, at Badsey School and in Abbey Park, Evesham. Geoff is pictured beside the church war memorial on which the name of his great-uncle is recorded.
* * * * *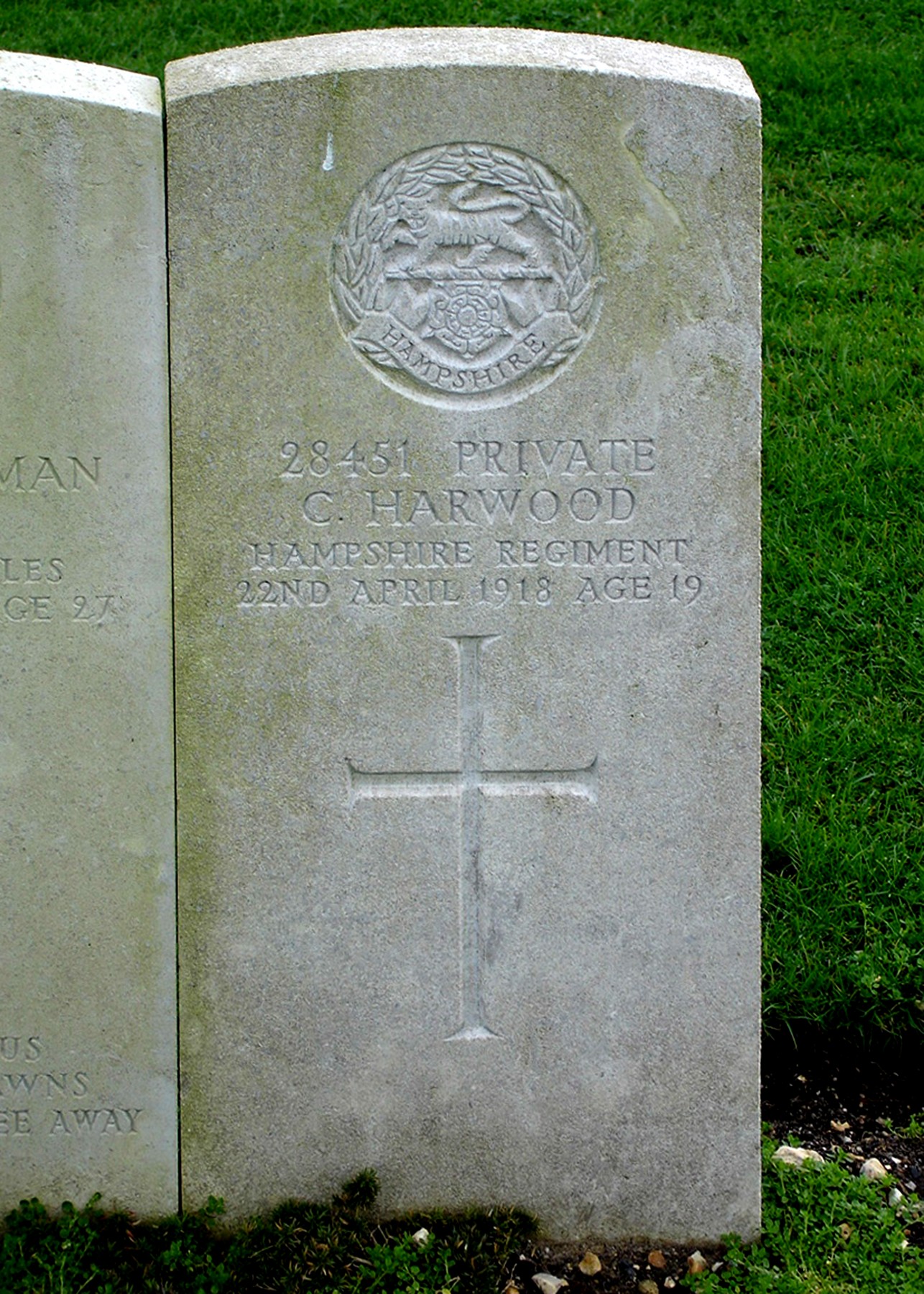 28451 Private Charles Harwood "lies in a corner of a foreign field that is forever England".  Actually in St Sever Cemetery Extension, Plot 'P' VII A 3B, Seine-Maritime, Haute-Normandie, Rouen France.  He died in The Rouen Military Field Hospital on 22nd April 1918 of blood poisoning (pyæmia) from infected wounds.  He was probably wounded at The Battle of St. Quentin or The Battle of Rosières.  He was 19 years old.
Charles was born in Badsey on the 4th February 1899 to Oliver and Florence Mary Harwood who were living in 'Orchard Cottage', Mill Lane at that time.  They moved to Aldington in about 1904, remaining there until 1922.  Charles was one of nine children.  The photo shows him (back row) at the wedding of his sister Margaret (my grandmother) who married Frank Arkell at St James Church on 22 April 1915.  Frank Arkell came from St Peters, Cheltenham, seen in uniform and must have been on leave from the Gloucestershire Regiment which he joined in 1914; he survived the War. The marriage ceremony was conducted by the Rev. William Carmont Allsebrook.  The photo includes Charles's grandfather George Harwood (with a beard and flat cap) and Charles's father Oliver (in bowler hat). His mother Florence Mary is just in front of Oliver.  All his brothers and sisters are shown and listed below.  Other guests are named as far as possible.  The photo was taken in the back garden of their home in Aldington (known today as Lokos, Main Street).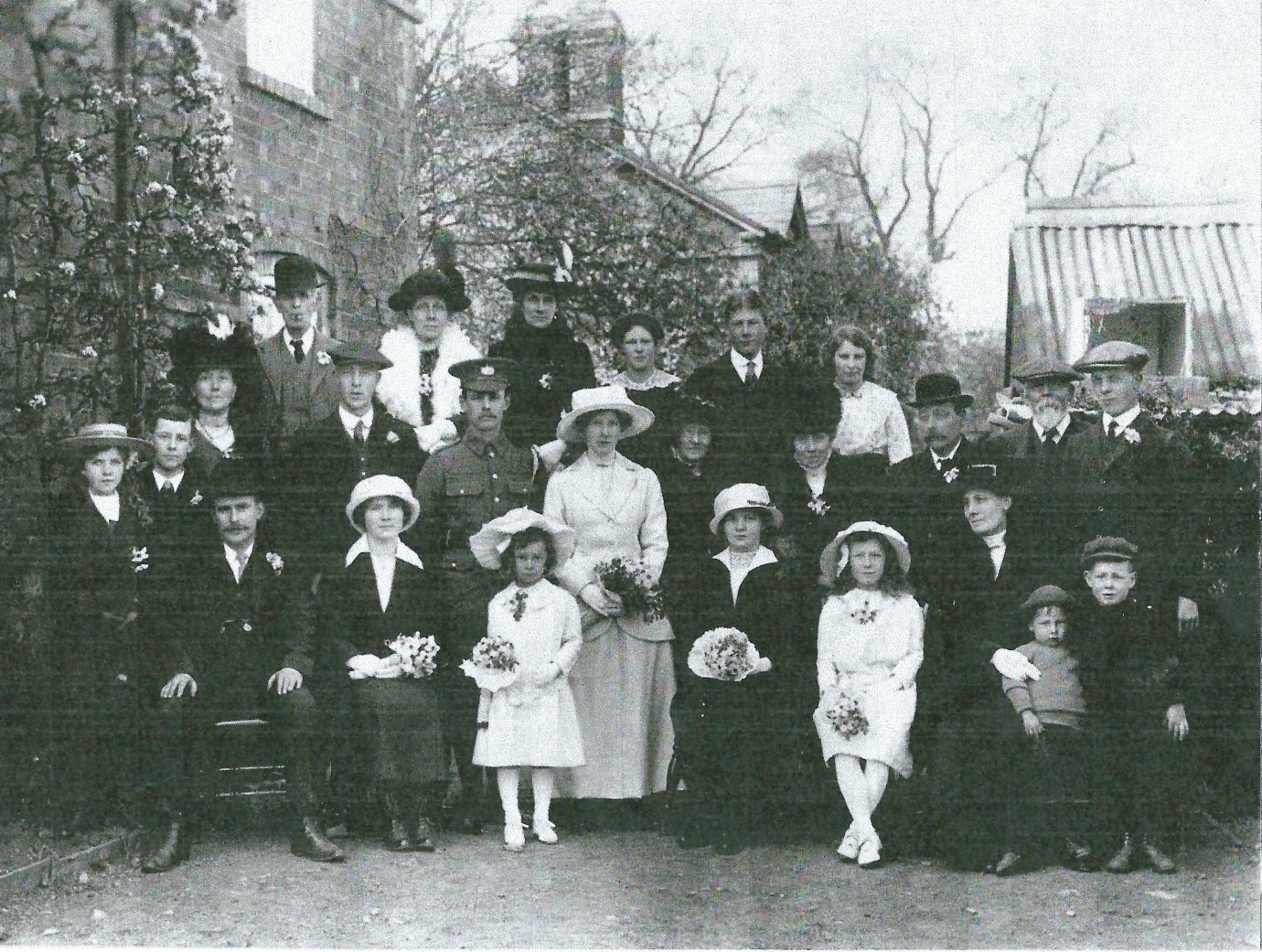 Charles volunteered for The Hampshire Regiment and was with the 11th (Service) Battalion.  The Hampshire Regiment consisted of 32 Battalions and received 82 Battle Honours and 3 Victoria Crosses losing 7,580 men during the course of the war.
The Hampshire Regiment 11th (Service) Battalion History
Sept 1914 – Formed at Winchester as part of the Second New Army (K2) and then moved to Dublin and then to Mullingar.
Dec 1914 – Became the Pioneer Battalion of the 16th Division.
Mar 1915 – Moved to Kilworth and then Aldershot.
18.12.1915 – Mobilised for war and landed at Havre and the Division engaged in various actions on the Western Front including:
During 1916 – The Battle of Guillemont, The Battle of Ginchy.
During 1917 – The Battle of Messines, The Battle of Langemark.
During 1918 – The Battle of St Quentin, The Battle of Rosières.
02.05.1918 – Reduced to training cadre due to heavy losses.
18.06.1918 – Returned to England embarking at Boulogne and arriving at Folkstone. Moved to Lowestoft and reconstituted with the 13th Border regiment.
03.07.1918 – Moved to Aldershot
01.08.1918 – Moved back to France landing at Boulogne and the Division once again engaged in various actions on the Western Front including; The Final Advance in Artois.
11.11.1918 – Ended the war in Belgium, Antoing south of Tournai.
It is likely that Charles Harwood was entitled to the Victory medal, also called the Inter Allied Victory Medal. This medal was awarded to all who received the 1914 Star or 1914-15 Star and, with certain exceptions, to those who received the British War Medal. It was never awarded alone. These three medals were sometimes irreverently referred to as Pip, Squeak and Wilfred.  Eligibility for this award consisted of having been mobilised, fighting, having served in any of the theatres of operations, or at sea, between midnight 4th/5th August, 1914, and midnight, 11th/12th November, 1918. Women who served in any of the various military organisations in a theatre of operations were also eligible.
Researched by the great-nephew of Charles Harwood, Geoff Clarke, Bournville, Birmingham
August 2014
My thanks go to my cousin, Diana Harwood, for providing the group wedding photo with most of the names. Also to Tony Wood of The Badsey Society, for all his help and encouragement.